February 2017
Vol. 82, No. 2
Scroll through the Table of Contents to view what's in this month's print issue. Subscribe to our print magazine today to get full access to all the material you see listed below. And remember to sign up for our weekly email so you never miss an online article!
---
Feature
by Claire Zulkey
Teaching kids empathy means saying more than just "because I said so."
Essays
by Ken Butigan
Is it time for the church to reconsider just war theory?
by Brian Doyle
How do you respond to yet another school shooting?
by John Rosengren
A war vet and a peace activist forge an unlikely friendship that changes the conversation in Missoula, Montana.
by Kevin Considine
God is at work in the new movements for racial justice.
Sounding Board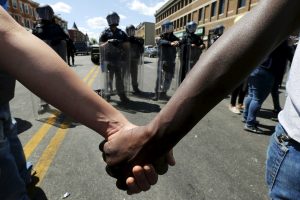 by Father Allan Fitzgerald, O.S.A.
Does arming campus security put Catholic values at risk?
Expert Witness
an interview with Gerald Schlabach
Is the church doing everything it can to ensure that violence is truly the last resort?
Wise Guides
by Rhonda Miska
Sister Karen Klimczak practiced radical inclusion, welcoming society's outcasts.
Columns
By Beth Haile
Now is the time for open doors and open hearts.
By Kevin Clarke
The Sant'Egidio community's patient work of dialogue has saved millions.
By Danny Duncan Collum
The literary genius of Bob Dylan finally earned him a Nobel Prize.
At Home with our Faith: Face to face
By Annemarie Scobey
Discussing our differences works best in person.
By Jacob Kohlhaas
By Alice Camille
Are women in the Bible really as weak and suggestible as Christians sometimes believe?