Santa Claus is a year-round favorite in our house. My 2-year-old spent most of this past summer in a red shirt emblazoned with Santa's jolly face. He even requested a Santa cake for his birthday, which is in September, and wants to be Santa for Halloween.
We have four kids, ranging from the Santa-loving youngest up to a 9-year old, and this might be the last year of innocence when it comes to Santa, but hopefully it won't be the last year they all believe in the magic of Santa, the generosity he represents, or the hope and joy he brings. I believe those all to be very real; those who see Santa as a lie are missing the point.
Myth, magic, or make believe; however the Santa story is classified, it is very much real and true. Sure, as adults we might know that it is unrealistic for toy-making elves to inhabit the North Pole, and physics makes it impossible for reindeer to fly.
But myths help both children and adults to entertain questions about our culture and to form our own moral compass. They are not mere stories but functional narratives that have helped cultures around the globe explain and understand complex truths since the beginning of time. The imaginative nature of such stories makes them memorable and helps solidify their teachings into our lives.
Like many myths, Santa's is not just a story we tell: It is a direct and factual reference back to St. Nicholas. The famous third-century orphan became a bishop and was well known for his generosity and gift-giving spirit. He is the patron saint of many, including children, and his feast day on December 6 links his tale to that of our modern-day Santa Claus even further.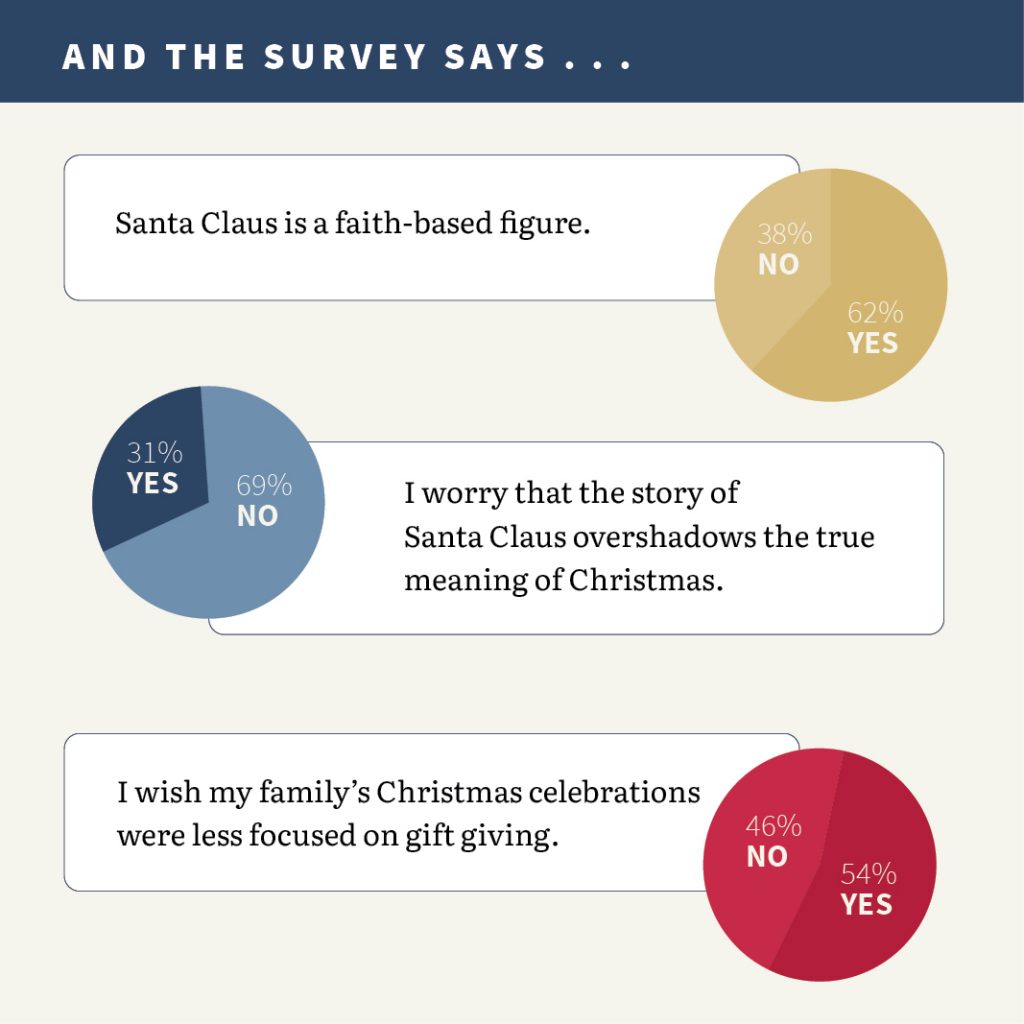 This bond aids in childhood transitions. When children begin to question how Santa really got down the chimney or fit that new bike in his sleigh, they can begin to understand the story of St. Nicholas. This gives the myth a new and perhaps even more meaningful impact.
Traditions can cultivate family connections, give children a sense of belonging and fulfillment, and help us hand down our values. Even many secular traditions take on religious value during the Christmas season. For example, many people hang lights outside during this time. As Christians, we can look at this through the lens of Jesus' birth, the bright light that led many to him, and his role in our faith as the light of the world.
As Catholics, we are accustomed to mysteries within our faith and grow spiritually within them. To children, this sense of wonder and imagination helps them grow, too, nurturing them as they form into the people they are intended to become. Healthy doses of imaginative play are very important in childhood development. Games of make believe and pretend allow children to see the world from a different perspective, help them grasp both positive and negative feelings, and are imperative to social and emotional development.
In our family, Santa and his entourage are recognized players in this stage of childhood. They are positive role models that we use to teach our children many lessons, not just the importance of being naughty or nice.
In our family, we use Santa to teach patience, which has been a good way to help our children understand Advent. Waiting for Santa to come on Christmas Eve is so difficult for little ones, but as they open the boxes on their Advent calendars or light the Advent wreath on the Sundays leading up to Christmas, they begin to understand how important waiting is and how special that makes the gifts we give and receive on Christmas.
We talk to our children about the physical gifts we give one another and the spiritual gifts God gives us, which helps them understand how important Jesus is, because he is the true gift of Christmas.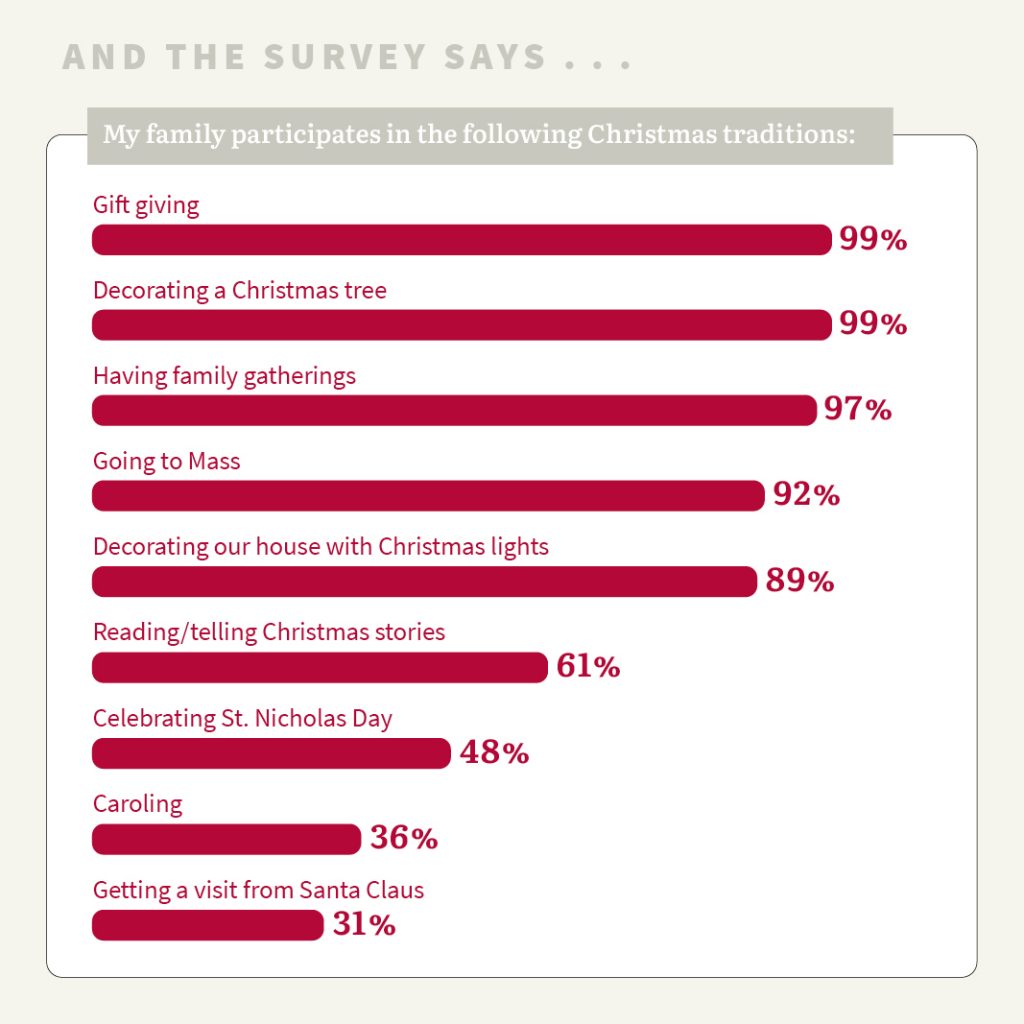 We tell our kids about how hard the elves must be working all year to make toys for everyone, which allows for conversations about work ethic. We encourage our children to try their best when they are doing tasks or projects and strive for good quality in school, crafts, or chores. Acknowledging the elves' hard work also leads to conversations with our kids about taking care of their toys, putting them away so that they don't get lost, fixing them if they break, and passing them on to other kids when they are done with them.
Santa can also teach us about hope. As a small child, it is hard to see hope in Jesus hanging from the cross or feel hope sitting still for an hour during Mass every Sunday. Children need something real and tangible, something y that will bring them courage. They learn how real Jesus is even though they cannot see and touch him, but giving them the opportunity to talk to Santa and sit on his lap if they want to gives them an opportunity to experience the human-ness of this important figure in their lives. Santa is that hope for children, he (with the help of Rudolph) is a light in the darkness.
In our house, Santa prompts our kids to look in their hearts and consider what they really want, which helps encourage deep thinking and self-reliance. We don't want Christmas to be about greed and getting more stuff. We take a more holistic approach and ask our kids to consider what will make them really happy at Christmas. Sometimes it is a special toy, but many times it is something more abstract like a horseback ride, a camping trip, or art lessons.
We try to teach our kids that Christmas gifts don't have to be big and flashy, and it's okay to ask for something we need. Their stockings are often filled with necessities like socks and a new toothbrush, but these items are always much more fun when received from Santa and his elves.
Joy is one of the most important things Santa teaches our family. He is full of laughter, which can be contagious and really is the best medicine. We could all stand to laugh a bit more like Santa. It is deeper than that, though. Santa teaches us to be joyful—to focus on the good in the world around us and to share that joy with everyone we encounter. It is easy for kids to get down in the world today, especially in a year when they have encountered isolation and possibly loss. Santa is one way that we bring joy into our children's lives and help them share that joy as well.
Most obviously, Santa teaches our family generosity. Santa takes his sleigh all over the world with gifts for everyone, and he doesn't ask for anything in return. We try to teach our children to pay his generosity forward, not just at toy drives at Christmas time but throughout the year: sometimes by donating toys or books we no longer use, sometimes by giving money, and other times by helping others in tasks they need done.
Santa has a knack for knowing our individual wants and needs, and his generosity can help us try to discern the gifts so that they are special and specific to the recipient. Parents can enlist Santa as a catalyst for raising lifelong givers and volunteers.
Santa also teaches kindness and, yes, good behavior. Some may argue that using Santa as a means to motivate good behavior isn't a great idea, because it enforces the concept of being good just to receive presents. If this is the only part of the Santa story that I engaged, perhaps I would agree, but by engaging the myth of Santa in a broader context to discuss things like patience, work ethic, hope, and joy we avoid making the gifts a primary focus. I will admit to invoking Santa's name to get my kids to behave and, guess what, it usually works. I am not ashamed.
No, I don't worry about any of this harming my relationship with Christ, because in our home conversations about Santa provide a seamless opening for conversations about Jesus and the kind of people God calls us to be. Christ is the true meaning of Christmas, and in our home Santa isn't stealing the show: He is readying the way for us and our children to take part in the gift that is Jesus.
Jesus, St. Nicholas, and Santa can all intertwine within this beautiful story of hope, generosity, and joy. These are values that I want to become embedded within the hearts of my children so that they can go forth and share them with the world.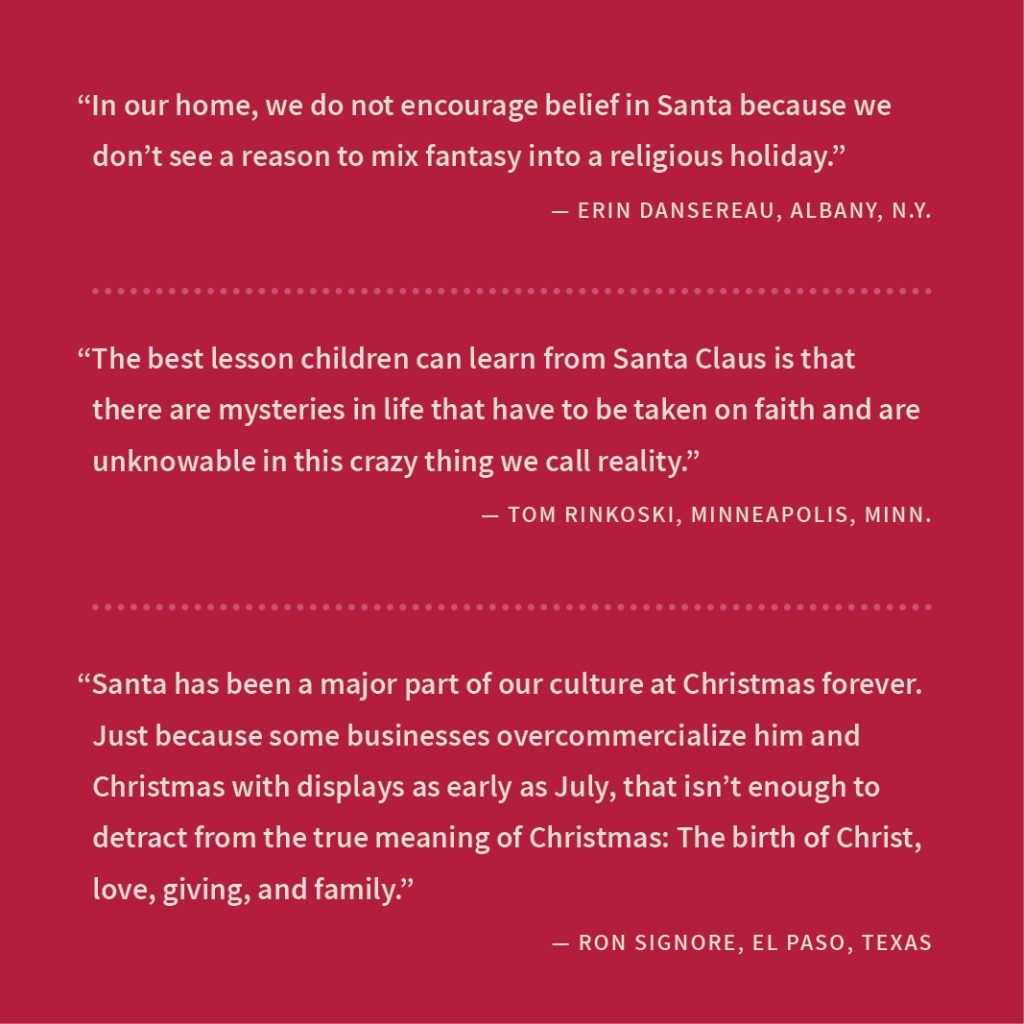 ---
This article also appears in the December issue of U.S. Catholic (Vol. 85, No. 12, pages 21-25). Click here to subscribe to the magazine.
Image: Unsplash