So many of us are taught that polite dinner conversation avoids topics such as religion and politics. These two hot-button issues, we are told, have nothing to do with one another. And while it's true that religious freedom and the rich diversity of traditions in our country are crucial values, we have a pope who has stated clearly that a good Catholic meddles in politics.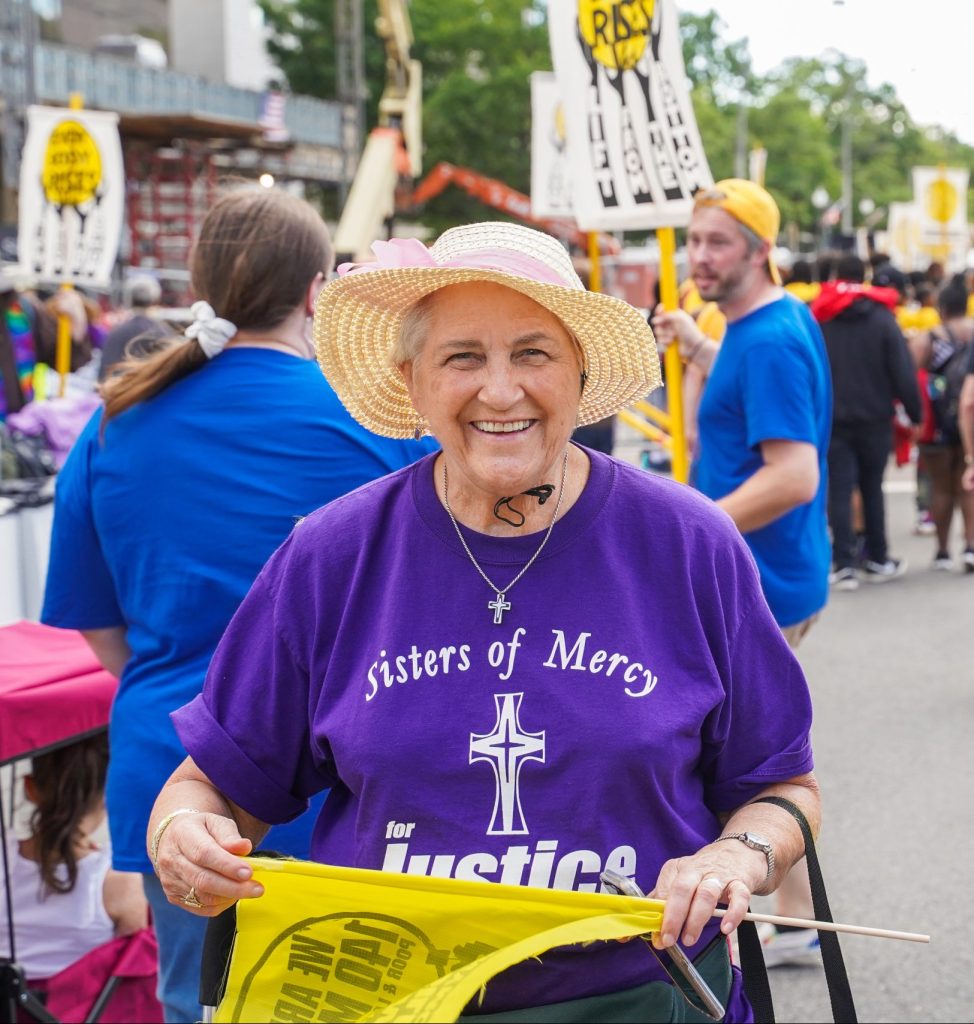 Pope Francis' words are not necessarily meant to urge us toward fundraising for super political action committees or partisan debates. Rather, his point is that democracy and our systems of government are a primary vehicle for shaping the common good of society. The litmus test for the ideal common good is how the most vulnerable and marginalized communities are faring—are their physical, mental, emotional and spiritual needs met, and are all people recognized and revered as the image of God they are?
Catholics in the United States can and have shaped public policy toward this vision outlined for us in the gospels by the ministry and work of Jesus and of the apostles, who shared what they had in common and understood that the richness of the earth was in abundance for all. As we approach the midterm elections, we can project a strong, united voice on issues such as climate justice, gun violence, military spending, and the growing chasm between the rich and the poor. Our methods will need to be multifaceted but always peaceful: We can advocate through letter writing and phone calls to our legislators, educate ourselves and others to dispel misinformation, and follow the model of Jesus who did not hesitate to turn over tables to get the attention of those in power when needed.
I had my own experience of turning over tables a little over a month after I started working on the Justice Team for the Sisters of Mercy of the Americas last summer. Persuaded by a sister and friend who has devoted her life to social justice and service to those made poor, I was arrested at the Supreme Court with others from the Poor People's Campaign (PPC) as we called on Congress to pass the Voting Rights Act.
Not all advocacy demands risking arrest, of course, and it's tempting to dismiss collective action like this as theater until we remember lunch counter sit-ins in the South, Mahatma Gandhi's Salt March, and countless victories for workers via union picket lines. But problems are easy to ignore when those they affect live far from offices on Capitol Hill. Our ability to use our voices and even our bodies in nonviolent, direct action enables us to stand in solidarity with one another while visually and verbally reminding those in power of the suffering in the streets.
Martin Luther King Jr. put it this way:
"There is nothing wrong with a traffic law which says you have to stop for a red light. But when a fire is raging, the fire truck goes right through that red light, and normal traffic had better get out of its way. Or, when a man is bleeding to death, the ambulance goes through those red lights at top speed. . . . Disinherited people all over the world are bleeding to death from deep social and economic wounds. They need brigades of ambulance drivers who will have to ignore the red lights of the present system until the emergency is solved. Massive civil disobedience is a strategy for social change which is at least as forceful as an ambulance with its siren on full."
The PPC builds on the civil rights movement and King's call for a "revolution of values" in our country. Under the leadership of the Rev. Dr. William J. Barber II and the Rev. Dr. Liz Theoharis, the movement centers the experience of those made poor by a system and government that has long prioritized wealth for the very few over a society grounded in the common good.
Taking seriously the suffering of the 140 million poor and low-wealth people in this country, the movement targets what they call the "interlocking injustices of systemic racism, poverty, ecological devastation, the war economy/militarism and the distorted moral narrative of religious nationalism." This intersectional movement refuses to be pigeonholed into one issue with its stubborn insistence that you cannot address one without also addressing the others.
For those of us in the Mercy world, these interlocking injustices and the emphasis on the connections between them strike a familiar chord with our own Critical Concerns of Earth, racism, women, immigration, and nonviolence. Front and center on the Mercy for Justice website, we proclaim: "We dedicate ourselves to serving people who are made poor and to addressing the root causes of systemic injustices." To that end our work is not simply charitable and aimed at addressing direct needs, although certainly sisters have launched a myriad of programs such as food pantries, immigration services, and shelters.
Because our values and goals for the Beloved Community dovetail so clearly, the Sisters of Mercy partner with the PPC, supporting and promoting other actions including a march down Wall Street last spring and mobilizing more than 50 sisters, associates, employees, and friends of Mercy, as well as other Catholic partners, to join the PPC's Moral March on Washington to stand against ongoing threats to our democracy and hear firsthand the stories of those marginalized by a system of what Barber terms "policy violence."
On June 18 of this year, we gathered not only as Mercy but with organizations as diverse as the Service Employees International Union, Black Lives Matter, environmental groups, voting and democratic movements, and a wealth of religious denominations, including several congregations of Catholic sisters. Thousands of people stood at the Capitol, listening, learning, and mobilizing for action to save democracy, dismantle systemic racism and economic oppression, and build a society where all can flourish as God intends.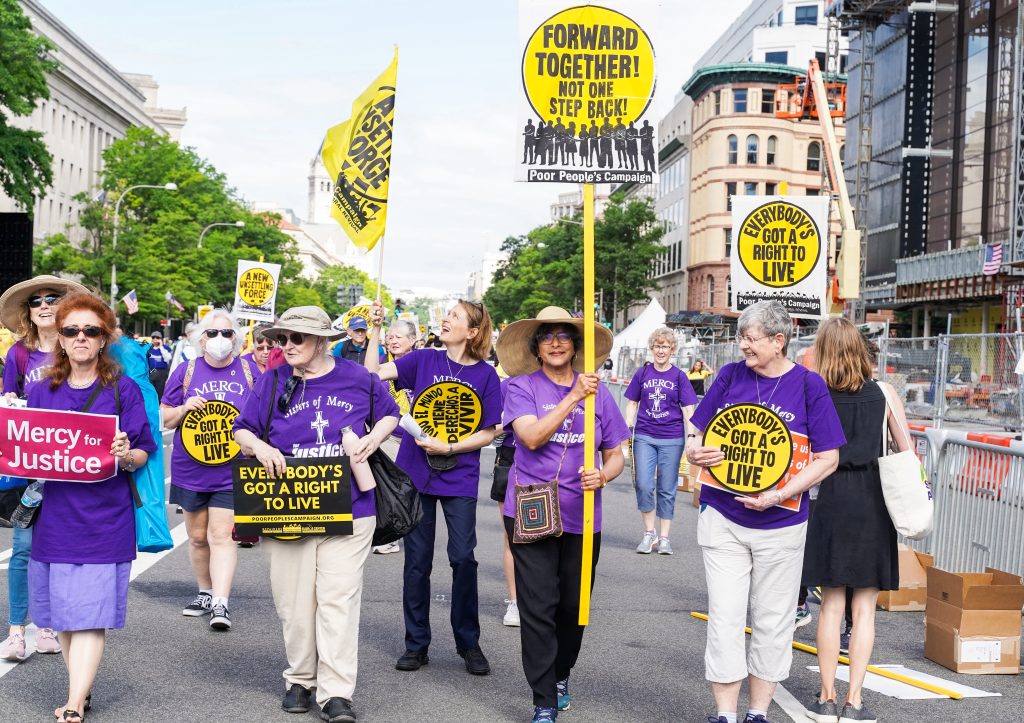 Mercy Sister Carren Herring, who traveled by bus from Cincinnati for the march, points out that these actions not only can change the minds of legislators who govern but can change the hearts of individual activists as well: "This is our time. We must stand up and be heard. Had I not participated, I wouldn't have met Ohio's rally organizer, a Muslim woman whose young son was killed for $40 and his cell phone, or heard her story of standing up in court to forgive the 14-year-old child convicted of his murder. I wouldn't have heard the joys and sorrows of our bus captain, Zeva, a young transgender woman. I wouldn't have been inspired by the people who endured bus cancellations, breakdowns and delays yet kept a peaceful spirit."
And now, with the gathering in Washington behind us, our Mercy Justice Team and the PPC have our sights set on the midterm elections. Our work is not partisan. It is about ensuring that issues of poverty, systemic injustice, and threats to democracy are not ignored moving forward. For Catholics, these are not fringe issues. They are ways of living out our call to imitate Christ and to build the kingdom of God. As Jesuit Father Greg Boyle often urges, "We stand at the margins so that the margins cease to exist."
But to truly serve the most marginalized, we cannot wash our hands of the root causes of injustice and poverty, which are largely addressed through political action and advocacy. Helpfully, the PPC outlines its next moves as 7 Steps Before the Midterms, an agenda that promises to use the power of democracy to demand attention and justice for the country's poor and low-wealth people. Indeed the very first step is a call to Congress to acknowledge the basic reality of the 43 percent of the U.S. population, including 52 percent of our children, that lives in poverty; was disproportionately affected by the COVID-19 pandemic; and suffers preventable, premature death due to policy decisions by our government leaders.
As a democracy, our central power in shaping policy and systemic injustice lies in our ability and willingness to vote. With voter suppression laws taking hold in a number of states and the failure of Congress to pass federal protections, both Mercy and the PPC are focused on these threats to democracy as we near the midterm elections. The PPC names voter registration efforts focused on poor and low-income communities as well as mobilization to the polls as two more of its seven steps, declaring: "We will expand the 'we' included in 'we the people' and fight with every tool we have to ensure no voice is excluded from this democracy, no vote is denied, and no cry for justice rising up from this moral fusion movement is unrepresented at the ballot box."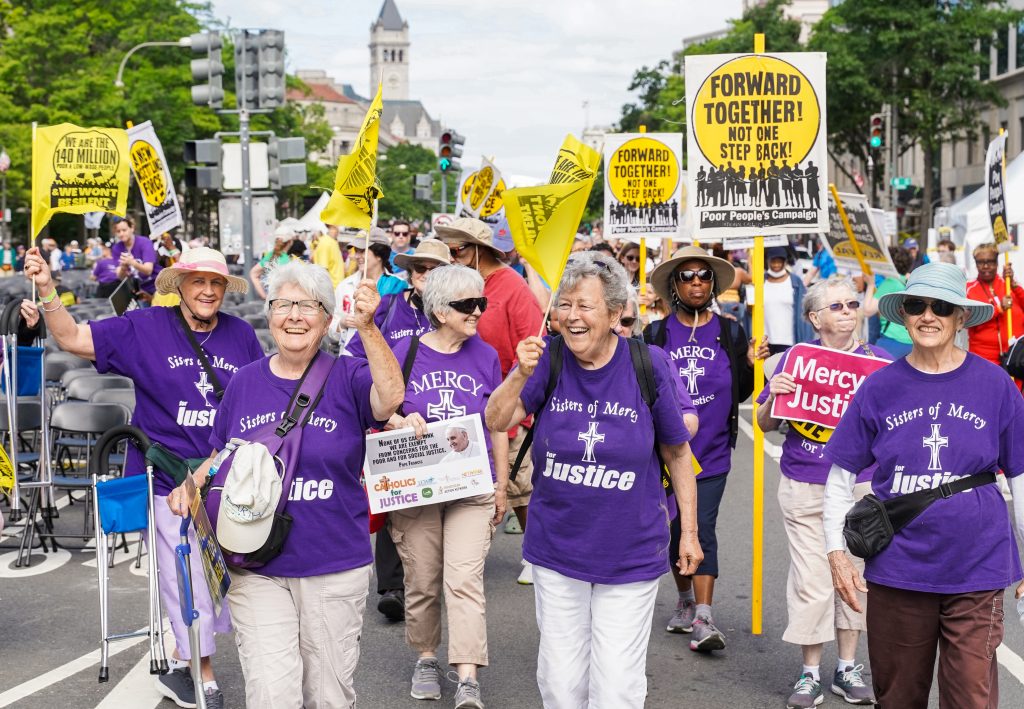 The Mercy Justice Team also continues to focus on the democratic process this fall as we share resources for combating misinformation, exercise the right to vote despite roadblocks, and offer guides to the issues of this campaign. Mercy Sister Catherine Darcy, who also serves on the Justice Team and facilitates partnership between Mercy and the PPC in New York, explains, "The work of advocating for the systemic change needed to respond to the challenges of this campaign resumes. We need to elect government officials, at all levels, who embrace these challenges as well."
"Somebody's hurting our people, and it's gone on far too long," we sing in lament and anger. But it's the last line of the song that motivates members of the PPC, our Mercy family, and so many others to keep showing up and demanding change: "And we won't be silent anymore." We'll keep listening to the voices most oppressed and making "good trouble" for the cause of God's justice and peace.
---
All images by Nick Moreland
Header image: The Poor People's Campaign's demonstration at the Moral March in Washington, D.C.