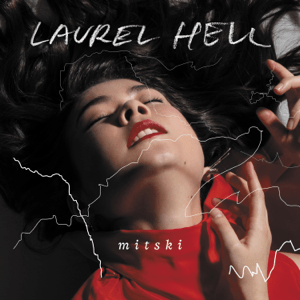 Mitski (Dead Oceans, 2022)
Like the sun's rising or setting, Mitski's heart dances on the cusp of darkness in her brief but beautiful sixth album, Laurel Hell. Sonically, mechanistic beats blend with liquid, '80s-inflected synth tones, being shattered only occasionally by crystalline piano and jagged guitar. Hovering over it all is Mitski's clear, cool voice: Sometimes teasing, sometimes yearning, her performance is consistent and confident throughout.
Paradoxically, this self-assurance is seldom found in her lyrics—permeating themes are the need to run, to change, to leave, to start over. "Though I've held on / can't carry it much longer," she sighs in "Heat Lightning," a slow-building ballad about waiting for an approaching storm. Mitski often evokes the sensation of being trapped, hungry, or lost: "Should've Been Me" finds her exclaiming that it "must be lonely loving someone / trying to find their way out of a maze."
The aching themes Mitski brings forth seem almost to invoke the penitential, with her proclaiming on the regret-tinged "Love Me More": "I need you to love me more. . . . / love enough to fill me up." Yearning for something lost, she seeks to be remade, reformed, renewed. Emptied by her sorrow, she seeks something or someone to rescue her, to fulfill her. Whether she herself is grasping for the truly transcendent, to Christian ears this existential longing reads like a search for the spiritual, resonating all the more deeply in a world ever more broken.
It is in this striving that shards of light shimmer through Mitski's dark memories and dreams: Ensnared in the moment, she has the will to keep fighting and moving forward. Although pushed to the background by production, choice lyrics still stand out on "The Only Heartbreaker": "I apologize / You forgive me." With a chilly beauty all its own, Laurel Hell challenges listeners, spiritual or secular, to push forward and persevere.
---
This article also appears in the May 2022 issue of U.S. Catholic (Vol. 87, No. 5, page 38). Click here to subscribe to the magazine.
Image: Wikimedia Commons/David Lee (CC BY-SA 2.0)