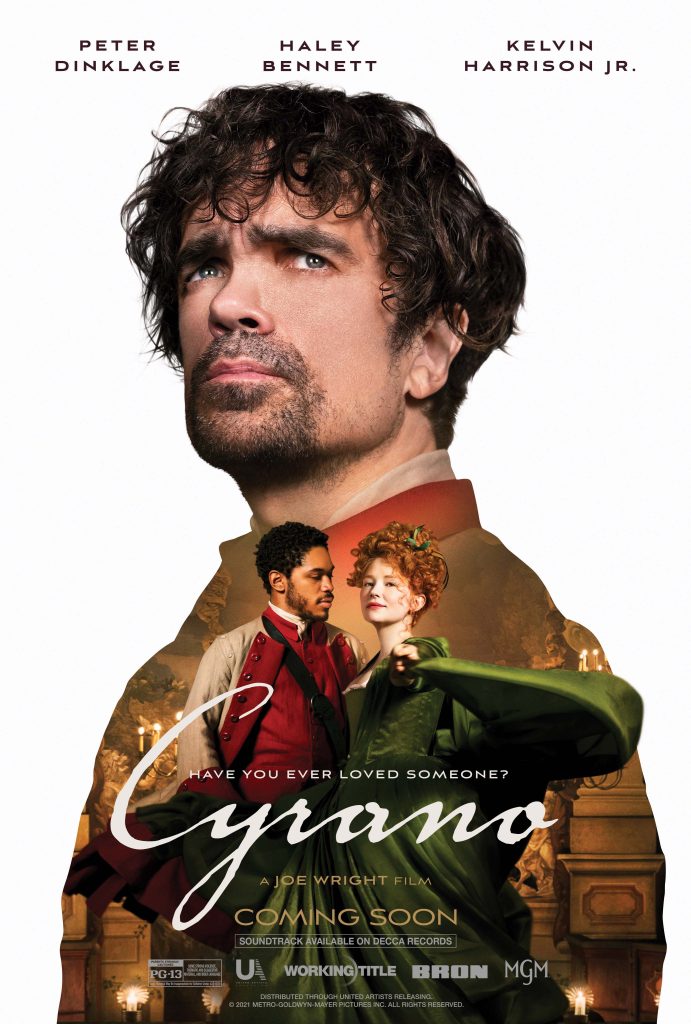 Directed by Joe Wright (United Artists Releasing, 2022)
If I had to pick one word to describe Cyrano, it would be human. The thrill of first love, the bond of friendship, the fear of insecurity, the despair of death—it's all packed into two hours. The movie gets one thing right, and that's humanity.
The rest of the movie spins a rather hole-ridden plot into a full-fledged musical complete with out-of-place dance numbers and illogical fight scenes. The pacing of the dialogue feels unwieldy, the cast leaves much to be desired in the singing department, and the timeline jumps dramatically, leaving viewers disoriented.
However, the saving grace of this movie is its hidden gems of genuineness. Peter Dinklage carries the movie as a wry, witty Cyrano filled with insecurities and beautiful words. To the end, he remains devoted to the well-being of others. An avid dreamer, he reminds us, "A dream might be a lie but it's also true." Roxanne (Haley Bennett) and Christian (Kelvin Harrison Jr.) are equally as lovely, and the vibrancy of their energy echoes the bright colors of the costumes and sets around them.
But the pinnacle of this movie is when Cyrano's regiment is sent on a suicide mission, and each of the guardsmen has a chance to write a final letter to loved ones. Instead of fixating on imminent death, they each reassure the readers that "heaven is wherever I fall," that hope is waiting for them, and that they'll be all right. The feeling struck true: To be human is to die, but that isn't necessarily a bad thing. It felt a lot like hope.
Moments like these made Cyrano worth watching. The humanity in the film keeps viewers invested. Christian says, "I would prefer to be loved for my true self or not at all," and Cyrano certainly celebrates that genuineness, warts and all.
---
This article also appears in the May 2022 issue of U.S. Catholic (Vol. 87, No. 5, page 38). Click here to subscribe to the magazine.
Image:  Peter Mountain © 2021 Metro-Goldwyn-Mayer Pictures Inc. All Rights Reserved.