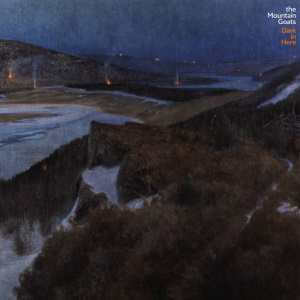 The Mountain Goats (Merge Records, 2021)
The sweeping new release by alternative band the Mountain Goats is infectiously upbeat despite its title, Dark in Here. The 12-track album ranges from the soft opener, "Parisian Enclave" (clocking in at just 1 minute, 25 seconds), to the over 5-minute closing ballad, "Let Me Bathe in Demonic Light."
Created as a solo project by lead singer John Darnielle in 1991, the Mountain Goats have since become a quartet, with a lush sound steeped in guitars, piano, and percussion—a far cry from the acoustic songs Darnielle recorded on a boombox in the '90s.
When the band was recording Dark in Here in Muscle Shoals, Alabama, it was March 2020, and the pandemic was just starting to shatter the world. That anxiety-ridden time colors Darnielle's lyrics. In his staccato-like first track, he expresses the darkness he inhabits: "Beneath the streets of the city with my brethren / In the neverending shadows, there I go."
The clouds of worry thicken on the tension-building "Lizard Suit": "Let my phobias control my habits / Let my habits form the shapes of days / All alone up on the rooftop sometimes." The lyrics, which talk of lizards, religion, death metal, and departed friends, are juxtaposed by Darnielle's soft vocals, a running thread throughout the album.
The album's lyrical tone eventually shifts so that all is not "dark in here." In "The Slow Parts on Death Metal Albums," Darnielle seems to reach out to embrace the future, to grasp light: "In a new universe / Trying to find the mask that fits me / Shaking the curse / Behaving as the beacons bid me."
The last track, "Let Me Bathe in Demonic Light," is like finishing a journey: "When I arrive at my preordained place / Hopeless but free / Lit up like a marquee shining over the freeway / Where will my long trail end?" Listeners could ask the same question as they travel through this album.
---
This article also appears in the September 2021 issue of U.S. Catholic (Vol. 86, No. 9, page 38). Click here to subscribe to the magazine.
Image: Wikimedia/Tmaull [CC-BY-SA-3.0]