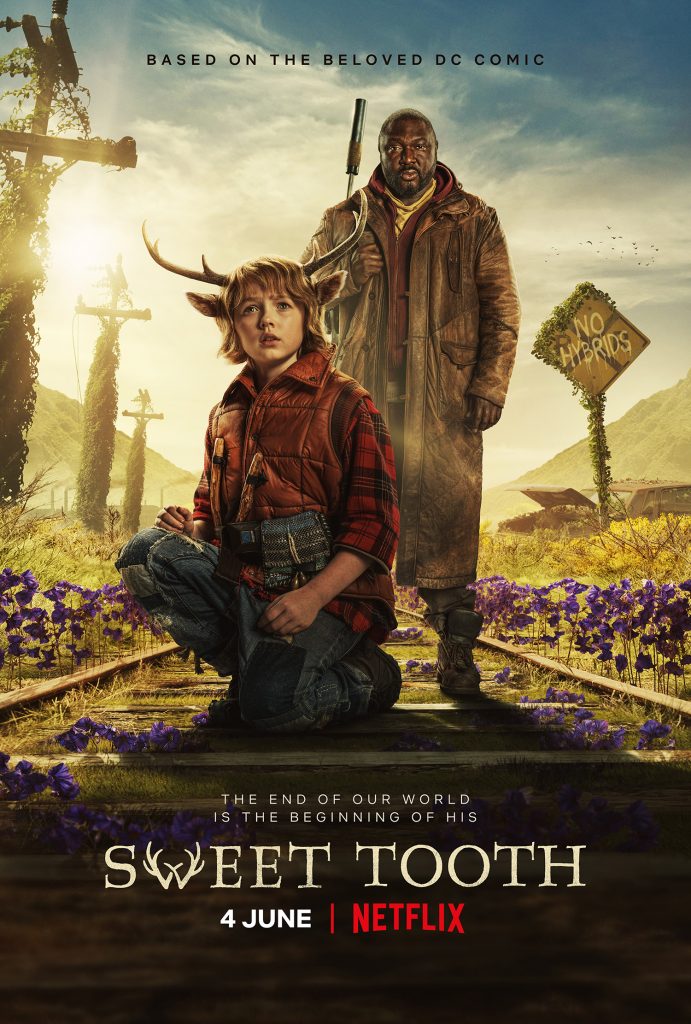 Developed by Jim Mickle (Nightshade, 2021)
Kids in cages. A global pandemic that kills millions. Exhausted doctors and caretakers. Fearful people committing violence. Corrupt leaders and political insurrection. Hopelessness spreading like a virus. A minority group defined by difference becoming scapegoats for the fear and powerlessness of the majority.
No, these are not taken from the headlines of the last years of Donald Trump's presidency. This is the backdrop for a new series on Netflix: Sweet Tooth. And this series is a marvel.
The setting is a post-apocalyptic United States in the aftermath of several waves of an outbreak of a horrible flu known merely as "The Sick." The government has crumbled, the rule of law has failed, and tens of millions have died. Moral scruples are reserved for those survivors who already had a decent life.
Post-apocalyptic stories are a dime a dozen. What sets Sweet Tooth apart is its heart and soul, embodied by its main character, Gus. Gus is a child and one of the hybrids who mysteriously began to be born at the same time that The Sick was killing millions. In this world, a hybrid is an animal-human mix, and Gus has the antlers, ears, and enhanced smell, taste, and hearing of a deer. Other hybrids are partially pig, lizard, gopher, goat, or countless other animals. No one knows where they came from. Their parents were normal.
The center of the story is Gus' relationships with his father, his protector, and those who journey with him. He is the moral compass of the story and brings out the best in his companions in an otherwise hellish world. He receives the nickname Sweet Tooth not just because he loves candy, but because he still sees the sweetness in a world gone crazy and enables others to do the same.
My family and I watched all 8 episodes in one weekend. We eagerly await Season 2.
---
This article also appears in the September 2021 issue of U.S. Catholic (Vol. 86, No. 9, page 38). Click here to subscribe to the magazine.
Image: KIRSTY GRIFFIN/NETFLIX