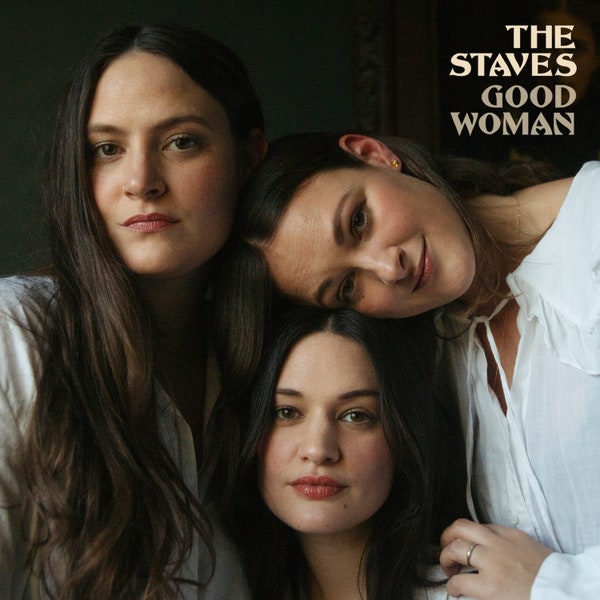 The Staves (Atlantic Records UK, 2021)
The opening track of The Staves' 2021 album Good Woman is so strong, I've had it playing on repeat for the last few weeks. In fact, "Good Woman"—as the track is also titled—is so good, so beautifully melodic, that it seems hard to top. But The Staves do. The English folk-rock band—comprising sisters Camilla, Jessica, and Emily Staveley-Taylor—bring their ethereal harmonies to an album that shows their maturing sound—a sound they've been honing for quite a few years. Before releasing their debut album, Dead & Born & Grown, in 2012, the sisters sang backup for Welsh legend Tom Jones. They've also performed with Wisconsin recording artist Justin Vernon (aka Bon Iver), who produced their second album, 2015's If I Was.
Good Woman arrives on the heels of grief (their mother's passing), birth (Emily's daughter), and a romantic breakup. That first song sets the stage, beginning with voices soft and a bit tentative ("Well, I cover my mouth / and I straighten my back / I'm a good woman") and progressing to full-throttled, tempo-building confidence ("But who will build statues of me / when I leave you all behind?"). These are women who are unapologetically "good" and dare the world to disagree.
While the piano-driven "Best Friend" is a nostalgic, honest look at friendship, the sisters' choruses running throughout "Nothing's Gonna Happen" seem to look forward, urging fearless action ("Nothing's gonna happen with your back against the door"). Another track, "Trying," seems to be the anthem of a pandemic year: "You can say I don't know pain / and so it don't exist / I'm in my room / and it's all there is."
What ties all the songs together is the sisters' ethereal vocals, a blanket of tenderness even in the darkest of times. Good Woman is a gorgeous coming-of-age album, which deserves to be played on repeat.
---
This article also appears in the June 2021 issue of U.S. Catholic (Vol. 86, No. 6, page 39). Click here to subscribe to the magazine.
Image: Wikimedia/Justin Higuchi [CC-BY 2.0]