In the early '90s I had a wonderful opportunity to study Gregorian chant at the Pontifical Institute in Vatican City. Most of my colleagues were accomplished organists, and when we took a "break" to visit some nearby churches everyone had the opportunity to play the organ in each church. The divide between my classmates and I grew larger when I consistently refused to play, and I finally admitted, "I'm just a guitar player."
That was the beginning of my quarantine from these accomplished organists. My fate with the group was sealed when, after an incredible dinner one night, I asked our host if there were any good jazz clubs nearby.
Guitarists can be a strange bunch, in part because the guitar is the main instrument of rock and roll, with all its variations and amalgamations, which can yield a stigma with some, especially church organists. Watching my fellow musicians play those beautiful instruments in Rome was absolutely amazing: hands on two, three, or sometimes four manuals and feet going at the same time, it was almost as if they had an entire orchestra at their fingertips.
This experience really gave me an up-front and personal experience of the organ as "the primary instrument of the church." If the organ can "do it all" with one accomplished, competent, well-practiced player, why even bother to consider other instruments for leading worship?
Well, the organ can do more by itself, but more isn't always better.
In the late '80s I saw guitarist Pat Metheny play for the first time. I can distinctly remember one intimate moment where he was playing one note—just one note—and it hit me so deeply that my life as a musician changed at that very moment. That one note was a theophany of sorts, reaching deep down and awakening something I always knew but found difficult to articulate.
The organ can do more by itself, but more isn't always better.
Watching Metheny play that night, along with many other experiences over the years, has helped me to see that the guitar, like the organ, is an instrument that can facilitate encounter. Paying attention to this new way of seeing, this metanoia, was a huge gift for me, and encounter became the main evaluative criteria for all kinds of music that moved me.
The truth is that many instruments can facilitate encounter and, in the right context, can specifically facilitate a Christocentric encounter. I'd like to explore how different instruments can be appropriate for Mass through the trifocal lens of the three judgments: the pastoral judgment, the liturgical judgment, and the musical judgment.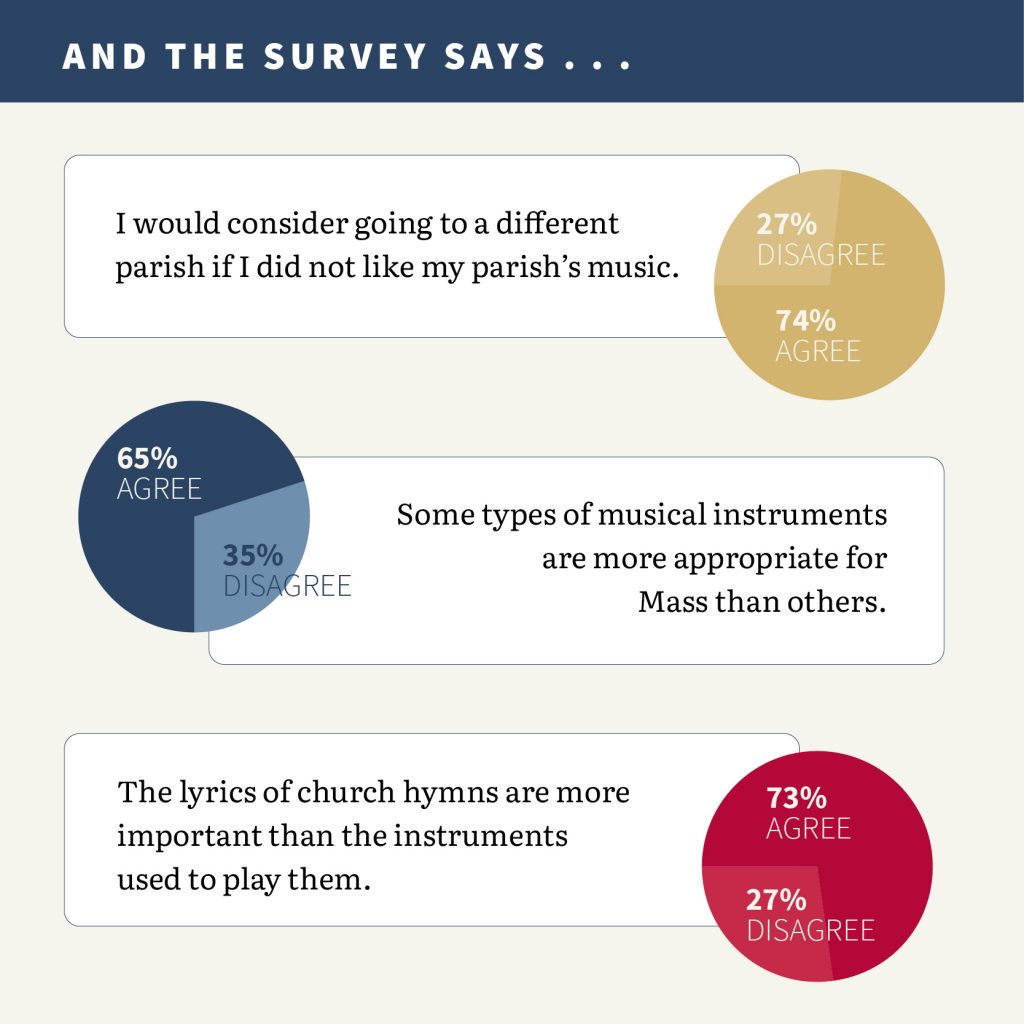 According to the United States Conference of Catholic Bishops' "Sing to the Lord," the "pastoral judgment takes into consideration the actual community gathered to celebrate in a particular place at a particular time." We are all made in the image and likeness of God, and each of us carries a strategically different slice of the divine. When taken together, each of these divine slices can create a mosaic that yields a more accurate picture of the Body of Christ.
Utilizing the resources of our particular faith community calls church leaders to demonstrate a confidence in the various gifts our faith community has to offer. With this in mind, we can confidently demonstrate a commitment to our faith community by encouraging and including various willing instrumentalists.
Recruiting, engaging, and training community members who play clarinet, oboe, flute, violin, tuba, trombone, harmonica, mandolin, ukulele, drums, percussion, trumpet, sax, guitar, and bass—in addition to the organ—can help cultivate a musical ensemble composed of what Jesuit Father Howard Gray calls the "specificity of personalities" and more accurately represent the Body of Christ in a particular place and time.
Ultimately, the goal of getting these musical folks involved is to give them an opportunity to share their musical gifts and facilitate encounter by "[expressing] the faith that God has planted in their hearts," which can "strengthen their formation in faith by opening [our] hearts to the mystery that is being celebrated," according to "Sing to the Lord."
In the hands of the right musician, just about any instrument can facilitate encounter when engaged with a proper skill set and appropriate arrangement.
Simply put, if it originates from your particular community, just about any instrument can be appropriate for use in worship. But how it is appropriately used can be an entirely different matter and largely depends on the openness and skill level of the director of music.
"Sing to the Lord" reminds us that musical competence is required when utilizing the musical judgment. Does the instrumentation support and add beauty to the singing congregation? The instruments should not overpower the assembly's voice; organists, drummers, and guitarists beware! If music distracts or discourages congregational participation, it will certainly not help to facilitate encounter and likely needs some tweaking from the director. This can be a rather daunting task.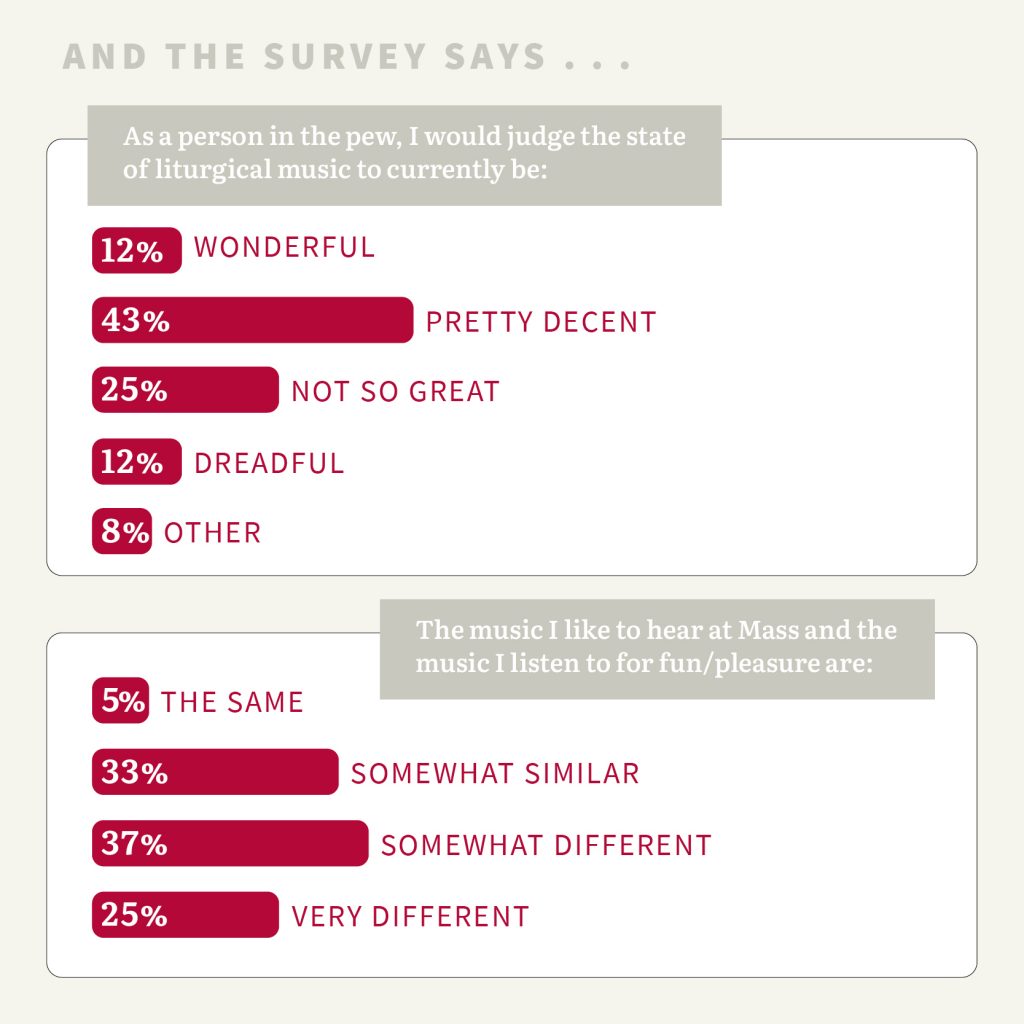 I distinctly remember one student keyboardist who insisted on playing loud while taking his own tempos. Using a metronome, I first encouraged him to consider playing a tempo consistent with rest of the group. When that failed, I tried to explain that playing in time with a group is much like praying the Lord's Prayer with a group: distinctly different than how you would say it solo and demanding some sort of surrender through listening. If one person is out of sync with the rest of the group it can throw the whole encounter off balance. This concept seemed to help a little bit, but as I remember, those four years were challenging times indeed.
Although we may want to involve many musical folks from our community, not all instrumentalists are able to be successfully tweaked for appropriate use in an ensemble. Please take note: not all instrumentalists are able. In the hands of the right musician, just about any instrument can facilitate encounter when engaged with a proper skill set and appropriate arrangement. The key is to balance the enthusiasm of the instrumentalist with appropriate dynamics and while occupying a suitable place in the arrangement.
Once we have instrumentalists who exhibit a well-intentioned and disciplined skill set, we can begin to incorporate them into the fabric of the ensemble. The liturgical judgment tells us flexibility is key, as the dynamics and intensity of each tune may significantly vary depending on where it used in the liturgy.
Enter the concept of progressive solemnity, which includes not only the nature and style of the music, but how many and which parts of the rite are to be sung. This particular principal helps guide and shape the use of the ensemble and may even necessitate some instruments not being used for a particular tune at a particular place in the liturgy. Sometimes, to facilitate encounter less is more.
One of the more enjoyable aspects of progressive solemnity is hearing all the instruments fervently join in with the choir and congregation for the Great Amen.
For example, although we may want to have the organ and rhythm section really kicking in for the processional or recessional, we may need less volume and intensity during the responsorial psalm or communion procession. Again, the ensemble's primary issue here is to support the voice of the congregation, as "the musical setting should support the musical text and convey meaning faithful to the teaching of the church" ("Sing to the Lord"). For me, one of the more enjoyable aspects of progressive solemnity is hearing all the instruments fervently join in with the choir and congregation for the Great Amen.
Including various instruments for worship can significantly help to facilitate encounter for the congregation. But utilizing instrumentalists can also have a positive effect on the musicians themselves, and the learning outcomes may not be immediately obvious.
For example, I began as director of liturgical music at Saint Michael's College in 1992 and had the pleasure of starting the first few years with an incredibly competent rhythm section of guitar, bass, and drum players. I recall one student in those early years that always worried me a bit, as he was a great listener and an excellent player but seemed generally uninterested most of the time.
He stayed with me all four years. At some point after his graduation he gave me a call and asked if I could send some of the tunes we played when he was in college. After a few minutes of catching up, he informed me that he needed the music because he was leading an ensemble for his church in a neighboring state. I almost fell out of my chair.
I learned from that experience that we should never underestimate the power of Christocentric encounter, particularly through music; it can help us take chances and grow. Although it takes some work and risk, it might be well worth the effort to seek out those in your congregation who play non-traditional instruments. Get them involved by incorporating and forming them into the fabric of your music ministry team.
For me, the liturgical musicians themselves have now become a source of encounter, and I continue to be forever grateful to have the opportunity to pray and play with all sorts of instrumentalists. It's the best job I've ever had.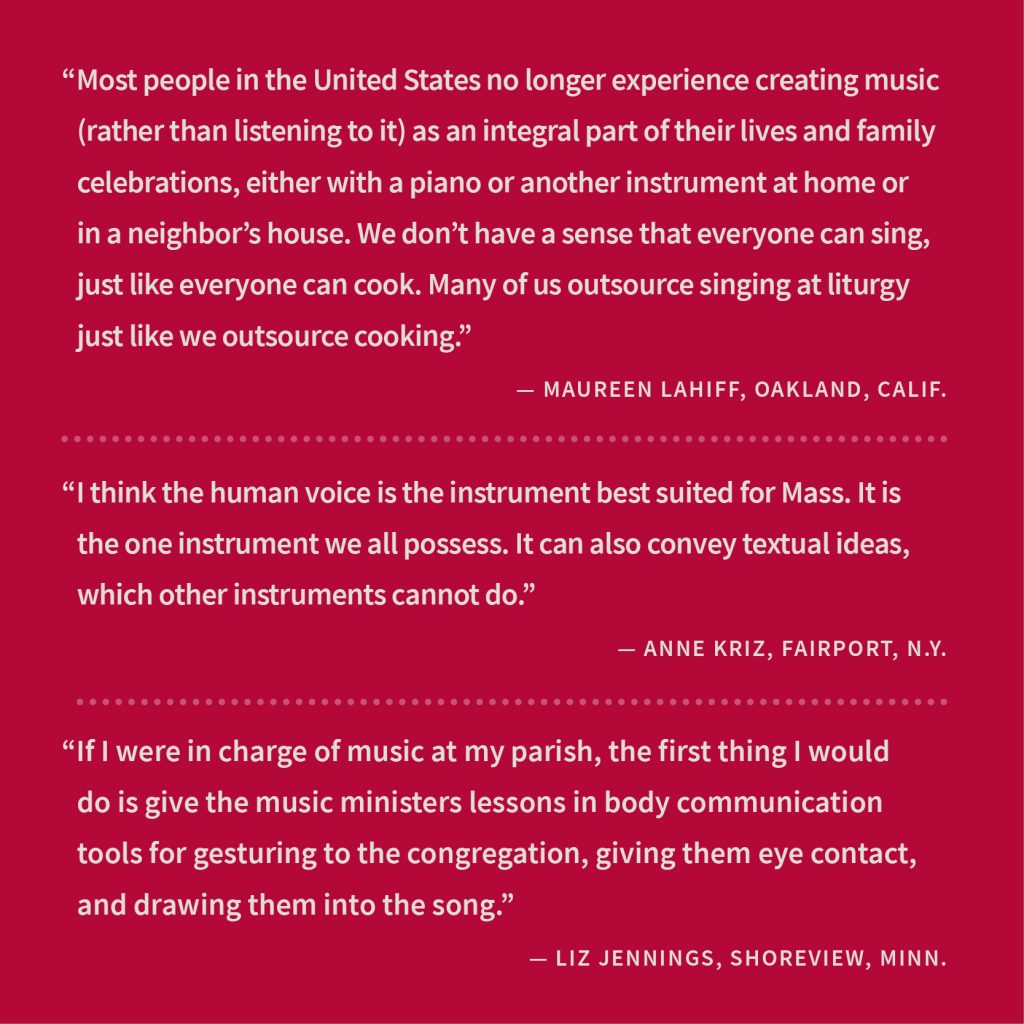 ---
This article also appears in the April 2021 issue of U.S. Catholic (Vol. 86, No. 4, pages 21-26). Click here to subscribe to the magazine.
Image: Unsplash/Laura Seaman