My friend Teresa tells an endearing story of her second-grade self beaming with pride as she returned home from school one day carrying a picture of St. Thérèse of Lisieux. Her class learned about saints that morning, and it tickled young Teresa to think she was named after the "Little Flower."
She scampered upstairs to share the excitement with her mom, only to learn that she is actually named after St. Teresa of Ávila. Her mom pulled out a picture of St. Teresa, who isn't depicted with the same vibrant flair as her counterpart. A crushed Teresa burst out: "I want to be named after the pretty St. Teresa!"
A sweet moment of childhood honesty!
Today Teresa writes of the experience, "The disappointment of that afternoon is long gone, but the pride of the morning is not. It delights me to be named after St. Teresa of Ávila and to share a name with two other amazing women in our church history: St. Thérèse of Lisieux and St. Mother Teresa of Calcutta. I am in a sisterhood of Teresas and gain strength and wisdom from each of these women."
The holy women who share her name come alive across generations—even centuries—for my friend. The communion of saints knows no bounds in heaven or on earth. In fact, the communion grows with each baptized person. We are all saints in our own ways, mirrors to the sacred in the ordinariness of our everyday lives.
Some members of the communion of saints make such a lasting impact on the world that the church canonizes them as saints. Canonized saints are holy witnesses to the faith who intercede for those of us still on our earthly journey.
In The Big Book of Women Saints (HarperOne), Sarah Gallick writes of canonized female saints who are "martyrs and mystics, rebellious daughters, loving wives and mothers, reformed prostitutes, restless visionaries and humble recluses." She says these women "were all blessed with a unique ability to influence the world for the better and an extraordinary capacity for love."
A great cloud of female witnesses surrounds us. Let us rejoice with them!
Besides coinciding with Lent, the month of March offers another reason to celebrate female saints. U.S. presidents have proclaimed March "Women's History Month" since 1987. The movement to more formally honor women's contributions to society started in the 1970s. Up until then, most schools did not include any sort of "women's history" in their curriculum. In fact, the idea that women have history worth sharing wasn't common among the people (that is, men) in power.
Unsatisfied, a group of women did what women have done forever: They got organized and told stories.
Soon, schools and libraries began highlighting women such as Susan B. Anthony, Sojourner Truth, and Harriet Tubman. March became a time to reflect on equal rights laws on the basis of sex: how far the country has come and how much farther it still needs to go.
The church would do well to reflect on women's history and how much more work still needs to be done to achieve equity among Catholics of all genders.
To start, consider inviting these six female saints to journey with you this Lenten season. Below are ideas of ways to pray, fast, and give alms inspired by the lives of these holy women.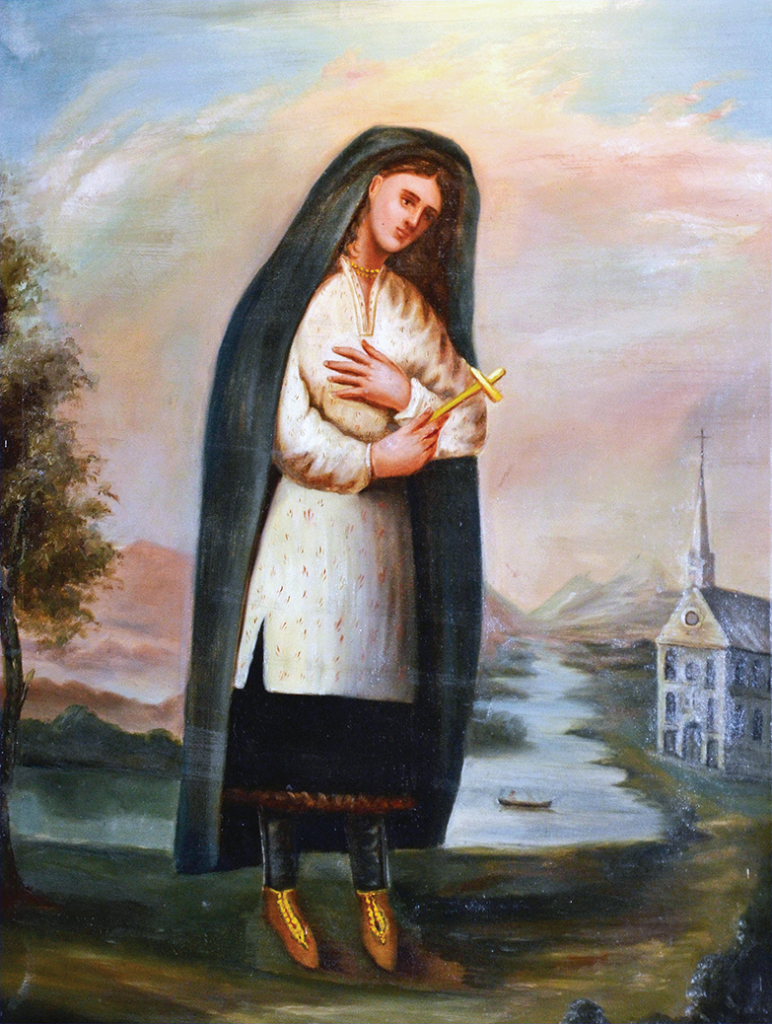 St. Kateri Tekakwitha (1656–1680) Patroness of ecology and the environment
Kateri Tekakwitha blazed her own trail as the first Native American to be canonized. A woman of Algonquin and Iroquois ancestry, Kateri grew up in the midst of brutal colonization in present-day New York. Her parents died of smallpox when she was just 4 years old. Her uncle, a Mohawk chief who hated the Jesuit missionaries for infiltrating their land, adopted Kateri. A Jesuit priest baptized Kateri around age 20, a move that left her scorned by her Mohawk community. Kateri took another step outside of native tradition when she refused to get married. Kateri offers a striking example of what biographer Nelly Walworth calls a "thoroughly modern quest for personal autonomy."
Kateri's deep devotion to her faith showed in her prayer life. She would go into the woods for an hour each day to pray. Her story also raises awareness of the painful history between Catholic colonizers and Native Americans.
Prayer Lift up a prayer of gratitude for the Native Americans whose land now sustains your home and workplace. Visit the website native-land.ca or your local historical society to research the specific tribes indigenous to the region. As Paul wrote in his letter to the Thessalonians, "We always give thanks to God for all of you and mention you in our prayers, constantly" (1 Thess. 1:2).
Fasting Reverence God's gifts of creation by intentionally reducing your carbon footprint. Pick one day of the week to carpool—or even go car-free if you're able. Go on local adventures for spring break instead of getting on an airplane. Buy foods that are in season from local farmers. Go meatless on Mondays as well as Fridays. Do not buy any new clothes during Lent.
Almsgiving Many organizations that support Native Americans are regional. Learn more about one near you and donate to their cause. Alternatively, consider investing in the American Indian College Fund, a national organization that invests in Native American students and tribal college education.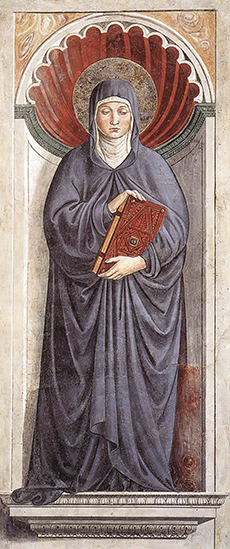 St. Monica (330–387) Patroness of wives, mothers, and alcoholics
Monica worried about her family—and never gave up on them. She married a pagan man with a hot temper whose equally difficult mother lived with Monica. After giving Monica much grief for her Christian faith, both eventually converted to Christianity.
Monica's eldest son, Augustine, caused particular concern. Monica worked hard to raise her children with strong Christian values. Yet Augustine constantly found himself in trouble: skipping school, fooling around with women, and insulting the people around him. Monica prayed each day that Augustine would turn his life around. She even elicited the help of the local bishop to try to talk some sense into her son. Eventually, Augustine changed his ways and became an influential father of the church.
Monica modeled patience and persistence throughout her life. Her story continues to serve as a source of comfort for those who worry about their loved ones.
Prayer Pray a decade of the rosary each day—or even better, make your way around every bead. Dedicate each decade to a loved one going through a difficult time. Ask Mary to intercede for them. Who knows the trials of family life better than Mary? Like Monica, Mary worried, wondered, and grieved over her son.
Fasting Put family first this Lenten season by giving your full, undivided attention to your loved ones. A simple—but not always easy—strategy is to put your phone away when others are around. Devices divert attention when in sight, even when we are not actively using them. Put the phone in a drawer and feast on together time.
Almsgiving Many families at the southern border face separation and incredible stress. The fate of their loved ones hinges on government policies, many of which do not respect the dignity of every human being. Give of your time by calling your local and state representatives to ask them to stop separating families at the border. Donate to the good work being done by Catholic Charities in El Paso, Texas.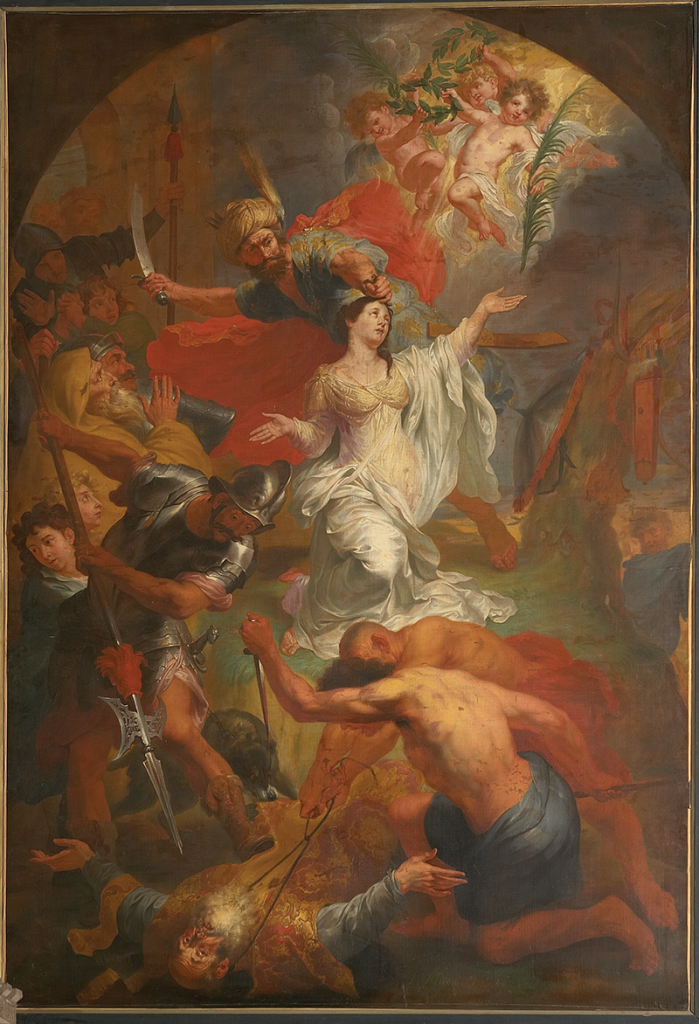 St. Dymphna (7th century) Patroness of people with mental illness or nervous disorders
Dymphna felt the effects of mental illness firsthand. Her father Damon's mental health declined rapidly after her mother died. Dymphna was just 14 years old when Damon went on a hunt to remarry a woman who looked like his deceased wife. A colleague made the sick suggestion that Damon marry his own daughter. Dymphna caught wind of her father's plan and fled to the small town of Geel (in present-day Belgium). Legend says Dymphna brought enough money with her to found a hospital for people in poverty—a generous move that allowed her father to track her down.
Damon killed Dymphna's travel companion first. When she refused to return home to marry him, Damon severed Dymphna's head. She died at age 15. Centuries later, the people of Geel erected a church to honor her. People who experience mental illnesses pilgrimage from all over the world to the church to ask for Dymphna's intercession.
Prayer Millions of people in the United States face mental illness. One of the best ways to help someone struggling is to be a calm, peaceful presence. Practice centering prayer for 10 minutes a day to put yourself and those around you at ease. Allow the prayer to seep into the rest of your day.
Fasting Anxiety affects all people in one way or another. Improve your mental health by fasting from one part of your routine that triggers anxiety. Maybe that means leaving home a few minutes earlier to avoid rush hour, staying away from a personal relationship on the fritz, or asking for help on a stressful work project.
Almsgiving Treatments for mental illness, such as counseling, medication, and support groups, have come a long way since the time of Dymphna. For 40 years the National Alliance on Mental Illness (NAMI) has helped individuals and families experiencing mental illness build better lives by providing advocacy, education, support, and public awareness. Check out NAMI's website at nami.org and consider making a donation.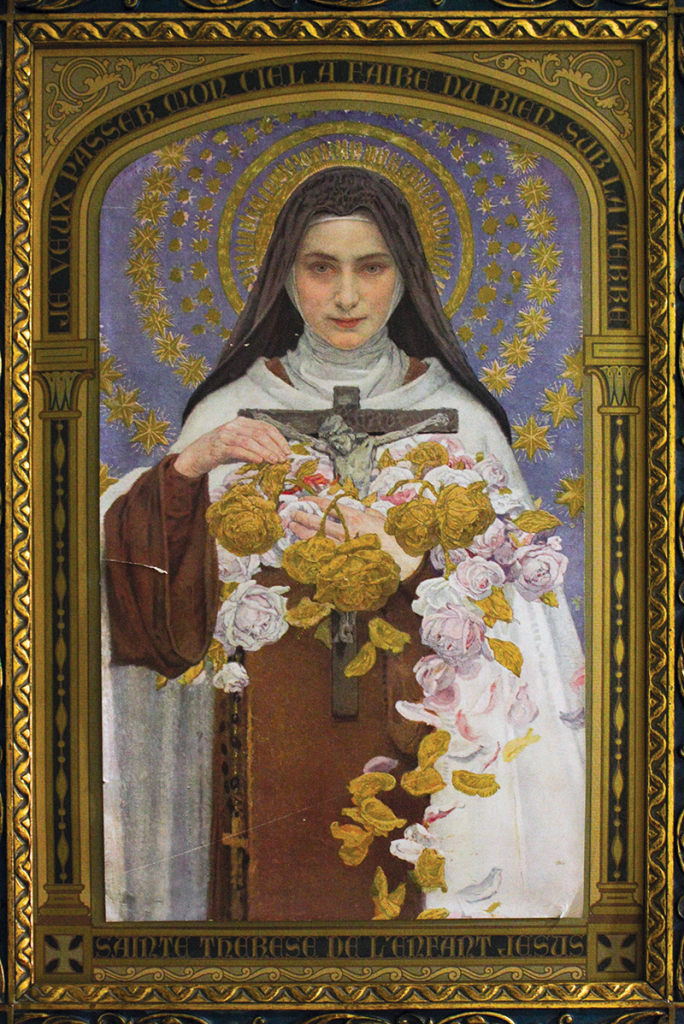 St. Thérèse of Lisieux (1873–1897) Doctor of the church; patroness of priests, missionaries, and florists
Thérèse of Lisieux revered the "little things" during her short and influential life. She felt called to both serve the outside world and withdraw into the contemplative, cloistered life.
In her autobiography, Thérèse shares a deeper understanding of her calling: "Jesus, my Love, I have at last found my vocation; it is love. In the heart of the church, I will be love. So shall I be all things, so shall my dreams come true." Thérèse came to know herself as beloved at a young age. God's love freed her to tend to the needs, big and small, of those around her.
She was named a doctor of the church—one of only four women given such an honor—for the ways she lived the gospel message of love in ordinary life.
Prayer Thérèse once said, "A word or a smile is often enough to put fresh life into a despondent soul." Pray your way through the day by offering a smile to people you encounter, especially those in the service industry who often get overlooked: grocery store clerks, gas station attendants, or custodians. This simple, ordinary action can leave a lasting impression.
Fasting Fast from rushing from place to place. Known as the "Little Flower," Thérèse embodied an old saying: "Stop and smell the roses." Pause to marvel at the world around you: the ray of sun beaming through your window, a child's eager enthusiasm, or the music playing in the lobby. Block out more time in your schedule between appointments to help facilitate your slower pace.
Almsgiving Give of your time this Lent to a "little thing" in your community. Ideas include picking up trash along a few blocks of sidewalk, bringing communion to people who are homebound in your parish, making a meal for a neighbor in grief, or paying for a stranger's drink at a coffee shop. Gestures don't need to be big to make a big difference.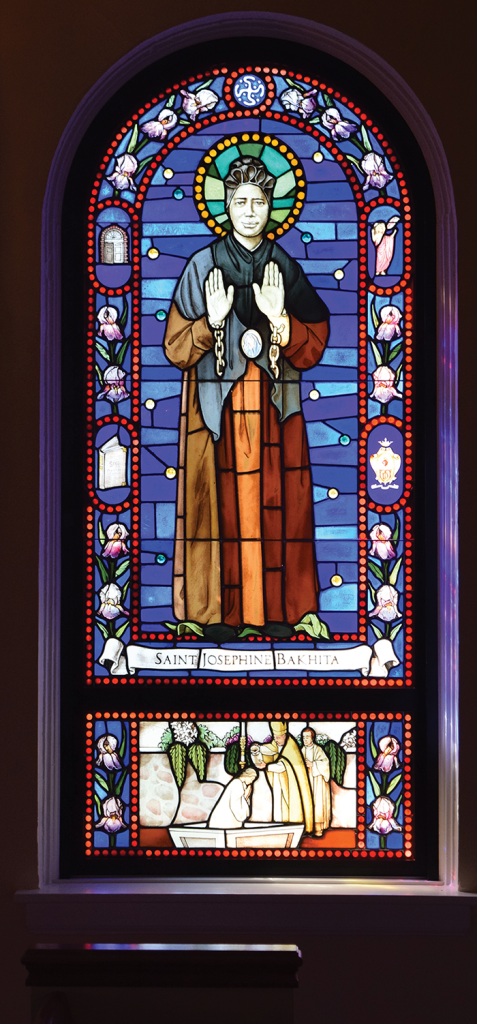 St. Josephine Bakhita (1869–1947) Patroness of Sudan and human trafficking
Josephine Bakhita knew suffering. Slave traders kidnapped her from her home in Darfur when she was 8 years old and brought her to central Sudan. As a teenager Josephine endured brutal physical abuse at the hands of her owners. Scars covering her body told the story.
In 1883 she was sold to the Italian consul in Sudan. A few years later the consul took her to Italy and gave her to his friend Augusto Michieli. She soon became a nanny for Michieli's young daughter, whom she accompanied to Venice's Institute of the Catechumens, run by the Canossian Sisters. This first experience of Christianity hooked Josephine. She fought to stay at the convent rather than return to Sudan—and won. Josephine, scars and all, emerged from the waters of baptism with a newfound freedom in body and spirit.
She lived out the rest of her days at the convent. Later in life Josephine told a student that she would "kneel and kiss their hands" if she were to ever encounter her former slave owners. Through unspeakable trauma, Josephine witnesses to the transformative power of forgiveness.
Prayer Discern if there is anyone in your life you need to forgive—or seek forgiveness from. What are the disagreements, issues, and deep wounds you carry with you this Lent? Are there ways relationships can be mended? What could it feel like to be free of the hurt you carry? Meditate on these words from the Lord's Prayer: Forgive us our trespasses, as we forgive those who trespass against us.
Fasting Slavery continues to wreak havoc on lives across the world. The rise of global capitalism leads to increasing demands for cheap labor. As the gap between the poor and the rich widens, those starving for basic income often end up working in sweatshops, where managers exploit and abuse their labor. This Lent, fast from purchasing clothing and other goods made in sweatshops. Check the tags and ask questions of store management if you're not sure of the product's history. Commit to buying ethically made goods instead.
Almsgiving Check out and support the campaign from Catholic Relief Services University against human trafficking, another form of modern-day slavery. Human trafficking is a direct attack on the dignity of every human being. It includes sex trafficking, forced labor, debt bondage, domestic servitude, and the use of children in armed conflict.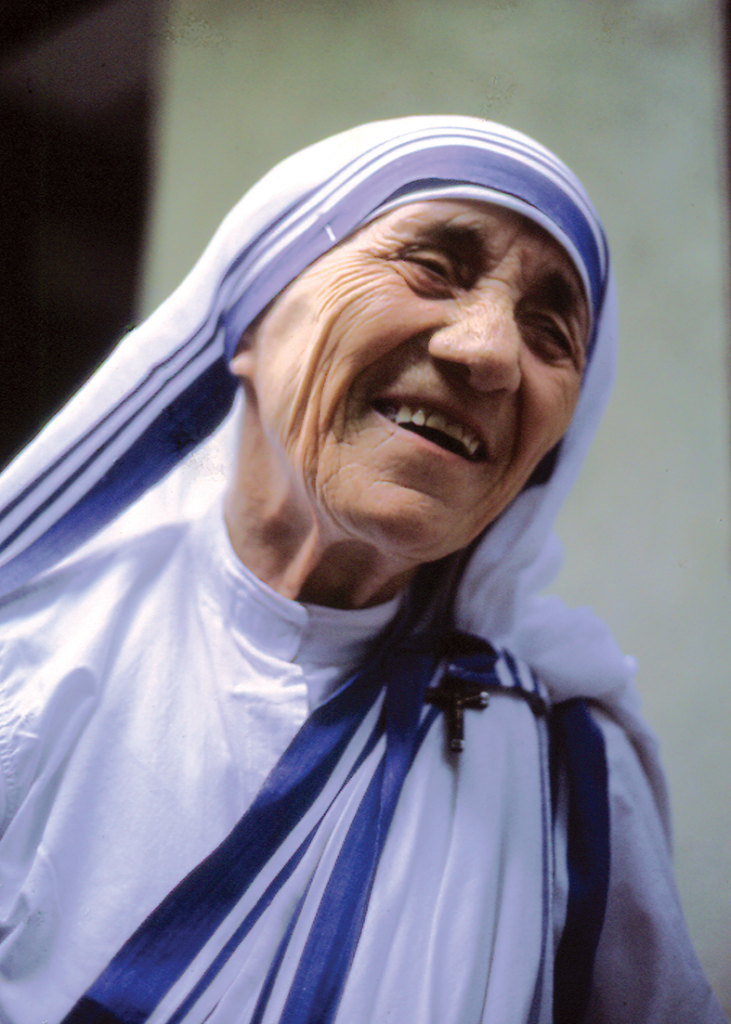 St. Teresa of Calcutta (1910–1997) Patroness of doubters
Mother Teresa spent her life among the poorest of the poor, serving, loving, and walking humbly with those whom society forgot. Her heart broke for people lying sick in the streets—and so she made a home in the slums of Calcutta. Teresa honored the dignity of each person as she bandaged wounds and fed children dying of hunger. She founded the Missionaries of Charity religious congregation as more people felt drawn to her ministry.
Teresa also knew darkness, living for years in a "dark night" of the soul, where she felt separated from God. She once wrote, "If I ever become a saint—I will surely be one of 'darkness.' I will continually be absent from heaven—to light the light of those in darkness on earth." This pain would end up drawing Teresa even closer to Christ, who also experienced times of great darkness.
Prayer What better way to gain strength through darkness than to pray when it gets dark outside? Compline, or night prayer, is the final prayer of the daily office. It offers space to reflect on the day's events. Traditionally prayed during compline, Psalms 4, 91, and 134 ask God to bless and keep us through the darkness of night.
Fasting Fast from walking or driving by a person in need of help. Maybe they are holding a sign near an intersection or sitting with shoulders slumped along the curb. Stop and talk. Carry extra snack bars and gloves in your car to give out as needed.
Almsgiving Women's religious communities minister to the lonely and neglected across the world. Support their ministries by donating your time or treasure. Connect directly with the Missionaries of Charity or find a local community to support.
May all the holy women—and men!—pray for us this Lenten season.
This article also appears in the March 2020 issue of U.S. Catholic (Vol. 85, No. 3, pages 32–37). Click here to subscribe to the magazine.
Image: Flickr.com cc via Fr. Lawrence Lew, O.P.