Like Dorothy, the sisters first arrived here via tornado. And in another Oz parallel, their presence led the people of Pueblo de Palmas to discover that the strength to create a better life, obscured for a time by fear, isolation, and lack of confidence, lay within them all along.
After a tornado ripped through this South Texas colonia in 2002, the bishop of Brownsville asked the Missionary Sisters of the Immaculate Heart of Mary for temporary help. Soon after, when the women religious were seeking a new ministry, they circled back to this settlement, dotted with dilapidated trailers and tiny homes. In 2004 they set down roots here, about 10 miles from the U.S. border with Mexico.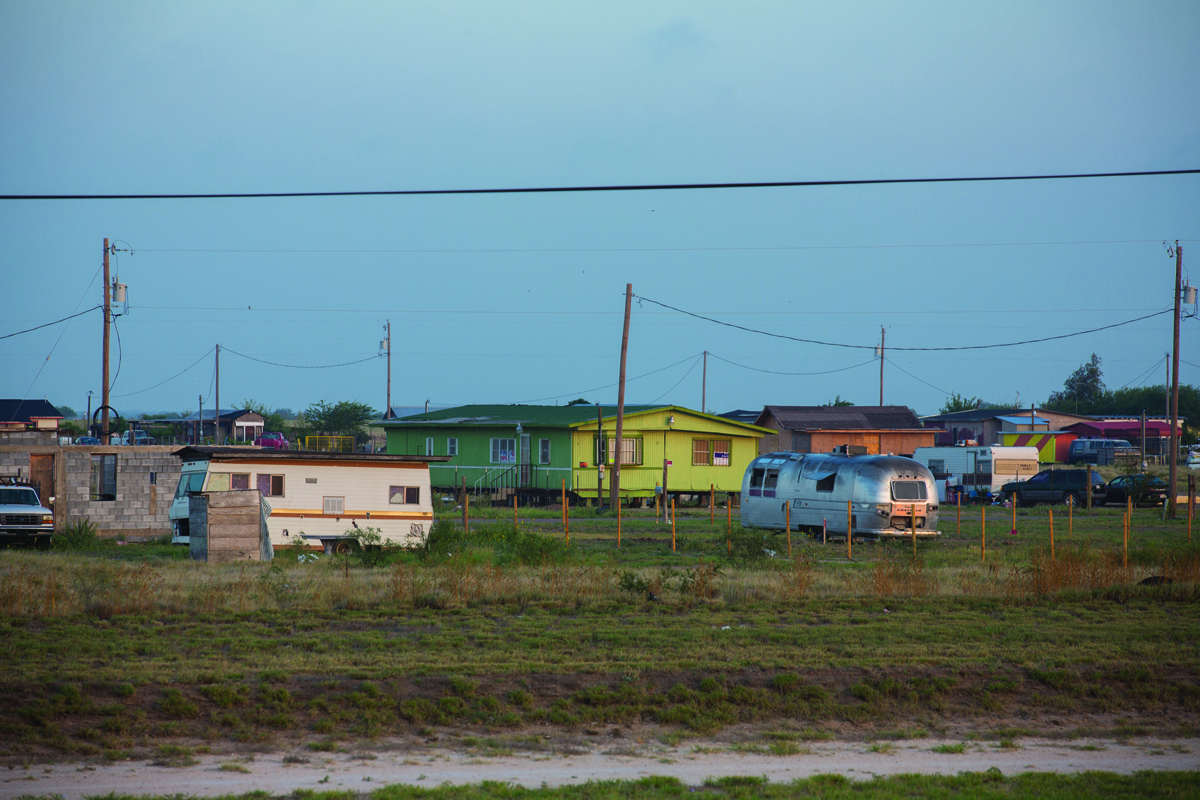 Trailers often house more than one family. To build a house, families will buy a plot and then put up one wall at a time. Notice the wall at far left.
Their first obstacle? That old favorite: money. "A developer in the area was offering electricity and water hookups, which not all settlements had," says Sister Carolyn Kosub. "Our sister went to have a talk with him and told him we were thinking of starting a community center. He said, 'How much money do you have?' She said, 'None.' "
The developer, Gary Frisby, donated not only the land for the community center but also a plot nearby for the sisters to build a home. He told them he had even picked out a plot for a church someday.
The sisters began knocking on doors, where they hit another stumbling block: fear. Few residents were willing to talk to them at first. People were wary of strangers. If any families at the time had members without immigration documentation, one could imagine they might keep to themselves. The sisters have never asked about immigration status, of course, because their mission is simply to serve everyone.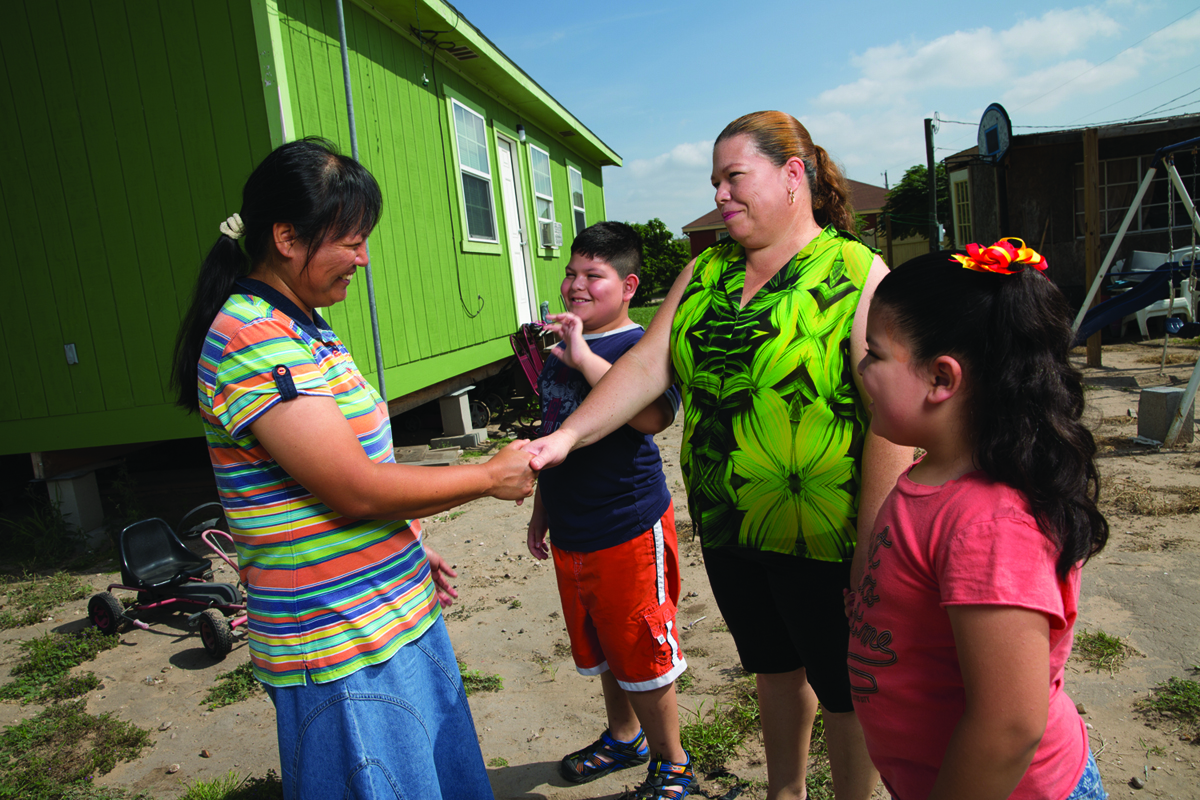 Sister Emily Jocson meets with Maria Soto and her son Emanol at their home.
The sisters proceeded, as women often do, by talking with the women, as the men spent long hours away at day labor jobs. "We had many dialogues to find out what they needed," says Kosub. "We didn't come just for the Catholics, but for everyone." Eventually the most critical needs surfaced: tutoring for the children, who needed homework help in English that their parents often could not provide, as well as access to computers for their schoolwork; health care, since most families lacked health insurance; and English classes for adults, who needed to know the language to get any sort of job.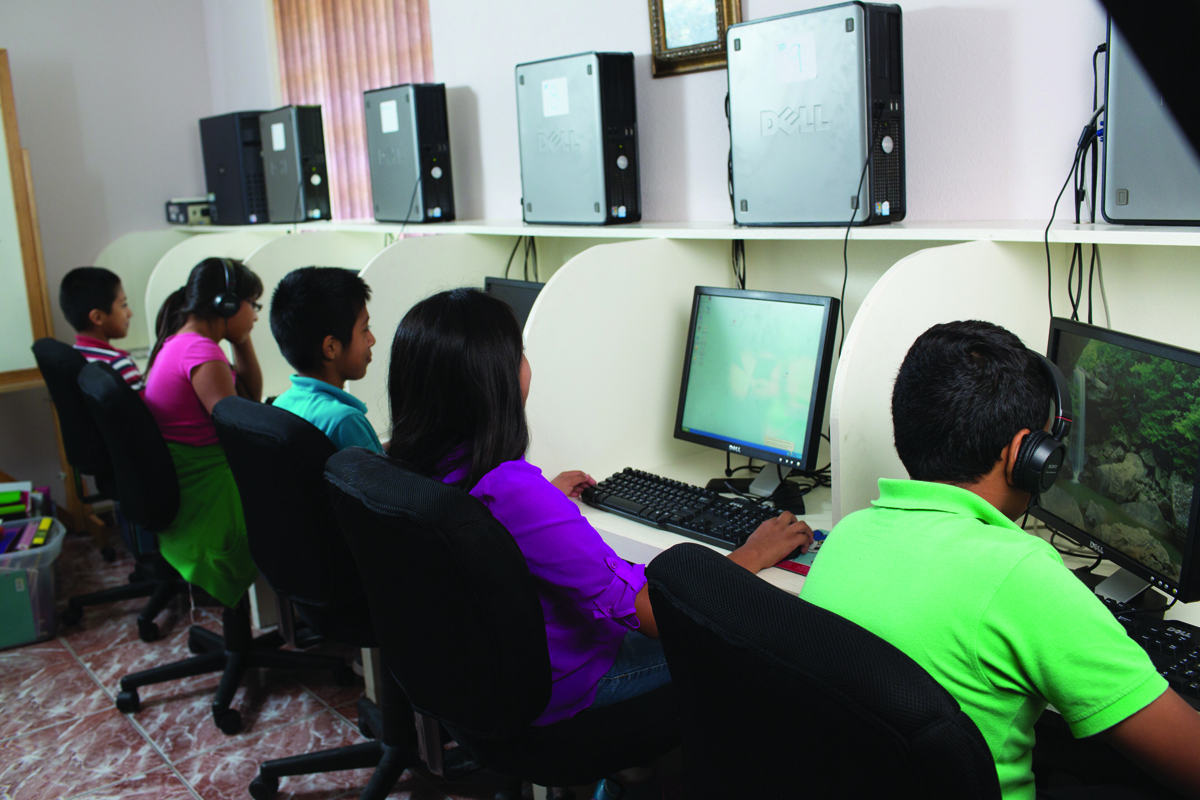 A computer lab with internet access for students' homework was one of the community's most critical needs.
The community center, Proyecto Desarollo Humano (Project for Human Development), went up in 2004 and has expanded twice. Volunteers showed up to help, many of them snowbirds or "winter Texans" in Texas lingo. Before they drove down from the North they would fill their cars with food, clothes, furniture, and household items for the colonia. A computer lab was born, along with a sewing room and a health clinic for medical and dental visits staffed by volunteers. There's also a children's summer program, English classes, and faith formation.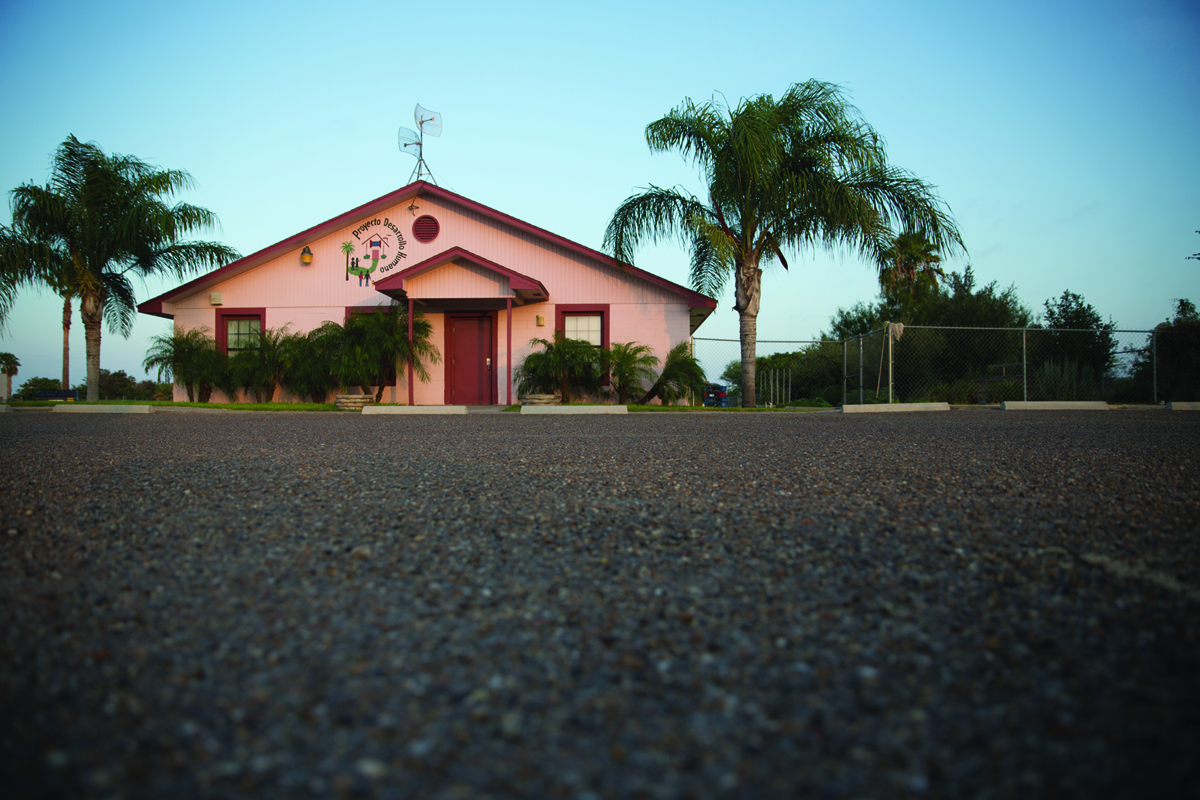 The colonia's community center, Proyecto Desarollo Humano, opened in 2004.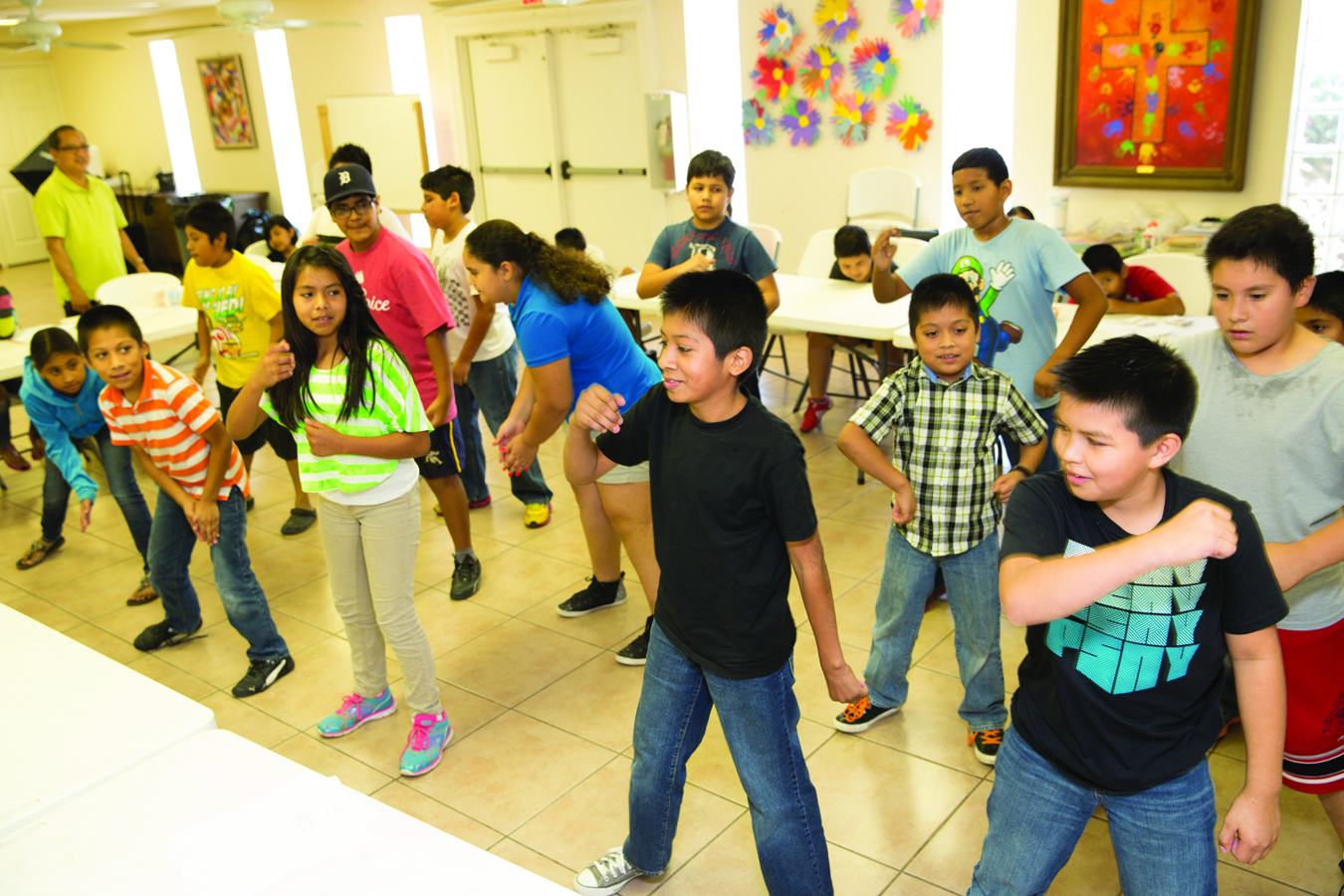 Today, the community center hosts many different programs, including a summer program for children. The program keeps the kids occupied, as well as cool during summer days when the temperature can soar to 104 degrees.
The three sisters in the colonia today come from three very different places: San Antonio native Sister Carolyn Kosub proudly wears her Texas T-shirts. Sister Fatima Santiago, who does both social work and outreach, hails from India and spent years as a missionary in Guatemala. Sister Emily Jocson from the Philippines, a civil engineer by training, is the executive director of Proyecto Desarollo Humano and manages the community garden. In this garden and in individual home plots, residents grow vegetables organically to improve the carbohydrate-heavy diets that contribute to the high rate of diabetes in the colonia. The Women's Wellness program at the center includes nutrition, counseling, dance fitness, and classes in arts and crafts.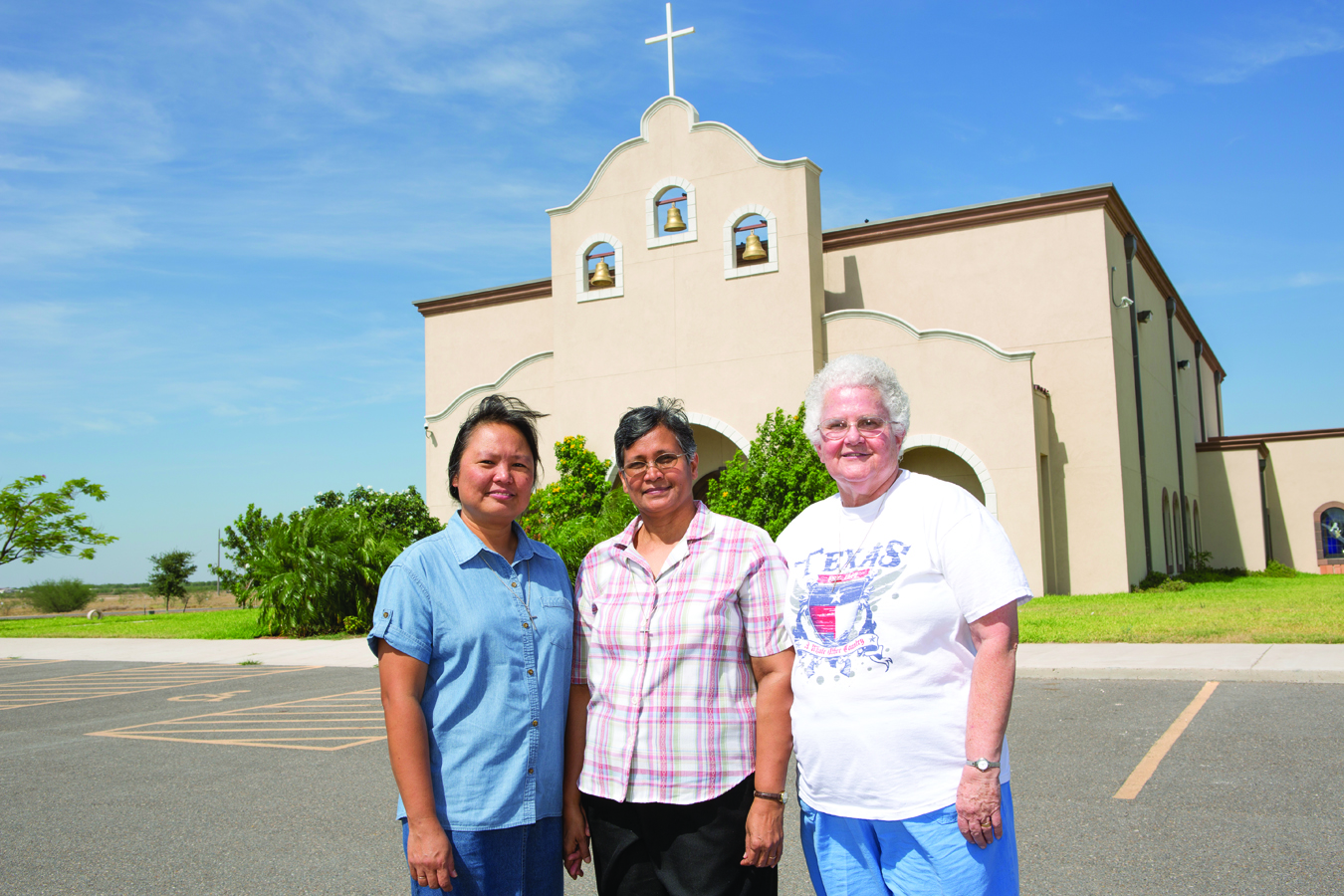 From left to right: Sister Emily Jocson, Sister Fatima Santiago, and Sister Carolyn Kosub.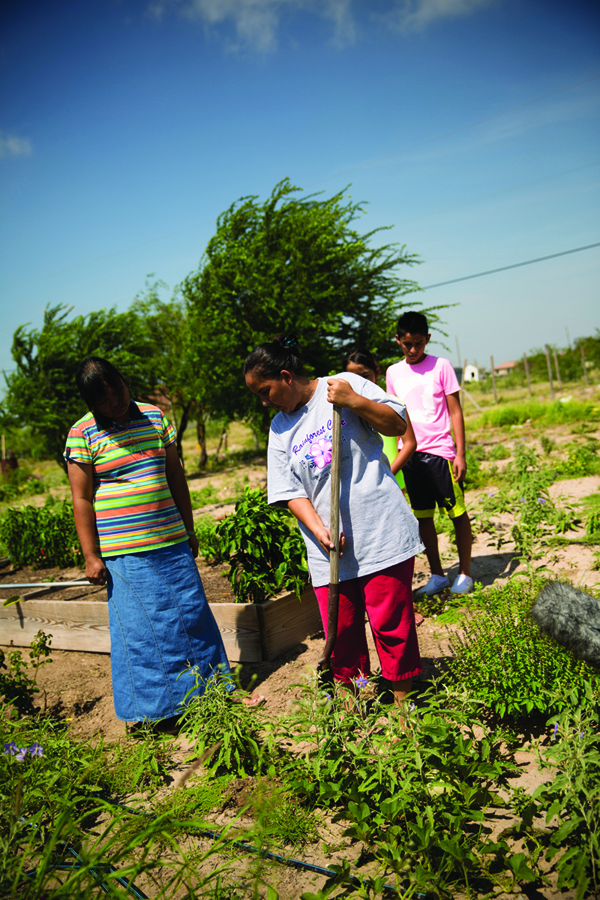 Anita Hernandez and her son Jonathan work in the community garden.
Some years back a volunteer asked the sisters, "How come you don't have Mass here? You're nuns!" With no church nearby, families had a hard time getting to Mass. Transportation was unreliable or nonexistent for many, and families feared they would not get a warm welcome at distant churches. A Mass at the community center soon overflowed the small space. Here was another chance for developer Gary Frisby, with his dream of a church for the colonia on the land he had already set aside, to be the cheerful giver. St. Anne's Church opened its doors for Mass in 2009, but not before locals had to fend off drug dealers who repeatedly vandalized the building as it went up, because they had been using the area as part of a drug smuggling route.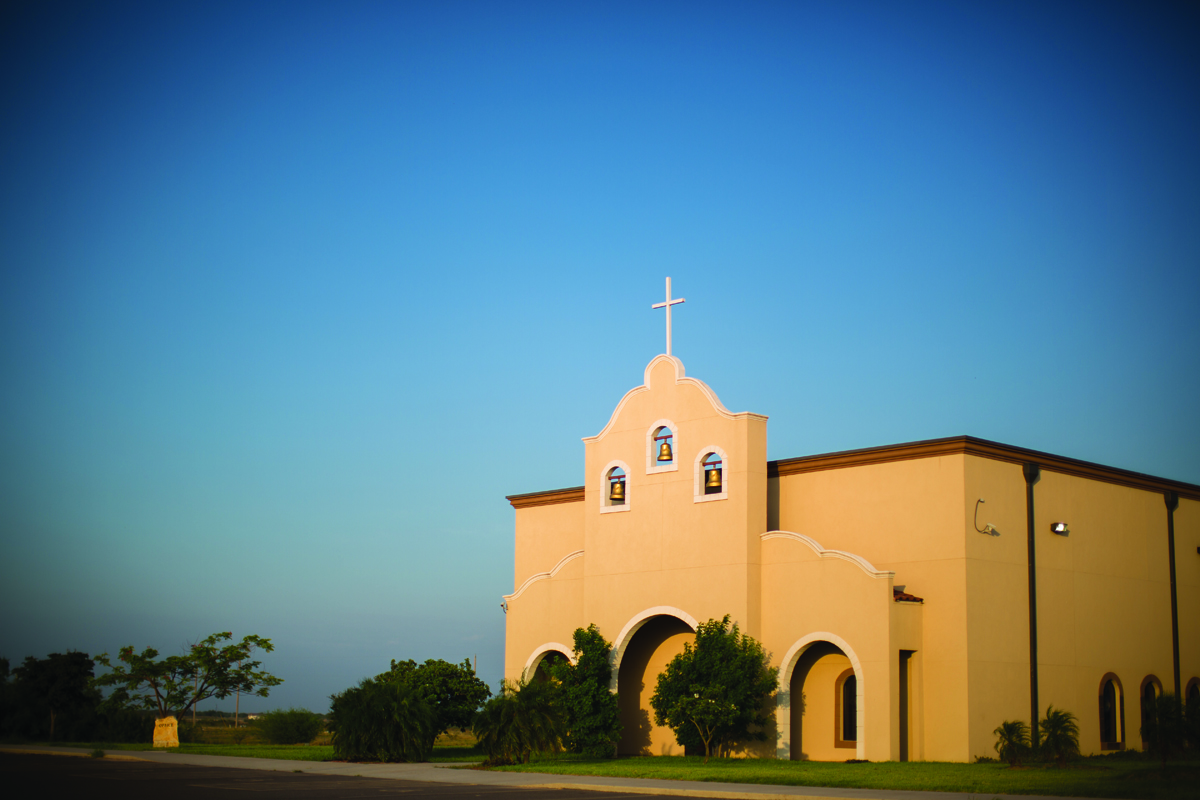 St. Anne's Church opened for Mass in 2009.
What happens at the church symbolizes what has happened to the whole community: "We had a faith community—it just needed a home," says Kosub. "The sense of ownership is what always strikes me. It is 'our center,' 'our church.' " Neighbors handle church cleaning and maintenance; women from the colonia staff the community center in positions such as plant manager, bookkeeper, and the like.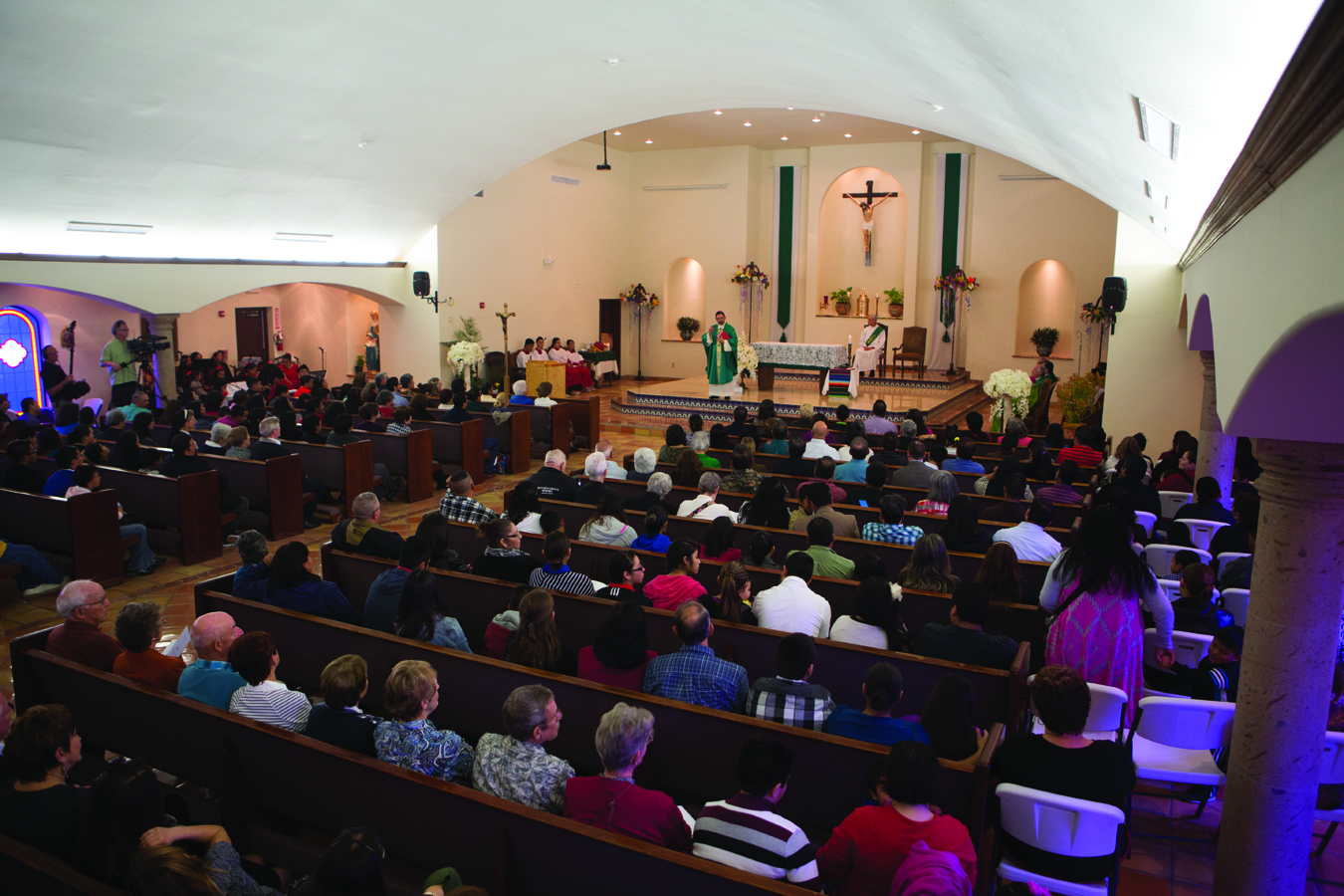 The church has become a vibrant faith community, with members taking ownership and responsibility for the care and upkeep of the building.
"Women are learning to stand on their own two feet, to believe in themselves, to see what they can do and that it will work," Kosub says. "They learn how to run meetings, they do all the planning and make it work." The old attitude of "Who am I to speak to my child's teacher?" has faded away, as parents dialogue with their children's principals at Comunitario PTA meetings, which are held right in the community center at the colonia.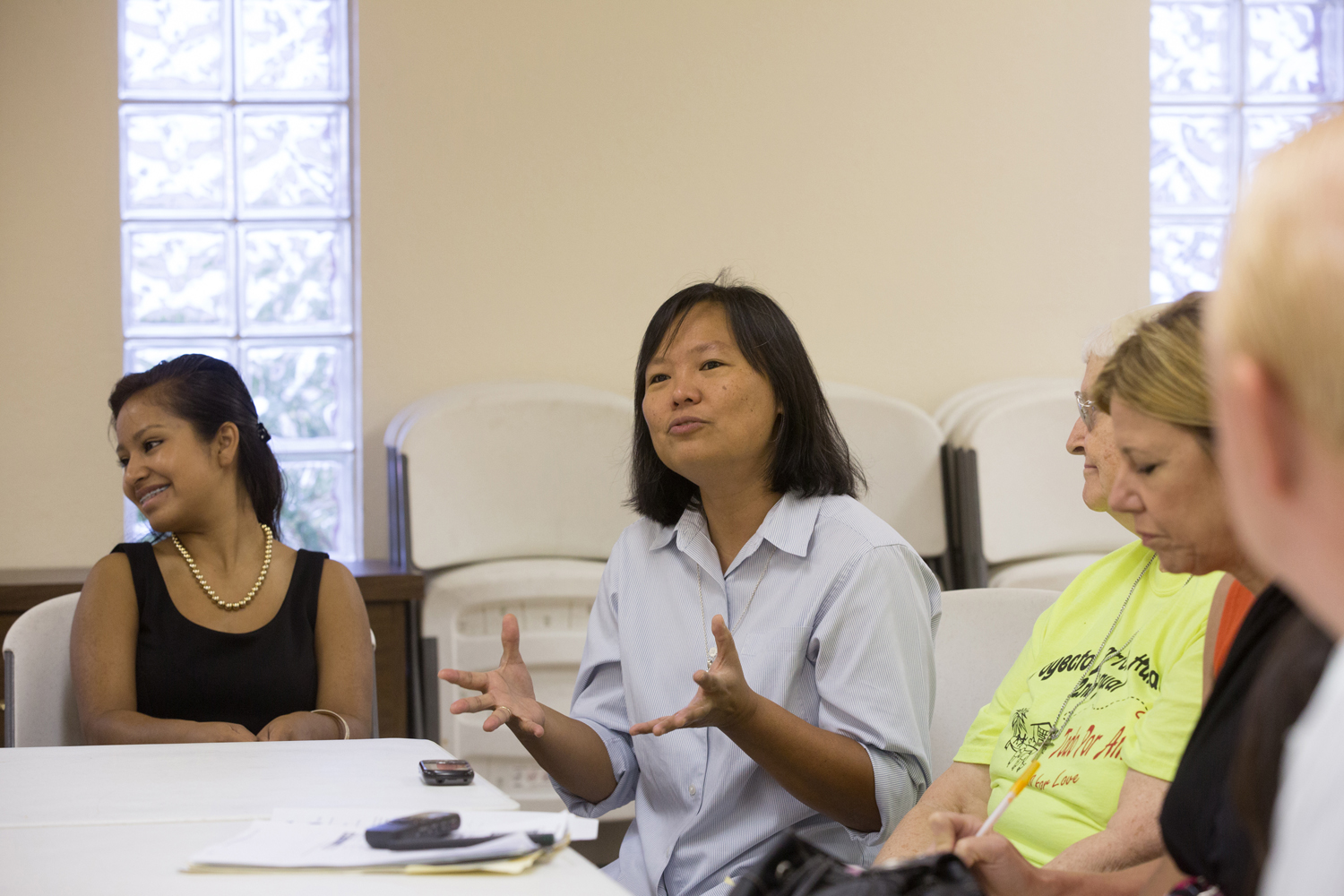 The center lets women learn important leadership skills, like running meetings, planning, and implementing programs.
In recent years the sisters helped a number of young people from the community who were brought to the United States as children to apply for DACA (Deferred Action for Childhood Arrivals) work permits, which offer two years of protection from deportation and can be renewed. The young people could then apply for a Social Security number, get a driver's license, and apply for jobs and financial aid for college. They could also, for the first time, travel beyond the Border Patrol checkpoint. The cost to apply for DACA, however, was $450, an impossible sum for most. But here some of the winter Texans and other benefactors rode to the rescue, footing the bill for the young people, while a local lawyer volunteered to troubleshoot their applications. "The whole world has opened up for them," says Kosub. "This is their country, but they couldn't prove it. The driver's license, being able to get through a Border Patrol checkpoint—all these things are a sign that 'I belong here.' "
The sisters' work so impressed Brownsville Bishop Daniel Flores that he nominated them for the Lumen Christi Award given by Catholic Extension, a nonprofit that supports Catholic communities in need of resources, often in some of the poorest areas of the United States. Flores said the sisters are the "glue that made this community possible." Extension president Father Jack Wall presented the award at a joyful Mass at St. Anne's in November 2014. Catholic Extension has provided a major source of funding for the construction and ongoing expenses of the community center, which is also sustained by grants from foundations, donations, and, says Kosub, "a lot of God's grace—and that's the reason it works."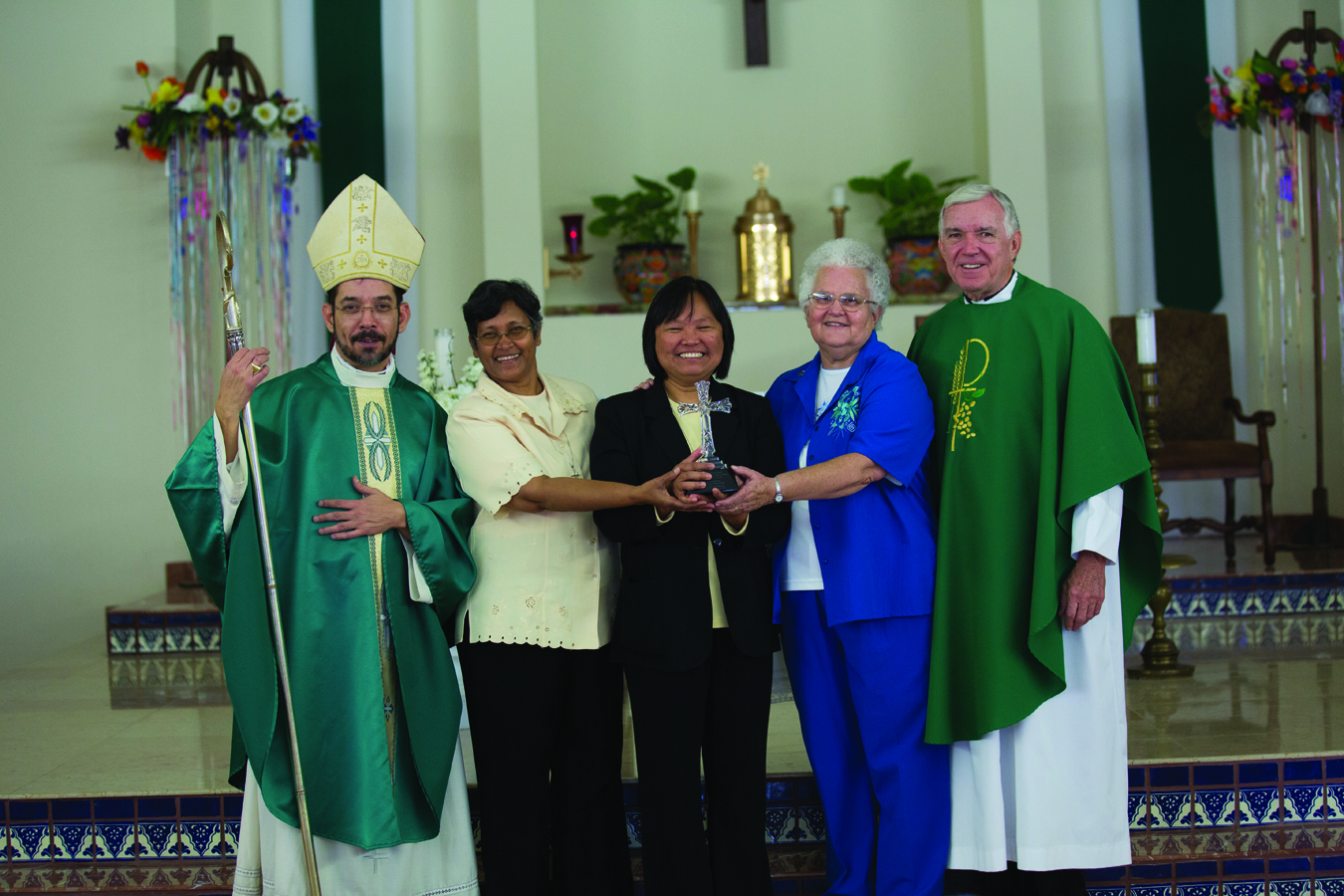 In 2014, Father Jack Wall presented the sisters with the Lumen Christi Award given by Catholic Extension.
A version of this article appeared in the June 2015 issue of U.S. Catholic (Vol. 80, No. 6, pages 18-23). 
All photos courtesy of Catholic Extension, a papal society that makes visible the power of faith in America's most marginalized communities by investing in people, infrastructure, and ministries. Since its founding in 1905, Catholic Extension has distributed hundreds of millions of dollars to dioceses and parishes that cannot support themselves. For more information, visit catholicextension.org.