December 2015: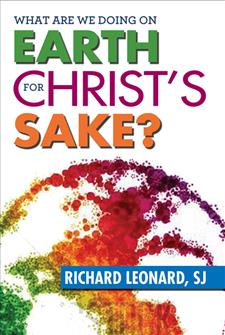 What Are We Doing on Earth for Christ's Sake?
by Richard Leonard, SJ
Review: Richard Leonard tries to avoid conversations with strangers on long flights. Inevitably, a fellow passenger will ask Leonard what he does for a living, and the Australian Jesuit dreads the reaction he will hear upon saying he's a Catholic priest. Leonard thought he'd heard them all—that is, until he met a young man named Thomas on a flight from New York to Los Angeles.
Their resulting conversation inspired this book, in which Leonard employs his engaging storytelling, wit, and wisdom to provide, as he calls it, "an accessible argument for faith." The book tackles common questions Leonard hears from both nonbelievers and lapsed Catholics like Thomas, offering a powerful reminder that true faith is never without doubt, but rather it is a constant search for answers.
—Scott Alessi, former editor, U.S. Catholic
Paulist Press says: Addressing the world in which Christians live, bestselling author Richard Leonard asks who we are before God and how we can be more confident in our faith in a loving God.
Paperback: $14.95
Discussion Questions:
CHAPTER ONE: Belief and Unbelief
1. Why make everything that you do be "for Christ's sake"?
2. Do you agree that you do not have to be religious to be a moral person? What role does religion play in shaping our moral life?
3. Why is it important for Christians to defend the right not to believe?
4. What is the difference between science and religion? In what ways do science and religion complement each other?
5. How does your image of God reveal your theology?
CHAPTER TWO: Questions of Faith
1. What is the greatest challenge to your faith today?
2. Is your faith a spiritual "crutch" or something that inspires your actions in life?
3. How does your faith set you free?
4. What role does religion have in public society? What is the role of Christianity?
5. What has been an unexpected grace-filled moment in your life?
CHAPTER THREE: Witnesses of Faith, Hope, and Love
1. Is there a particular witness of faith presented in chapter 3 that inspires you?
2. Who is your favorite saint and why?
3. Why do you think the author includes the survivors of sexual and physical abuse by church personnel as witnesses of faith?
4. What do you find most inspiring about the story of the Trappist Monks of Algeria?
5. While doubts and questions are essential for any spiritual journey, in what ways are you seriously looking for answers to your queries?