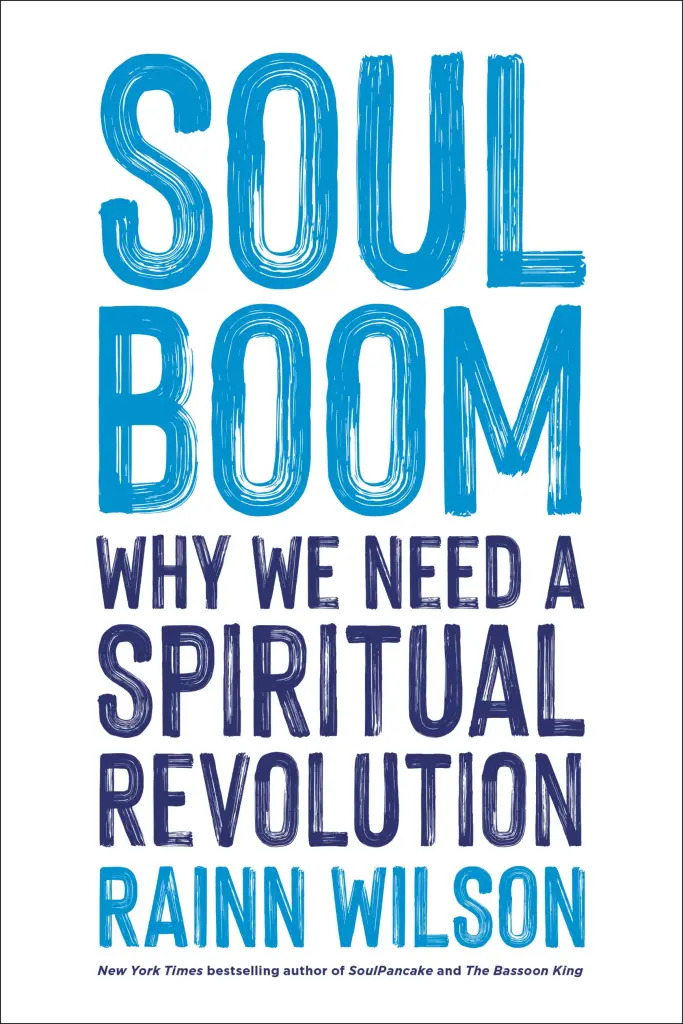 By Rainn Wilson (Hachette Go, 2023)
Actor Rainn Wilson's quarantine project was a book he says he'd been wanting to write for years. A lifelong spiritual seeker and a member of the Bahá'í Faith, Wilson longed to share spiritual ideas that had been percolating in his mind for many years. His path through family traumas, addiction, and mental health struggles had him grappling with life, death, "the Big Guy Upstairs," and, most important, things of the spirit. The result was Soul Boom: Why We Need a Spiritual Revolution.
Wilson acknowledges readers might find it surprising that someone best known for playing the awkward salesman, Dwight Schrute, in The Office would be writing about spirituality. He's not an expert, he says, just someone whose life experiences brought him to ponder the big questions. He's sharing some of what he's learned, hoping it will be of use to readers.
Catholics won't necessarily agree with some of Wilson's ideas. Reflecting on his father's death, Wilson writes about "that still, vacant body on that hospital bed in the ICU," saying that it "was simply a suit [his father] once wore." For Catholics, the body is far more than a "suit" to be shed at death. In life, it's a dwelling place for the Holy Spirit, which is why it is called a "temple." We look forward to the day when the souls of the deceased will be reunited with their bodies and glorified in union with the resurrected Christ.
Wilson expects disagreement from his readers, and he isn't looking to proselytize anyone. Rather, he wants to spark discussion, thought, and a spiritual revolution. He hopes to convince readers that matters of the spirit are important and that the essence of all humans "longs for higher truth and journeys toward heart-centered enlightenment and, dare I say it, God."
Catholic readers will find much to appreciate from Wilson's ponderings. He names many of the modern plagues that bring so many people to despair in the goodness of God: drug addiction, suicide, mental illness, racism, sexism, climate change, and the COVID pandemic, to name just a few. These evils can overwhelm us, can make us doubt . . . or, they can open us to thinking about higher questions. They can inspire us to long for spiritual transformation.
Readers may quibble over theological nuances, but Wilson's raw and heartfelt descriptions of tending to his father's body in preparation for the funeral are deeply touching. When he needs a bowl for the ritual washing prescribed by his faith, Wilson panics, realizing he might have to use a Tupperware bowl. The idea of washing and praying over his father with a plastic container is horrifying to him, and he races to a nearby store for something more appropriate. Wilson's search for a glass bowl leads him to reflect on how amused his father would be that his son the TV star was running through Target, searching for a better bowl. Wilson then ponders the rituals humans use to say goodbye to their loved ones.
Wilson covers a lot of ground in his book, taking glances not only at his own worldview but sharing what he's learned as a spiritual seeker about the great world religions. His experience at the Holy Sepulchre, where he learns about the turf wars Christians have fought for centuries on the ground where Jesus suffered, died, and was buried, underscores his belief that "we live in a fractured world."
What he hopes to accomplish, he says in conclusion, is to highlight the importance of human unity. His book is a welcome new voice for the journey.
---
Image: Wikimedia Commons/vagueonthehow (CC BY 2.0)