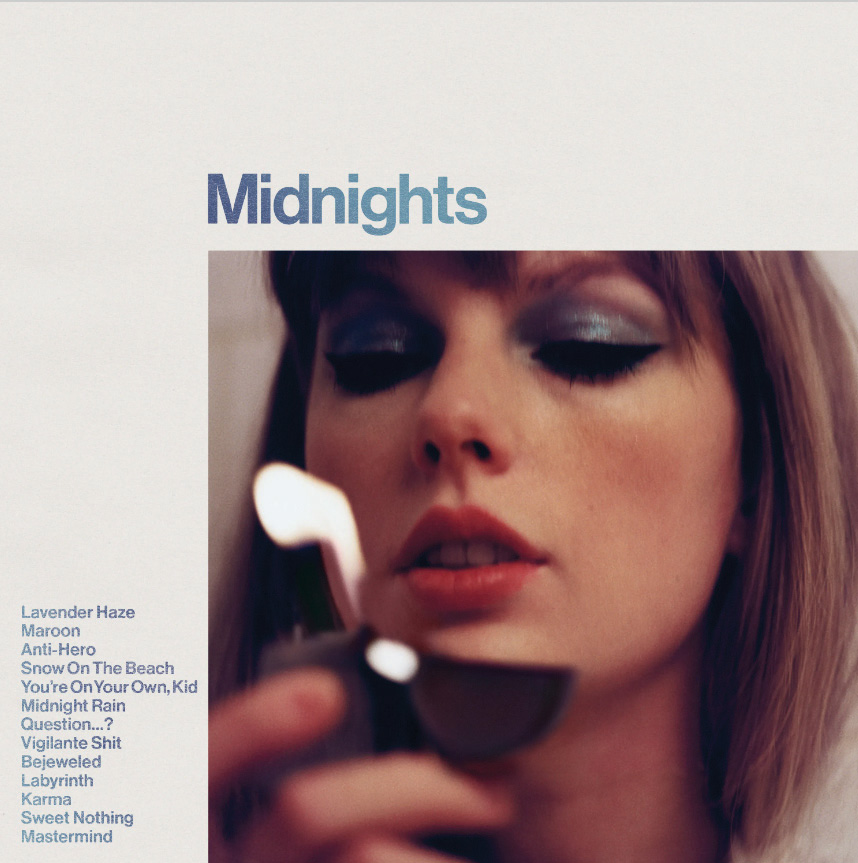 By Taylor Swift (Republic Records, 2022)
Standing astride the pop firmament, probably more relevant than she has ever been, in Midnights, Taylor Swift reflects on her life and career thus far—in Swift's own words: the stories of "thirteen sleepless nights."
For Midnights, Swift has backtracked on the folksy instrumentation of evermore and folklore, returning to a familiar electronic pop sound. At times it's dreamy and atmospheric, but usually it's bland and generic, serving too well its purpose of getting out of the way of the vocal melodies.
Thematically, the album also marks the return of an old obsession of Swift's, which hasn't been this present since her feud-album reputation. "Another day, another drama," she sings in that record's lead single, "but not for me . . . all I think about is karma." Now in Midnights' appropriately named "Karma," she reaches an apotheosis: "Karma is my boyfriend / karma is a god / . . . / karma's a relaxing thought."
Swift delivers her appeals for vengeance with her usual relish, like a psalmist of old singing of kings bound in chains. But here she has found a nobler enemy than Kim Kardashian and Katy Perry. It is now Swift against the world, and the patriarchy and conservative social expectations are the main targets ("Lavender Haze," "Maroon," "Midnight Rain").
But it is also Swift against herself. In one of her most searingly self-critical tracks yet, Swift surveys her depression, neglect of friends, manipulation of others, and narcissism on "Anti-Hero," singing, "It's me, hi / I'm the problem, it's me."
Although neither transcendent like 1989 nor enduringly beautiful like folklore, Midnights succeeds in what it sets out to do. Like a late-night conversation with a friend, both passionate and reflective, gossipy and thoughtful, Midnights is an authentic portrait of the United States' most important pop artist.
---
This article also appears in the January 2023 issue of U.S. Catholic (Vol. 88, No. 1, page 38). Click here to subscribe to the magazine.
Image: Taylor Swift/Republic Records, section of the album cover for Midnights