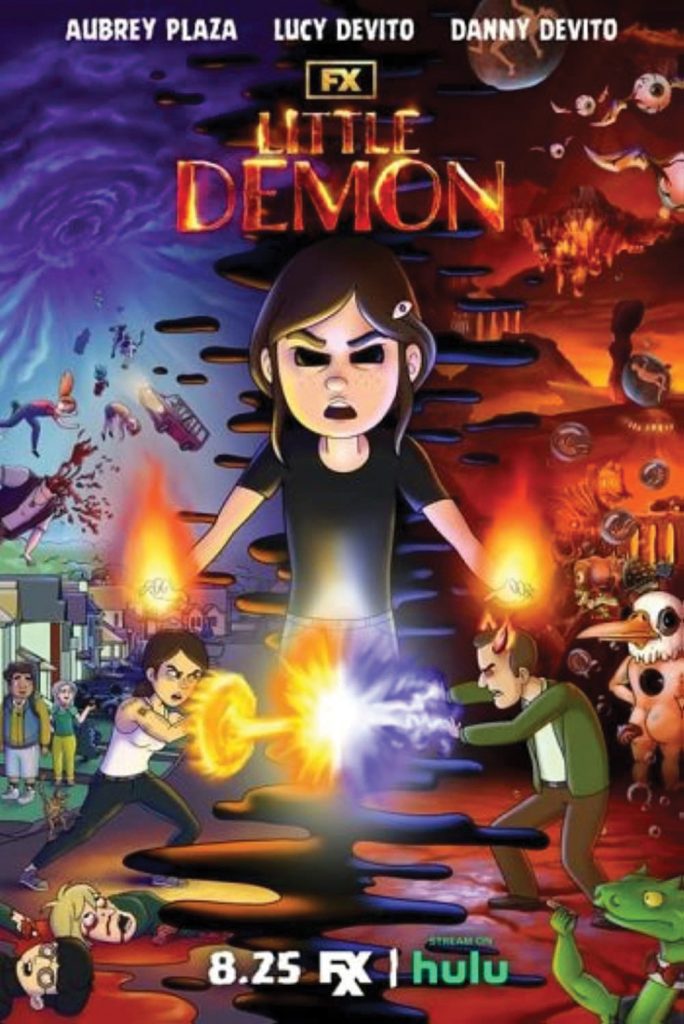 Created by Darcy Fowler, Seth Kirschner, and Kieran Valla (FXX, 2022)
Little Demon is equal parts bildungsroman and spiritual farce. The pilot episode of FXX's adult animated series centers around Chrissy Feinberg's first period. It is the paradigmatic coming-of-age plot. She is the chronic new kid at school and the daughter of a loving but less-than-stable single mother who frequently moves the family "for work." Her father just happens to be the devil.
The scope and genre of Little Demon is hard to pin down. Something of a cosmic gumbo, it plays with horror and fantasy, humorously riffs on classic TV tropes, and presents itself as both an intimate family dramedy and a universal, spiritual caper. The cartoon juxtaposes the tribulations of youth with family drama, both epic and quotidian—a teen grapples with her best friend's body dysmorphia, a mother worries about her daughter falling in with the wrong crowd at school, and Satan plays power broker in the "metaphysical realm." Somehow, Little Demon manages to cohere, becoming a digestible and enjoyable sum of its mixed and diversely sourced parts.
Behind the ample f-bombs and blood is a certain pathos. For example, Chrissy (Lucy DeVito) attempts to use her dark powers for good, often to unforeseen effect; Satan's demonic buddies worry that his burgeoning relationship with a previously estranged human daughter is turning the Prince of Darkness (Danny DeVito) into a softie; and Chrissy's mother, Laura (Aubrey Plaza), struggles to coparent with the worst ex ever. It's The Good Place meets Rick and Morty. Complicated morality collides with gratuitous violence and cartoonish gore in fantastical animation sequences about sophomoric banter and potty humor. Or, as Chrissy puts it, "We're like the Incredibles, but gross."
---
This article also appears in the December 2022 issue of U.S. Catholic (Vol. 87, No. 12, page 38). Click here to subscribe to the magazine.
Image: FXX