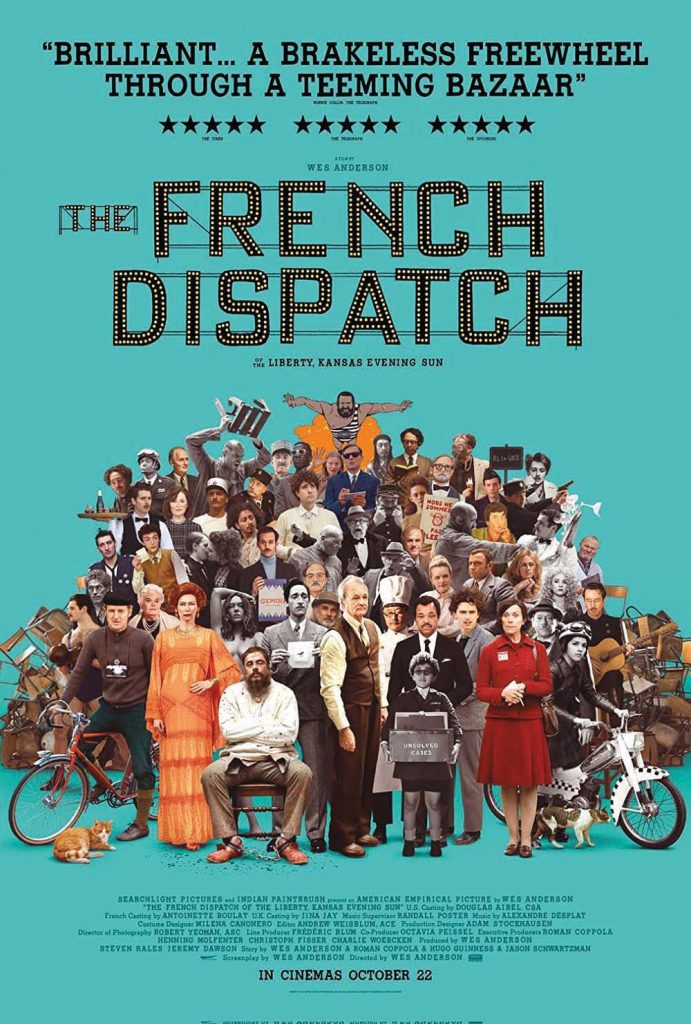 Directed by Wes Anderson (American Empirical Pictures, 2021)
The French Dispatch is a paean to highbrow, narrative journalism. With poetic camerawork, heavy-handed homage, artful visuals, and a hearty dose of Hollywood gimmickry, Wes Anderson's latest film is a nostalgic send-up of publications like the New Yorker, Harper's Magazine, or the Nation. It is a literary film. Highly stylized, The French Dispatch is an undeniably "Wes Anderson" affair. Visually, it reads like a film student's capstone or master's thesis, if that student had a Hollywood budget and A-list talent in every scene. (Despite the derision our cynical media often heaps upon so-called "twee" aesthetics and the New Sincerity movement, I mean this as a compliment.)
The French Dispatch presents itself as a visualized archive of a fictitious magazine's final issue. The film is broken into segments—each bracketed by print-style title cards replete with page numbers and New Yorker–esque illustrations, which loosely cohere, anchored by their setting, the fictitious town of Ennui, France.
The film's content renders The French Dispatch an unmistakable love letter to a lost era of journalism—prose that plied the fissures between the provincial and the cosmopolitan, journalism that wove interpersonal drama with an atmospheric zeitgeist. The film's presentation makes it clear that The French Dispatch is also Anderson's love letter to cinema. His care for the craft is evident. The film is full of captivating tracking shots, expansive sets, split screens, animation, text overlays, creative subtitling, dazzling zooms, and emotive camera movements.
But beneath all this is a gentle engine that propels the film. I suspect that it is the same elusive something that makes midcentury literary journalism so special: an earnest pursuit of the human interest that lies at the heart of every good story.
---
This article also appears in the June 2022 issue of U.S. Catholic (Vol. 87, No. 6, page 38). Click here to subscribe to the magazine.
Image: Courtesy of Searchlight Pictures, © 2021 20th Century Studios, All Rights Reserved