A number of years ago I heard a friend of mine from the Philippines listening to Christmas music in September. When I inquired why he was listening to Christmas music so early, he was somewhat taken aback. He told me that in the Philippines Christmas music is played in every month that ends in "ber." Since then, to my delight, I've happily embraced this Philippine model, allowing joyous Christmas music to flow into the autumn months. Now I'm not suggesting you put Nat King Cole's The Christmas Song on repeat for four months. As wonderful and satisfying as classic Christmas albums like Cole's, Bing Crosby's, and Ella Fitzgerald's are, they may be difficult to sustain for that long.
Instead, expand your playlist with some more recent Christmas albums and original Christmas songs to enhance your Christmas reverie. These Noel treats are taken from contemporary musicians around the world and from a wide variety of genres and sit nicely beside the old standards, ensuring Christmas is not only sentimental and sacramental, but always a surprise.
---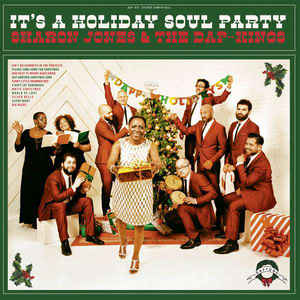 Sharon Jones & The Dap Kings (Daptone Records, 2015)
Sharon Jones' story is an inspirational one. A corrections officer who sang in gospel choirs, yet she always dreamed of being a professional singer. Finally coming together with the Brooklyn band The Dap Kings, they embarked on an exceptional career, sadly cut short by Jones' death from pancreatic cancer. It's A Holiday Soul Party gives a glimpse of their positivity playful temperament and love of soul and funk. While their upbeat renditions of "White Christmas" and "Silver Bells" will get you dancing, there's also a nice serving of original songs like "8 Days (of Hannukah)" and "Just Another Christmas Song." The best of these is "Ain't No Chimneys in the Projects." This song is a triumph of the human spirit, written from the perspective of a daughter who comes to appreciate how her mother made Christmas special every year. Sharon Jones and The Dap Kings will keep you smiling this Christmas.
---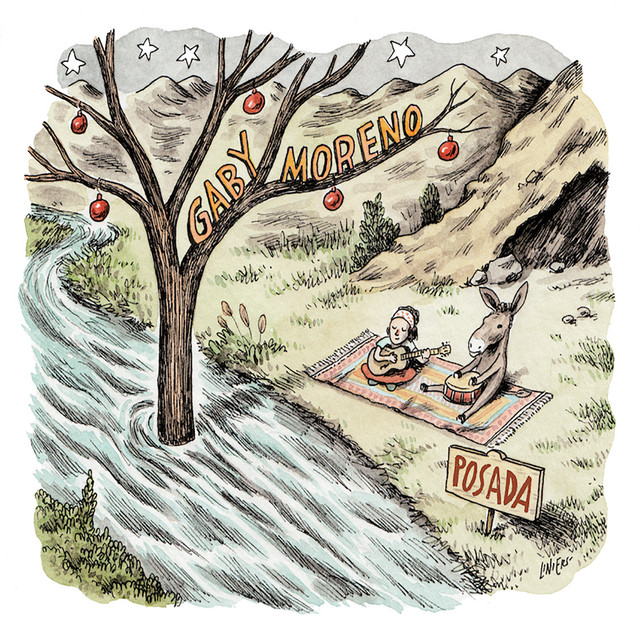 Gaby Moreno (Metamorfosis Enterprises Limited, 2014)
Now an international star, collaborating with the likes of Andrea Boccelli and Ry Cooder, as well as voicing songs for Disney, in 2014 Gaby Moreno recorded what still feels like a creative and personal Christmas album entitled Posada. Reverent and unembellished renditions of beloved hymns like "Adeste Fideles," "El Primer Noel" (The First Noel), and "Noche de Paz" (Silent Night) make you feel like you are in her home church in Guatemala on that sacred night. This album is unapologetically filled with imagery of the young Holy Family from "Jesus en Pesebre" (Away in the Manger) to "Hacia Belén Va una Burra Rin Rin" sung with soul and accompanied with finesse. Most songs are in Spanish but her inclusion of verses in English, German, French, and Latin bring a sense of the universal aspiration of Christmas. A pure delight is "Mi Burrito Sabenero," a children's song about Mary singing of her experience while riding a donkey to Bethlehem. The rhythm and cadence are infectious and will stay with you long after the song ends.
---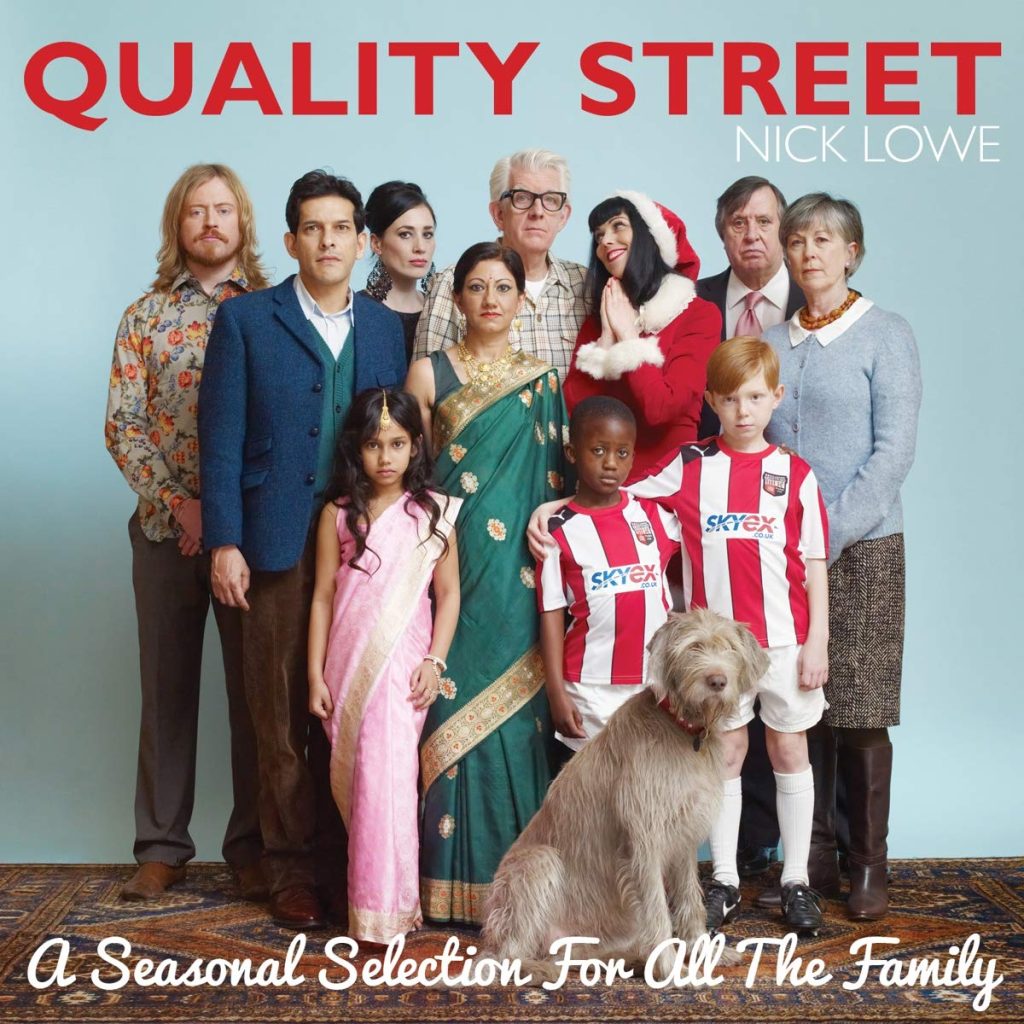 Nick Lowe (Yep Rock Records, 2013)
A great Christmas album has to give due respect to seasonal standards but can't just offer a few new arrangements of familiar songs. The best musicians just try to make a great album and aren't afraid to offer their own original songs besides the classics. Nick Lowe, after writing clever British Pop hits in the '70s and '80s like "(What's So Funny 'Bout) Peace, Love and Understanding," then turning stylish crooner in the '90s, was up to the challenge with Quality Street offering one of the greatest Christmas albums in recent years. Lowe's version of "Children Go Where I send Thee" would make Johnny Cash envious and his version of "Rise Up Shepherd and Follow" is a brilliant pop version that cleverly weaves in sitar and Indian percussion à la the Beatles. But even more impressive are his original songs. The biting ballad "A Dollar Short of Happy" chips away at the monolithic consumerist Christmas façade while the lovely "I Was Born in Bethlehem" has Jesus humbly recounting his birth and desire to "be there when a man can't find a friend." It's humility and sincerity make Christmas real again and again.
---
Norah Jones (Blue Note Records, 2021)
I hope I don't insult Norah Jones by saying this is my favorite of her albums. She's a true talent who is at once a refined jazz musician as well as a popular artist (not an easy accomplishment). But there's a freedom on this album that is unlike the vast majority of Christmas albums. It's not just the original songs, which are superb, but her fresh takes on the standards. How do you match Ella Fitzgerald? Maybe just by being yourself. And here, Jones sounds most comfortably herself. Her nuanced inflections on "Blue Christmas" and "Christmas Time is Here" make those classics feel both old and new. Extra Christmas spirit is brought to her original songs, now having lived through a lonely COVID-19 Christmas. She's transmuted those experiences into hope with songs like "Christmas Calling (Jolly Jones)" and "It's Only Christmas Once a Year." Christmas can be a difficult time for many. Her gospel tinged "You're Not Alone" reminds us Jesus is there for us during hard Christmases too.
---
Songs for the season
All in all, it's an interesting exercise every year to take note of the contemporary Christmas songs that not only get repeated play on 24-hour Christmas radio stations, but also gain further standing as new "standards" through multiple cover versions. Mariah Carey's "All I want for Christmas is You" quickly comes to mind as does George Michael's '80s hit with Wham! "Last Christmas." Here are some lesser known but remarkable songs that deserve attention.
Shifting gears, there's an overwhelming multitude of instrumental Christmas albums every year! These can be difficult to sift through. However, finding some of the true gems feels like Christmas morning.
Sadly, though we don't want to admit it now, Christmas will pass. But remember, it's a whole season! Keep the joyous spirit alive through the entire octave! But when the time comes to take down the tree and put the decorations away, listen to John Prine's "Souvenirs." Prine loved Christmas, made his own Christmas album, and was even known to leave his Christmas tree up for months afterwards. But it's Andrew Bird's beautiful upbeat rendition of "Souvenirs" on Bird's Christmas album Hark! that I suggest. It loses nothing of Prine's meaning, but instead finds a way to celebrate the passing, honoring time. Somehow, it's all sacred.
---
Image: Unsplash/Jake Goosen