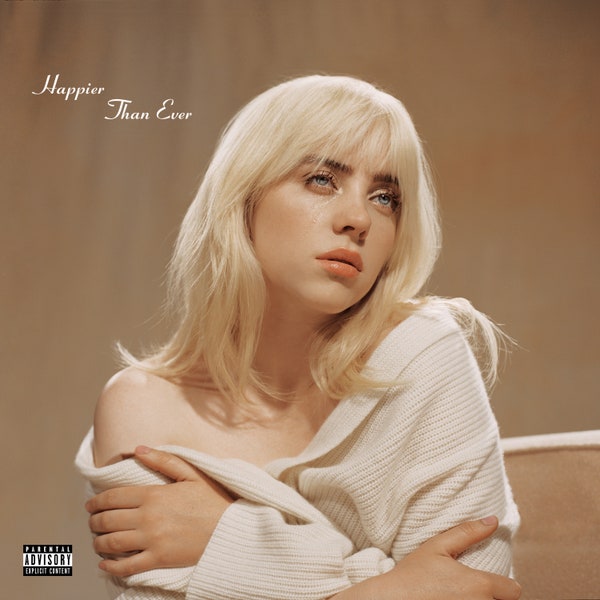 Billie Eilish (Interscope, 2021)
"I'm getting older, I think I'm aging well" slinks the 19-year-old Billie Eilish as she opens her sophomore effort Happier Than Ever. The line and title are just the first of several layers of irony on this harrowing, frustrating, occasionally beautiful album. Thematically, the work seems inspired by growing up in the unstinting glare of the 21st century spotlight, with references to objectification and abuse lying just beneath the surface.
Despite Eilish's claims that her lyrics are a form of fictionalized storytelling, it's hard not to feel that this music is lived in, the result of deeply held emotion that she's still afraid to name openly and own. "Some information's not for sharing," she sings on "Billie Bossa Nova": "You better lock your phone." Her mask slips most profoundly on "Not My Responsibility," a spoken word piece where she addresses her critics directly in a way few artists ever do on a record, excoriating them for what they write about her clothing and body. It's the strongest vocal performance on an album where her beguiling voice rarely rises above a sultry whisper.
All told, Eilish's simmering anger is never far afield from betrayal and heartbreak, building to a focused crescendo on the anthemic title track: "When I'm away from you, I'm happier than ever," she snarls. "You ruined everything good." Sonically, the album (solely produced by Eilish's brother, Finneas) has a subdued texture: sensual, acoustic—contemporary but oddly outside of time. One melody will evoke nothing so clearly as late '60s Beatles, while suddenly a corner turns and the throbbing synth and bass calls to mind the dark menace of Nine Inch Nails. For a voice that feels so authentic, Eilish is maddeningly opaque in revealing her true intentions, fully honest, fully contradictory. Much like the experience of being a teenager.
---
This article also appears in the October 2021 issue of U.S. Catholic (Vol. 86, No. 10, page 38). Click here to subscribe to the magazine.
Image: Flickr/crommelincklars [CC BY 2.0]