In 2010 a series of deaths by suicide began in the interior Alaskan villages surrounding Tanana, a community of approximately 200 people, most of whom are Athabascan Indians, on the Yukon River. The deaths started in the beginning of October and ran through the week before Thanksgiving, says Cynthia Erickson, a resident of Tanana. Among the deaths were her brother-in-law and a village boy named Cory. "My husband, Dale, and I had to deal with Cory's body. We were in a state of shock," says Erickson.
Erickson runs Tanana Commercial, a small general store in the village, along with her husband, who is also a bush pilot. "A customer would come into the store and say, 'Did you hear Michelle committed suicide?' or 'Oh my gosh, did you hear that Joe committed suicide?' " she says. It seemed like there was another death every week.
When Erickson and her husband started to look into what was happening, they realized there is indeed a high rate of suicide among youth in many of the small Alaskan villages surrounding their own. Erickson suspects this is due to trauma within their homes, including domestic violence.
In Alaska there are hundreds of small villages with no roads connecting them. This not only leads to a sense of isolation among many Alaskan youth, but it also makes any kind of centralized service or aid difficult to organize.
Erickson, who is also on the board at St. Aloysius Catholic Church in Tanana, decided to take matters into her own hands. She started her own nonprofit, called My Grandma's House (Setsoo Yeh' in the Athabascan language), to offer youth and young adults a safe and secure place in her own home.
Erickson says, "Grandma's house is where a youth feels loved and feels safe. A young person finds security at Grandma's house. When a young person in Alaska thinks of Grandma, he feels loved. Grandma is knitting you a pair of socks, and she's got moose soup going on the wood stove, and she's baking bread. A young person could spend the night at Grandma's house, and she makes the young boy or girl popcorn. In the evening, Grandma reads books to the boys and girls."
A weight to carry
Imagine you're a 4-year-old girl, and your dad dies by drowning. When you're 6, your grandmother dies. A couple years later, your dog gets run over by a car. When you're 10, your house burns down. And when you're 12, you suffer sexual abuse at the hands of an uncle or older relative.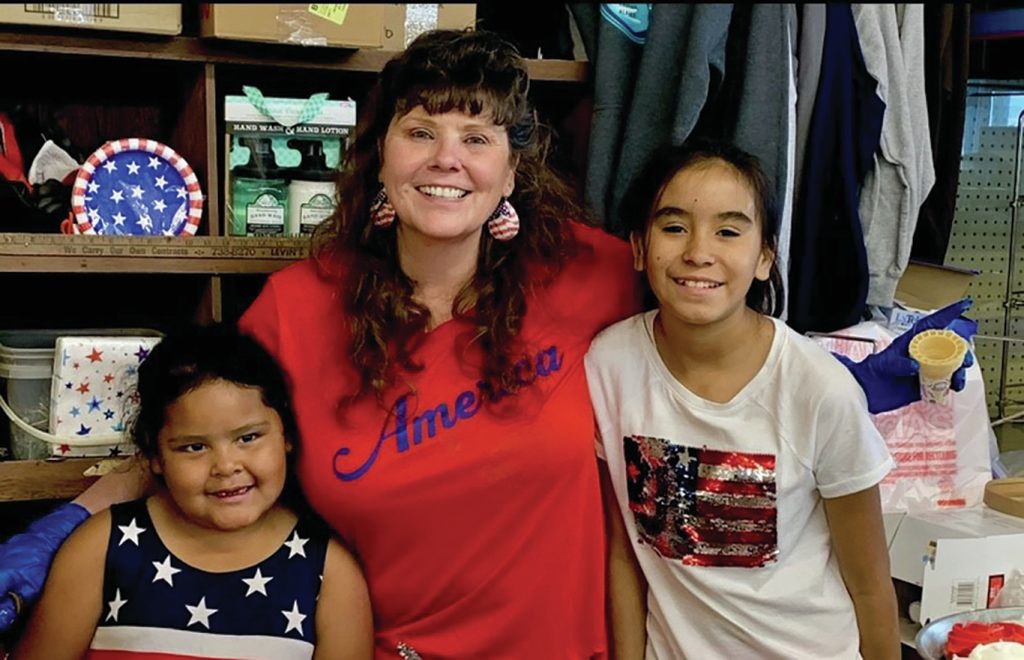 Erickson describes each of these incidents as a rock in a child's backpack. "That's a lot of heaviness on the backs of Alaskan youth," she says. "By the time a child is 12, he or she is already carrying a lot of trauma."
This may be part of the reason Alaska has one of the highest rates of death by suicide in the United States: There are around 30 deaths per 100,000 people every year, and it is the highest cause of death among youth over the age of 15.
Erickson also cites physical isolation as part of the reason for this. "Alaska is huge, and most of our villages aren't accessible by roads," she says. "It's very expensive to fly around Alaska, so kids only leave to go to boarding schools or to receive medical care. They're stuck, and sometimes not in a healthy environment. They feel lost and lonely, and this is a hard environment to be in." On top of the logistical and financial difficulties involved in travel is the fact that Alaska experiences several months of total darkness and temperatures that reach 40 below zero.
Because of this isolation, many children and youth have no resources to cope with the heavy backpacks of trauma that many of them carry. Erickson says that many teens turn to drugs, alcohol, and other destructive attempts to escape. "Many youth today struggle with anxiety, depression, obsessive compulsive disorder, or low self-esteem," she says. "The same is true all over the world, but imagine how much harder these things are to cope with in an isolated village in the middle of nowhere."
About 14 percent of Alaskans—or 1 in 7 people—identify as Catholic, and priests and lay ministers try to do what they can to support young adults and to decrease the number of deaths by suicide. However, there are currently only 15 priests to serve the 46 parishes in Alaska, so they themselves are stretched thin. Small villages are only rarely visited by ordained clergy—and these visits may involve snow machines and bush planes thanks to the hundreds of miles between villages and the absence of roads. Lois Huntington, a lay eucharistic minister in Tanana, says, "We have many youth today who are struggling with so many issues, and the resources are limited. We need all the help we can get."
The road to healing
Erickson says that after her brother-in-law and other young adults in her area died, she felt an immediate call to action. She knew that one suicide often triggers more, so she started talking and working with young kids in the area. "We would do things such as sewing, beading, playing games, swimming, picking berries, and jarring fish and moose," she says. "While we did those things I would talk to the children about healthy choices, about how to deal with their trauma and home issues."
Those conversations and small everyday activities became the root of My Grandma's House, now a statewide nonprofit that goes into schools and works with children from all over Alaska. The organization does everything from providing kids with necessities like food and clothing to helping them apply for schools or jobs or getting them access to health care.
Patty Walter, editor and director of annual gifts for the Diocese of Fairbanks, Alaska, has seen firsthand the ability of My Grandma's House to directly help local kids. "The organization has the ability to cut through all the red tape and help youth immediately without waiting for government resources," Walter says. "Erickson is teaching real life skills and inspiring young leaders. She connects with the kids and helps them feel valued and loved."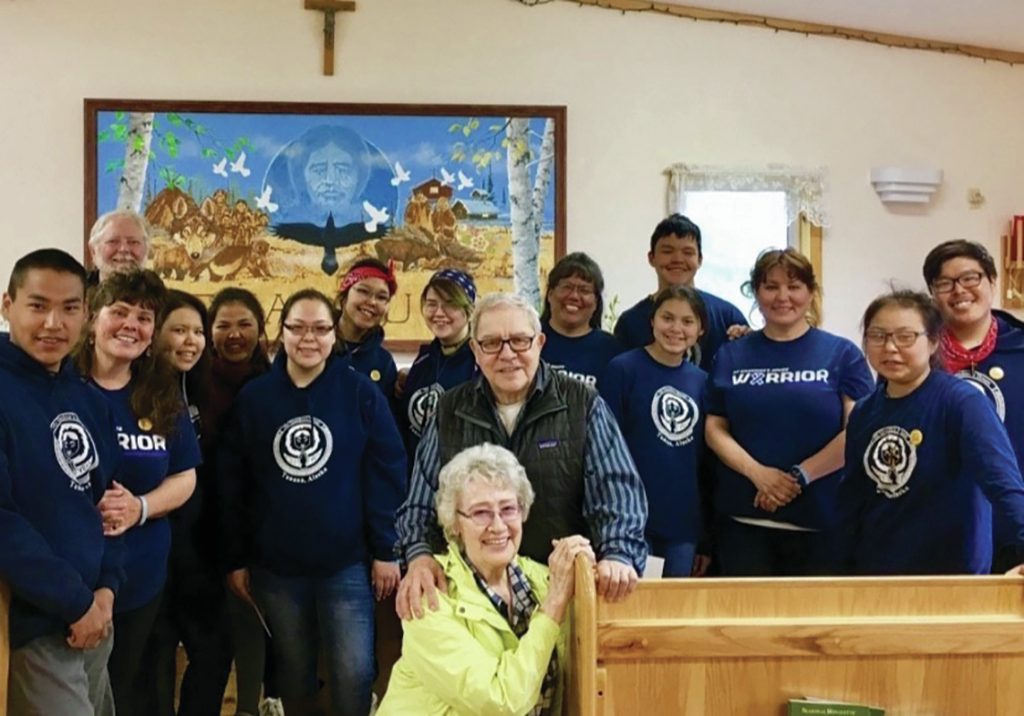 Walter says that the group's local activities—such as crocheting, sewing, cooking, baking, and praying—may seem like small gestures, but they offer healthy coping strategies and real support in ways kids might not have been exposed to otherwise.
However, My Grandma's House must still contend with the physical isolation and lack of infrastructure across the state. "So much of my work is long distance, because these kids are hundreds and hundreds of miles apart in villages all over Alaska," Erickson says. "I help them apply for schools and send them clothes, food, or whatever they need. How do you reach out to kids across the biggest state in the United States? It's a struggle, but I'll never give up hope. Kids are hurting, and I want to help and be there for them."
One way the organization attempts to counteract these difficulties is through Healing Journeys, where 12 Native youth and children between the ages of 9 and 20 from around Alaska travel from Fairbanks across the state on a 12-day journey. "The kids are Athabascan Indian, Inupiaq, and Yupik Eskimo," Erickson says. "In Fairbanks we shop for whatever the kids need and attend grief workshops and suicide prevention training with the youth."
Each child is asked to write a story about the issues they face in their daily lives, whether that be sexual abuse, mental/verbal abuse, drugs and alcohol, abandonment, or other family problems. They meet with Alaska State Troopers, Village Public Safety Officers, teen homeless shelters, and child abuse centers to learn about the resources available to them. Then they take off.
Accompanied by law enforcement, a behavioral health aide, and a psychologist, the group travels by boat down the Yukon River to Native villages. Along the way they stop at local villages, where they are greeted by a potluck dinner and visit the local children.
"At each community, we start by saying an opening prayer with a local priest, eucharistic minister, or Native elder," Erickson says. "And when we leave, we again say a prayer for strength, guidance, and healing for all. It's emotional and healing."
Grandma's house is where a youth feels loved and feels safe. A young person finds security at Grandma's house. When a young person in Alaska thinks of Grandma, he feels loved.Cynthia Erickson
Agnes Sweetsir, a resident of Galena, Alaska, and a eucharistic minister who participated in one of these local events, says that hearing these youth's voices can make a huge difference in local children's lives. "I was abused growing up: I know what it's like, and I wish I had something like this to help me," she says. "Today, I honor these strong young people for being so brave and for sharing their story."
Keith Charlie is a chief from Minto, Alaska, another village that hosted the group. He agrees with Sweetsir that just hearing other people's stories can help empower children to seek help. "We need more young people to be involved in the Healing Journeys, to share their stories, and to get help," he says. "By sharing they empower other children to speak and heal."
When the group left Minto, Charlie presented Erickson with a carved spear. "I made this for someone I felt will help and lead us," he told her. "Today I give it to you for your inspiration and help for our children. You are a true leader for our children."
Building a better future
It's not just the village youth that are positively affected by these Healing Journeys.
Erickson tells the story of a young boy she met at a village boarding school. "He was a good kid but very sad looking," she says. "He had an absent mother, bad father, and 13 brothers and sisters, half of whom he didn't know."
Before starting on the journey, this boy told the group that "there is no value in the life of a child." Despite his lack of hope, Erickson watched as he gradually opened up over the 12 days. "Throughout the trip, he shared his story and started to talk about his life with us," she says. "He liked to pray, and you could feel his love for the heavenly Father grow."
Today, that boy is now a young man. He went on to graduate high school and get a college scholarship outside his village. He is still in touch with Erickson, who says he told her that the Healing Journey and other friendships he made at My Grandma's House changed his life.
Another participant was being abused at home. At first, she was quiet and afraid to talk: She cried all the way through telling her story because she didn't want anyone to know what she was going through at home. At the end of the Healing Journey, she was ready to stand up for herself and make a change.
"After we returned, she went home, packed up her belongings, and left. She has never gone back," Erickson says. "We helped her get into school, and today she is flourishing. She's in a healthy relationship, has a full-time job at a local hospital, and is also going to school full time. She is alcohol and drug free, and she is determined to have a good life."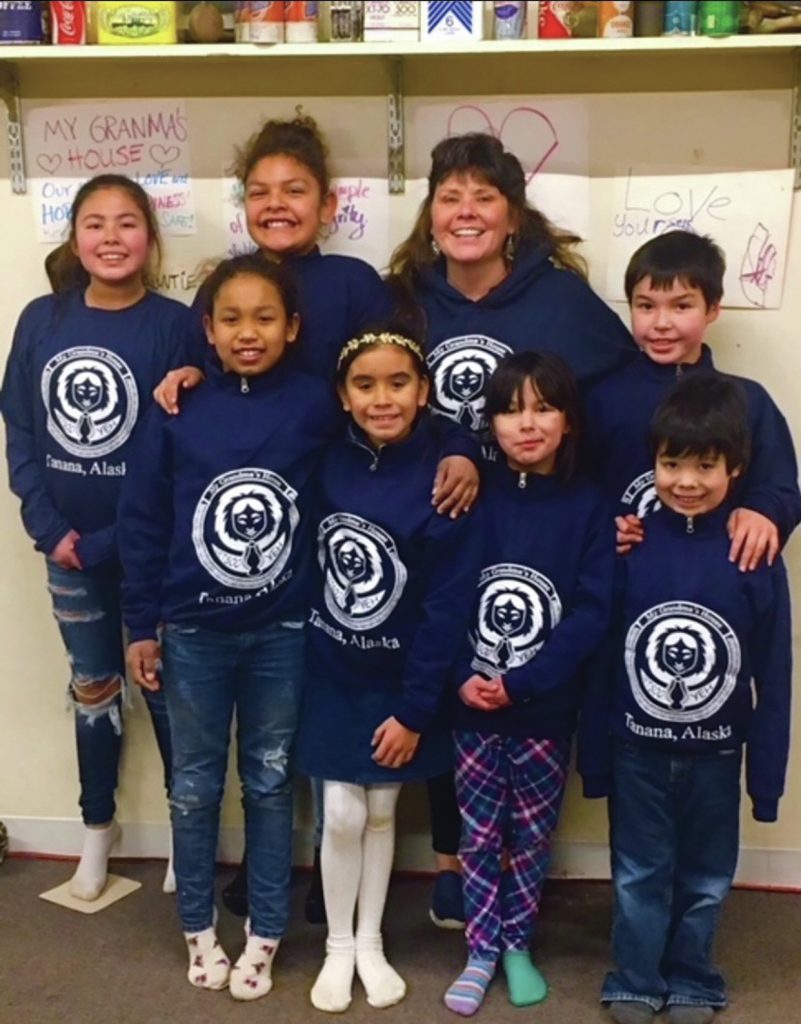 Ideally, Erickson says, every child in Alaska would have the same opportunities as these two youths. "I want the youth of Alaska to be healthy and happy," she says. "I can try to help youth obtain higher education so they can pursue careers or training, but we also have to teach them to feel good about themselves, to want to succeed in life, and to be good people."
Huntington agrees. "It would be nice to have a My Grandma's House in every village to help encourage our young people, to assist them with resources and guidance to get them healthy, mentally and spiritually," she says.
To this end, Erickson dreams of setting up a My Grandma's House camp that can reach more children than she can through her long-distance work and the Healing Journeys, which can get expensive and rely heavily on fundraising from friends and community members. She envisions this camp as a space focused on mental health and healing as well as on traditional skills such as gardening and learning to forage medicinal plants and foods. "I would teach the kids about foraging, harvesting, and processing their native food. But I would also have counselors, talking circles, and journaling," she says.
Erickson says that learning these traditional skills helps young Alaskans heal and gives them resources to cope with trauma. "Many children aren't taught how to pick berries, make jam, cut salmon, pressure cook, cut moose meat, and jar," she says. Once they learn these skills, they not only can use them to build a healthy lifestyle as they grow into adults, but they also have coping mechanisms while they are still young.
In the meantime, Erickson will continue to make a difference in these kids' lives one child at a time. In an article for the Alaskan Shepherd, the newsletter for the Diocese of Fairbanks, she says, "It's a long road, but we're teaching our Native children the value of life and faith and family, and they're going to go back to their villages and have the tools they need to raise their own families in a healthier way. And that's going to affect everyone."
The motto of My Grandma's House is "We are the ones we've been waiting for!" In other words, each youth who goes through a Healing Journey or works with Erickson not only has the power to change their own life but that of others. This generation has the power to end the vicious cycle of child abuse, trauma, and suicide throughout Alaska.
"We are the change," Erickson says. "We are tired of waiting for someone to help us: No one is. So we will do it ourselves."
---
This article also appears in the October 2021 issue of U.S. Catholic (Vol. 86, No. 10, pages 16-20). Click here to subscribe to the magazine.
Photos: Courtesy of Joseph X. Albino