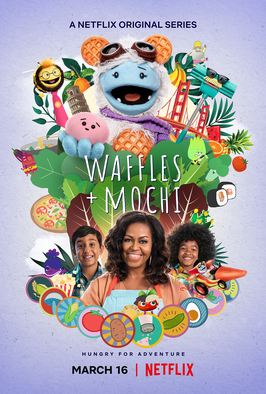 Directed by Jeremy Konner (Higher Ground Productions, 2021)
My toddler has eaten waffles every day since he learned how to chew. So when I discovered Waffles + Mochi, Michelle Obama's new Netflix series, we had to check it out. Waffles—a fuzzy snow creature with waffles for ears—and Mochi—a small pink puff that resembles the rice dough and ice cream treat—travel from the freezer where they've been watching a television chef on an ice cube TV to the "real world" where they hope to improve their own culinary skills.
Mrs. O's (Michelle Obama) supermarket stocked with produce from a rooftop garden provides a familiar home base for Waffles and Mochi as they travel the globe (and, in one episode about potatoes, the solar system) in Magicart—a magical shopping cart that looks more like a racecar.
The episodes are structured around ingredients—tomatoes, eggs, herbs and spices, even water—but viewers learn about more than agriculture and flavor combinations. In an episode about pickles, Waffles and Mochi practice patience while cucumbers ferment. When using salt for the first time, they learn from their mistakes and try again to get it right. Flavor combinations can be tricky, but animated taste buds help explain how it works.
A star-studded lineup of special guests from the culinary and entertainment worlds punctuates the series. I especially appreciated the diversity in individuals, abilities, family structures, cultures, and cuisine that was brought to the table. That the show is part of a multifaceted effort by the former First Lady to get nutritious food into the hands (and bellies) of those most in need is a cherry on top. Learn more about the Pass the Love w/ Waffles + Mochi campaign at wafflesandmochi.org, where you can play games to donate food to others and find recipes to try in your own home.
---
This article also appears in the July 2021 issue of U.S. Catholic (Vol. 86, No. 7, page 38). Click here to subscribe to the magazine.
Image: Adam Rose/Netflix