Some years ago, Eric Jacobsen wrote about the urban environment in Sidewalks in the Kingdom: New Urbanism and the Christian Faith (Brazos Press). He outlined how walkable neighborhoods and urban spaces help make possible the relationships necessary for the kingdom of God to flourish. Many of our young people today really love city life; they are leaving the suburbs and moving to cities for both ecological and personal reasons. They wonder why anyone might want to live in a place where you have to drive a car to buy your groceries or visit a bar.
This "walkable" lifestyle has a lot to do with a parish life. With rare exceptions, all parishes are territorial. This means everyone in a given space belongs to the parish—Catholics and non-Catholics, alike! This is true whether the person recognizes and acknowledges this relationship or not. If you're choosing to worship at a parish that's not the one in your neighborhood, you may want to rethink that choice.
The idea is that the quality of life in a neighborhood, the adaptation to the environment, and the encounter and mutual assistance happen among the people in a parish on a daily basis. The people of God build up a dense web of relationships over time that sustains them and helps them pay attention to what is really important—that is, their connection to each other and to the Lord. This happens on the block, front porches, and sidewalks. It's also supported in church on Sunday.
But what if you don't like the priest in your territorial parish? What if you don't like the music? What if you don't feel spiritually nourished or think it's too political? What's so bad about finding a place that suits you better spiritually?
The underlying difficulty with this line of thinking, as C. S. Lewis wrote, is that it turns disciples into critics. We should be going to our local parish to learn to be holy people. We are not supposed to be judging whether our priest is a good or bad preacher. It's not about the priest, who might be cranky and grouchy. It's not about the music, which might be dull, or about the social involvement of the parish. It is about the grace of the Eucharist and what we do with our brothers and sisters. It is about our neighborhood, where we weave a set of relationships together that sustain us in difficult times. The parish supports this. Our key relationship in all this is with Jesus, and then with the members of the body of Christ that we find at our local parish.
This goes right back to the root of the word "religion": religare, to tie back together again. This is how you form a community and prepare the way for the kingdom of God. After all, sooner or later the priest you don't like will die or move on and the choir you hate will fade away. The things you find irritating will disappear, and the parish will remain. The ties you form in love and respect will remain. These are the fruits of discipleship, and they will last forever.
We are modern people, though, and we can get to thinking that we choose our parishes and that they are somehow voluntary organizations. This is never the case in the Catholic Church. As Cardinal Francis George wrote in What Is a Parish? (Hillenbrand), "For the parish priest, territoriality means that he is responsible for every Catholic residing within his parish boundaries, regardless of whether they are registered, use envelopes, go to church, or make their presence known. For the faithful, territoriality means that the church is not a membership organization in which you pick and choose your place or degree of affiliation. The fact that, in the last 35 years or so, such a situation has come to prevail in practice is a clear indication of the extent to which a congregational mentality has taken hold of our people's attitude."
People who make the decision to attend a parish that's not their own neighborhood parish are missing some of the essential nature of the church and the role of the Catholic Church in the changing world. They have also lost sight of the sacramental nature of the church. After all, there is the same amount of grace in a Mass where the celebrant is engaging and charming and witty as a Mass where the celebrant is boring and aloof and sickly.
In 1942 C. S. Lewis touched on the subject in The Screwtape Letters, where he wrote about how happy the devil is when Christians become "connoisseurs of churches," going all over the place to find a place that suits them instead of attending their home parish. He wrote that a parish, "being a unity of place and not of likings, brings people of different classes and psychology together in the kind of unity God desires. Choosing which church to attend makes each church into a kind of club, into a coterie or faction." The important relationship is not the one between the priest and parishioner, it's the one between parishioners themselves.
If a parish begins to perceive itself differently—if it begins to perceive itself as a "destination" church, or somehow a voluntary organization—it has lost its essence as a Catholic parish and is in danger of becoming a sect. Once I was talking about this reality with a parishioner. I told her there were some parishes where people chose to attend Mass because they liked the music, or the preaching, or the priest, or the Mass times, or whatever . . . and that these parishes worked to maintain their excellence in one or another of these areas to draw parishioners.
Pastors who decide to somehow turn their parishes into "destination churches" tear apart the fabric of the kingdom of God. Often enough they lower the bar in order to fill up their programs (for example, doing First Communion preparation in one year instead of two) or they institute questionable liturgical and pious practices (shrines to particular saints or special blessings at the end of Mass). This leads to the ridiculous situation of one parish being in competition with another for parishioners.
These destination church pastors ignore the hard work that's called for in evangelizing and inviting their own parishioners, the people who live in their neighborhood, into relationship with Jesus and each other. Instead they go after another pastor's sheep and debilitate the whole church. The people who attend their "parish of choice" have left their own home parishes weakened by their absence. This is because people seeking a "parish of choice" ignore the human ecology that is essential for real parish life. Parish life is woven into neighborhood life and is meant to transform neighborhood life, and these traveling parishioners don't live in the neighborhood.
So many things unravel the fabric of society these days. In spite of the instant connectivity afforded by social media, more and more of us are lonely and isolated. We are bombarded with messages that tell us to mistrust strangers and young people and people with beards and immigrants and men, and on and on. We lock ourselves in our living rooms and pretend to be connected on the internet.
The parish is the place where we do the hard work of reconnecting with our neighbors, real people, and of preparing the way for the kingdom of God. This is what the Lord wants us to be, rather than consumers who pick and choose a place we like for worship on Sunday mornings.
As Pope Francis writes in Laudato Si', "How beautiful those cities which overcome paralyzing mistrust, integrate those who are different and make this very integration a new factor of development!" How wonderful to belong to a parish where the very fabric of the city can be transformed and made beautiful by the grace of Christ.
And the survey says…
1. I attend a Catholic church other than the parish closest to my home.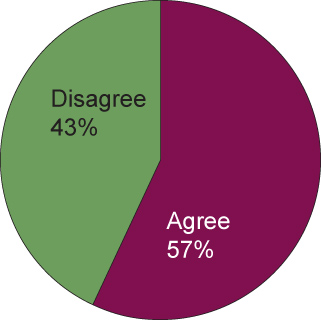 2. I should have the option of going to whichever parish I like the best.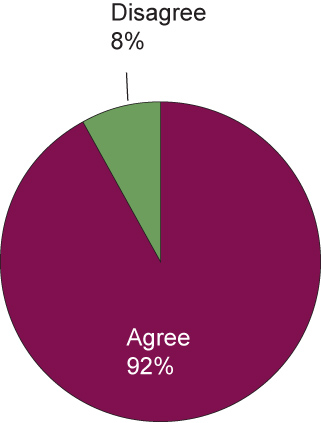 3. I'd rather travel to a parish I find spiritually fulfilling than attend one closer to home that I don't.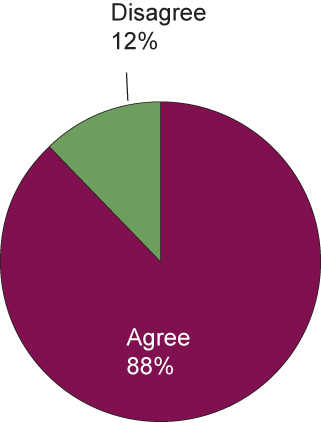 4. Catholics in general are too critical of their parishes.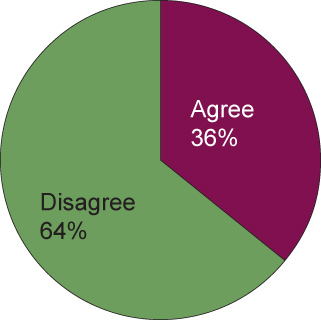 5. So-called "destination parishes" are helpful because they attract people who might otherwise not go to Mass.
6. The concept of parishes being "territorial" is outdated.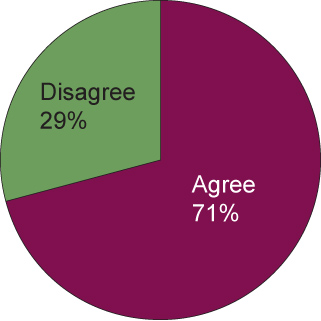 7. The tendency to shop around for parishes is a byproduct of our consumer culture.
8. If Catholics find fault with their local parish, they should:
9. Our churches should be places where we go outside our comfort zone and interact with people who are different from us.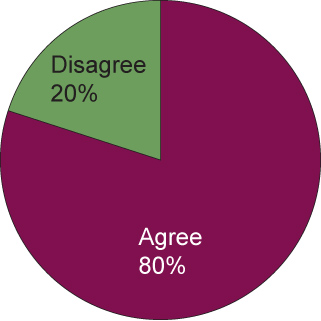 10. If everyone attended their local parish, it would help them build stronger bonds with their neighbors.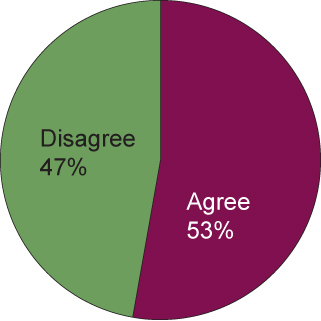 This article appeared in the December 2015 issue of U.S. Catholic (Vol. 80, No. 12, pages 27–31).
Image by John Rodriguez.