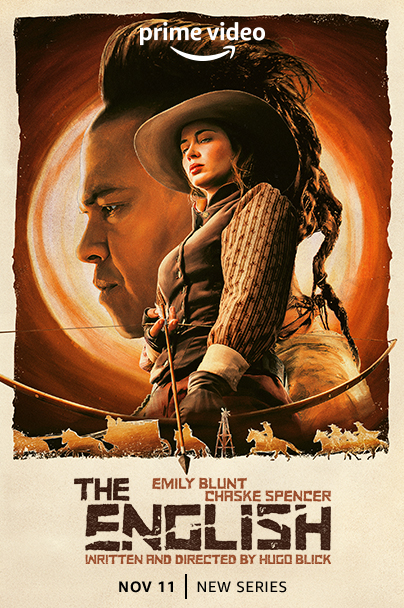 Directed by Hugo Blick (Amazon Studios, 2022)
Overlooked in the trend of cowboy fever (Yellowstone, 1923, 1883) is a jewel of stylish filmmaking and haunting storytelling—a somewhat feminist Western with a complex, intelligent narrative both gripping and unpredictable.
The English is a Western with a woman at the center and action driven by, of all things, motherhood. Englishwoman Lady Cornelia Locke (Emily Blunt) travels to Wyoming in 1890, seeking revenge for a shattering personal aggression. Blunt is luminous, riveting, and smart. Artfully, she shows us layer upon layer of bereft betrayal, transmuting grief and impotence into coiled, ready-to-strike fury. Lady Cornelia is not pitiable; she's dangerous.
When she meets Pawnee warrior and ex-cavalry scout Eli Whipp (Chaske Spencer), she commits a merciless act that startles the usually silent Eli into uttering a single syllable of surprise, and they begin to understand one another. It's not a romance: The English doesn't go there, but it goes further, exploring what it is that truly bonds humans as partners.
Spencer is magnetic and powerfully heroic as Eli. The cast includes luminaries such as Rafe Spall, Stephen Rea, and Ciarán Hinds in a role so twisted you'll look up personality disorders to try to diagnose him.
Hugo Blick wrote and directed this limited series, and as a Brit, his view of the American West is fresh and untroubled by cultural coercion to protect myths and faux history. In Blick's hands, the frontier becomes a kind of Devil's Triangle in which a moral compass cannot find true North. Even meek characters teeter on the knife-edge line between humanity and violence, and when one tips over the edge into rage, it's both startling and taken for granted as what we do to survive.
Woven throughout is the reality that the West was not the making of a country, but the stealing of one.
---
This article also appears in the June 2023 issue of U.S. Catholic (Vol. 88, No. 6, page 38). Click here to subscribe to the magazine.
Image: Diego Lopez Calvin/Drama Republic/Amazon Studios/BBC, © Drama Republic