How Dolores would've chortled. There I was, scrunched into a van with seven family members, headed for a three-day weekend in the mountains. The car overflowed with food, skis, boots, mittens, stuffies, winter paraphernalia, and noise. But I idealized: In four hours, surely I could squeeze in some centering prayer?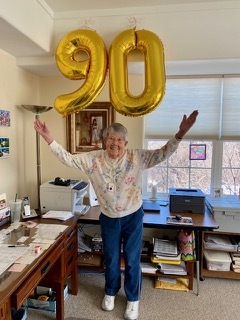 Grandkids in far back with me debated an equitable distribution of Pringles—my job to referee. In a loud podcast, actors I didn't recognize commented on their shampoos and lunches. Then my son, the driver, growled, "Chain check." When roads are especially treacherous in the Sierra Nevadas, inspectors decide if vehicles can proceed—or not. We fell into the "wrong chains" category, precipitating a long, icy detour and spirited conversation.
Youngest granddaughter had fallen asleep on my shoulder, which I found so sweet (and semi-paralyzing) that it launched another train of maybe-meditative thought. Attempts at quiet prayer went out the window into the blizzard, but the irony coaxed a broad inner grin.
"Did Dolores teach you nothing? Didn't she shift us from a monastic spirituality, shaped by adults in hushed churches, to one that valued the crazy sacredness of family nitty grit?"
To appreciate Catholic writer Dolores Curran's contribution to Catholic life in the United States, rewind to pre-Vatican II schools, where girls especially were scolded to "sit down and shut up." Unimpressed by rules, Dolores didn't like being told to sit down.
But that was only a small slice of life as laity. Father and sister had all the answers, especially in the realm of religion. (And a few other arenas where they may have been even less qualified.) It shocked me that my parents, both university professors, might dare to question the dubious doctrines I brought home. One phrase quelled discussion: "But sister said…"
Parents weren't expected to play any role in their children's religious education until Dolores published, Who, Me Teach my Child Religion? It was a shocking idea. Because, of course, there would always be plenty of clergy and religious to do the job. And what could parents possibly know?
When it's unclear what prepared Dolores for such far-sighted stands, we can only blame the stirrings of Spirit. The middle child of seven in the Fox family, Irish immigrants to a daily farm in Edgerton, Wisconsin, Dolores was asked to give the graduation speech from high school in 1949. Her topic? Racial injustice. Prophetic!
She and her sister Dotty planned to move to California, but a car accident in Denver halted their westward journey. They never left Colorado. As an English teacher at Englewood High School, Dolores met her husband, Jim. She retired from teaching when their first child, Theresa, was born—and turned to her typewriter.
What followed were 30 years of a column, "Talks with Parents," syndicated nationally, 12 books like Traits of a Healthy Family, which emphasized positive characteristics families could actually achieve. It appealed beyond a church audience, earning her an invitation to the White House Conference on Family, and many speaking engagements which were always wise, provocative and funny.
One of these occurred at the Mile High Congress, sponsored by the Archdiocese of Denver. She signed a contract to give the talk titled "Family: What It Can Teach the Church about Being the Church." Apparently the powers-that-be got nervous about the implications of the church as a dysfunctional family and tried to disinvite with some flimsy excuse. Those tactics were familiar to many of us on the speaker circuit, where some considered the open, thoughtful exchange of ideas a dire threat.
"I have signed a contract, and I will present," Dolores countered, firm in her refusal to be cowed by insecure authority. After she gave the talk that year, the Los Angeles Congress invited her to present it the following year. Her son Dan, then a student at nearby Occidental College, brought friends and all were delighted to find his mom being picketed. Dolores got a rowdy chuckle from the protestors' inability to spell; their signs read, "Curran a Hertic."
When Dolores and other lay leaders worked on the foundation of Call to Action at the invitation of the U.S. bishops, their relatively mild suggestions were dismissed and disavowed. Dolores' conflicts with the hierarchy derived from the fact that she cared for the people doing the work of peace and justice in the trenches. She knew women were capable of more than making the coffee and stood fast in her conviction—despite the hate mail.
Of course I agreed with her, but I was easily worn down by the time-wasting shenanigans of diocesan officials. How easily I gave away my own inner authority. Dolores inspired: Don't be intimidated. The gospel is on our side. And how potent a protest her laughter could be. Perhaps her unwritten mantra was, "Never do anything without humor."
When God became human, Jesus joined a family—not an institution.
Personally, I was blessed that we both lived in Denver, and through many workshops and conversations there, she guided me into thinking maybe a frazzled mother of four and college English teacher might have something to say about spirituality. Not as envisioned in a solemn library by a celibate male author, but in a noisy kitchen where someone has cut a thumb on a can opener and someone else adamantly refuses tuna casserole. If you can find God there, Dolores might've challenged, you can find God anywhere.
As I stuck a tentative toe in the water of writing and speaking about God in the ordinary, she and Joyce Rupp encouraged: "I can't do this speaking engagement. Would you like it?" or "Have you tried U.S. Catholic with that article?" A long and happy collaboration ensued, including award-winning pieces like "Eight Things I'd Like to Teach my Children About God" and "Eight Things My Children Teach Me About God."
When youngest child went off to first grade, I could even manage something longer: the first books from Orbis Press included Hidden Women of the Gospels and its sequel. Dolores' foreword to Experiencing God with your Children probably accounted for most of that book's sales.
Few moms were writing in a field dominated by wonderful, vowed religious who were nonetheless distant from the family life of 98 percent of the Catholic population. Dolores led the way: We wrote about our families, because they—not liturgies, not choirs, not finance committees, not homilies—were the sources of our deep meaning and sustained joy. After all, when God became human, Jesus joined a family—not an institution. Dolores' popularity must've bewildered clergy who had narrower frames of reference.  
Or, as Dolores joked with humor writer Erma Bombeck, "we may not be academic writers of dissertations. Our words are plastered on refrigerators. But I'll take that—they're opened more often than dissertations."
C. J. Jung has pointed out that many of us unconsciously project our "bright shadow" onto others, asking them to carry our spiritual light for us. Not realizing we hold that within, we deify clergy or teachers, ignore their human flaws, and miss our basic spiritual nature. Maybe we need a new litany, recited with banging pots and pans, belting out the italicized refrain:
From scorning our earthy, family roots,
From projecting our finest selves onto others,
From taking solemn, churchy stuff too seriously,
Good Dolores, deliver us!
---