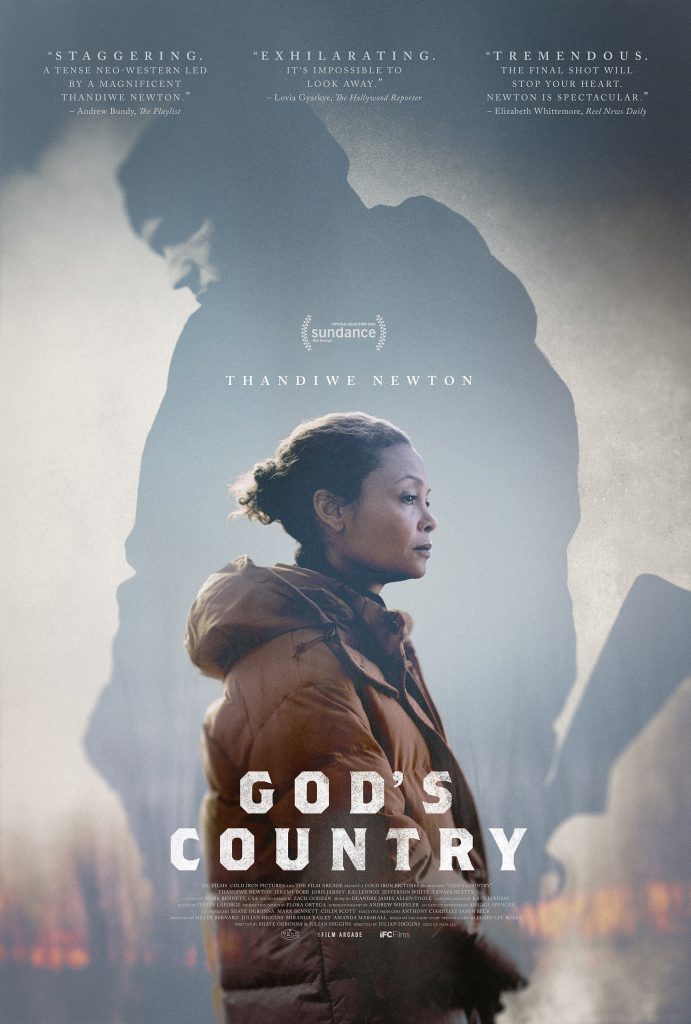 Directed by Julian Higgins (Cold Iron Pictures, 2022)
"Let's learn his language . . . if he only understands the language of a rifle, get a rifle . . . But don't waste time talking the wrong language to a man if you want to really communicate with him." Malcolm X spoke those words as part of his ongoing critique of nonviolence. They are the words of a pragmatist in a society where the rule of law that protects human life and dignity has failed.
These same words could be applied to the casts of characters of most Westerns, the genre in which God's Country finds an uneasy home. Director Julian Higgins opens the film in a classroom where a projector flashes historical photos of the violence of Westward expansion. We are introduced to Sandra (Thandiwe Newton), a Black college professor who lives in a remote, mountainous region of western Montana and teaches at a local college. Why is she there? What is her story?
Those details and more are revealed slowly as the film progresses. One day, an empty red pickup truck is parked on her property. She leaves a note reminding the driver that they are trespassing and should not return. She later finds the note crumpled up in the snow, and when the truck is parked in the same spot the next day, she confronts the two white men as they return from hunting. Although she makes her rights clear, and the men mostly agree with her, it does not end amicably. So begins a slow burn of a story that is the epitome of the axiom "show, don't tell," not the least in its magnificent cinematography and framing of characters against the landscape.
Early in the film, Sandra tells her students: "Sometimes it feels like things never change. . . . But I promise you they do. They have to." The "terrible beauty" in this film gives us one example of this. And, after the closing shot, we as Catholics are left to ponder: How could it have been otherwise?
---
This article also appears in the March 2023 issue of U.S. Catholic (Vol. 88, No. 3, page 38). Click here to subscribe to the magazine.
Image: Courtesy of GC Film, LLC. An IFC Films release.