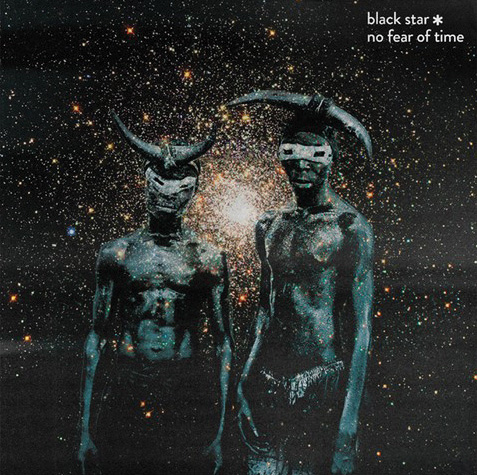 Black Star (self-released, 2022)
For those unfamiliar with hip-hop, No Fear of Time requires context.
Backpack rap. This refers to a subgroup of rappers from the 1990s who rebelled against the negativity and excesses of the genre. Instead of glorifying consumerism and violence or using overproduced aesthetics, they tended to prefer authentic storytelling, social critique, and stripped-down production.
Black Star Line. This refers to a short-lived shipping line founded in the early 20th century by Marcus Garvey. The point was to connect the U.S. economy to that of Africa and, eventually, to repatriate Black peoples to African nations.
In 1998 the album Mos Def & Talib Kweli Are Black Star became a symbol of backpack rap. Like Garvey's Black Star Line, Mos Def and Talib Kweli attempted to reinvigorate hip-hop with a liberating Black consciousness through lyrical mastery and Brooklyn soundscapes that felt both specific and transcendent.
Twenty-four years later, Yasiin Bey (Mos Def) and Talib Kweli have reunited as Black Star for their second album, No Fear of Time. On the refrain of the opening track, "o.G.," Bey sets the tone for the ensuing 30 minutes: "I want to thank you for helping me reach the understanding / That time is relative and the truth is everlasting."
This album has an unpolished, improvisational feel that is both its strength and weakness in this era of expertly produced albums. There are gems such as "So Be It," "Supreme Alchemy," and "Freequency" (an exciting but uneven collaboration with Black Thought) that showcase the artists as older and wiser in the face of a world where both time and white supremacy remain unforgiving. The duo has lost some of their fire, but they still reach toward transcendence. And sometimes, they tap into it.
---
This article also appears in the September 2022 issue of U.S. Catholic (Vol. 87, No. 9, page 38). Click here to subscribe to the magazine.
Image: Wikimedia Commons/Tuomas Vitikainen (CC BY-SA 3.0)