"There's a whole host of changing issues around what constitutes a family, and I think the Catholic Church brings a lot to that conversation that's really valuable," says Brianne Jacobs, who teaches theology and religious studies at Emmanuel College in Boston.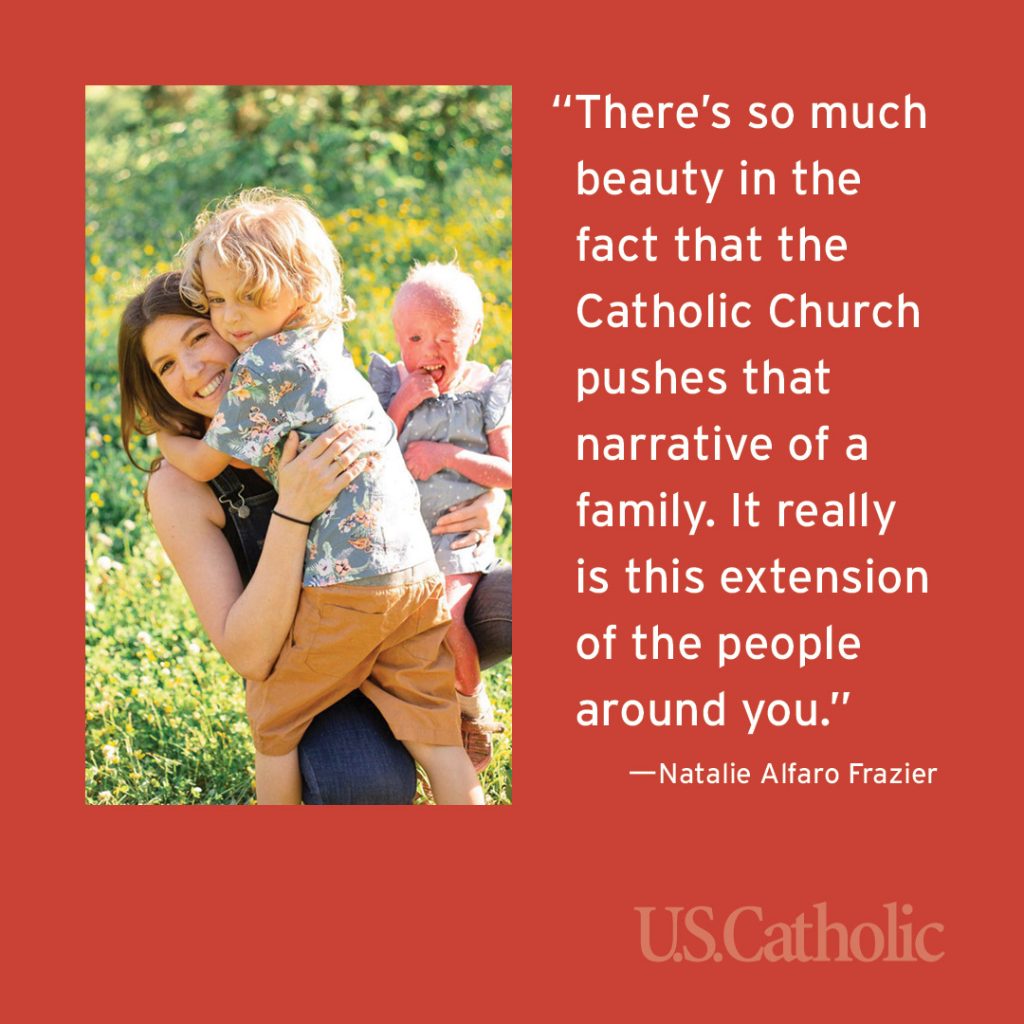 It's fertile, albeit perhaps volatile, to ask for lay Catholics' advice while the bishops and church hierarchy reflect on family life, Jacobs says. And the church right now is in an excellent place to start having these conversations. Marking the fifth anniversary of Pope Francis' exhortation on family life, Amoris Laetitia (On Love in the Family), the March announcement of the 2021–2022 Amoris Laetitia Family Year called on Catholics to reflect on the "beauty and joy of conjugal and family love." And, perhaps more consequentially, the Vatican is simultaneously ramping up a global synodal process through the fall of 2023, calling on all dioceses to have local synods, which are essentially listening sessions for Catholics and their pastoral concerns.
Jacobs says that any conversation about sex and family will play out against a backdrop of immense change in the wider culture that she compares to the paradigm shift when the church had to rediscover how to relate to the authority of the state after monarchies gave way to democracies.
That doesn't mean such a conversation wouldn't be fruitful. But for lay Catholics in teaching and ministry, the process will require listening with mercy and patience, speaking with courage, and, ultimately, being honest about the implications of what surfaces. Working through its own endemic issues and disconnects on sex could burnish the church's witness to a world in real need of some good news.
A lens of mercy
One aspect of the church's teaching on sexuality that frequently gets lost is that the Catholic Church insists it holds a positive view of sex. Granted, this is a teaching that evolved over time. The trajectory begins with St. Paul seeing marriage as an imperfect fallback for those who couldn't shoulder celibacy, followed by centuries of Catholics generally regarding sex as a sinful activity necessary for procreation. Only in 1930 did Pope Pius XI cede that non-procreative sex wasn't necessarily sinful, and Pope Paul VI, in the 1968 encyclical Humanae Vitae (On the Regulation of Birth), went so far as to say married couples could intentionally seek to avoid pregnancy.
"The Catholic Church absolutely does move, but it's at a glacial pace," says Emily Kahm, who teaches theology at the College of St. Mary in Omaha. "It's really only obvious in retrospect, and even then there's this tendency to downplay that there's been any kind of shift."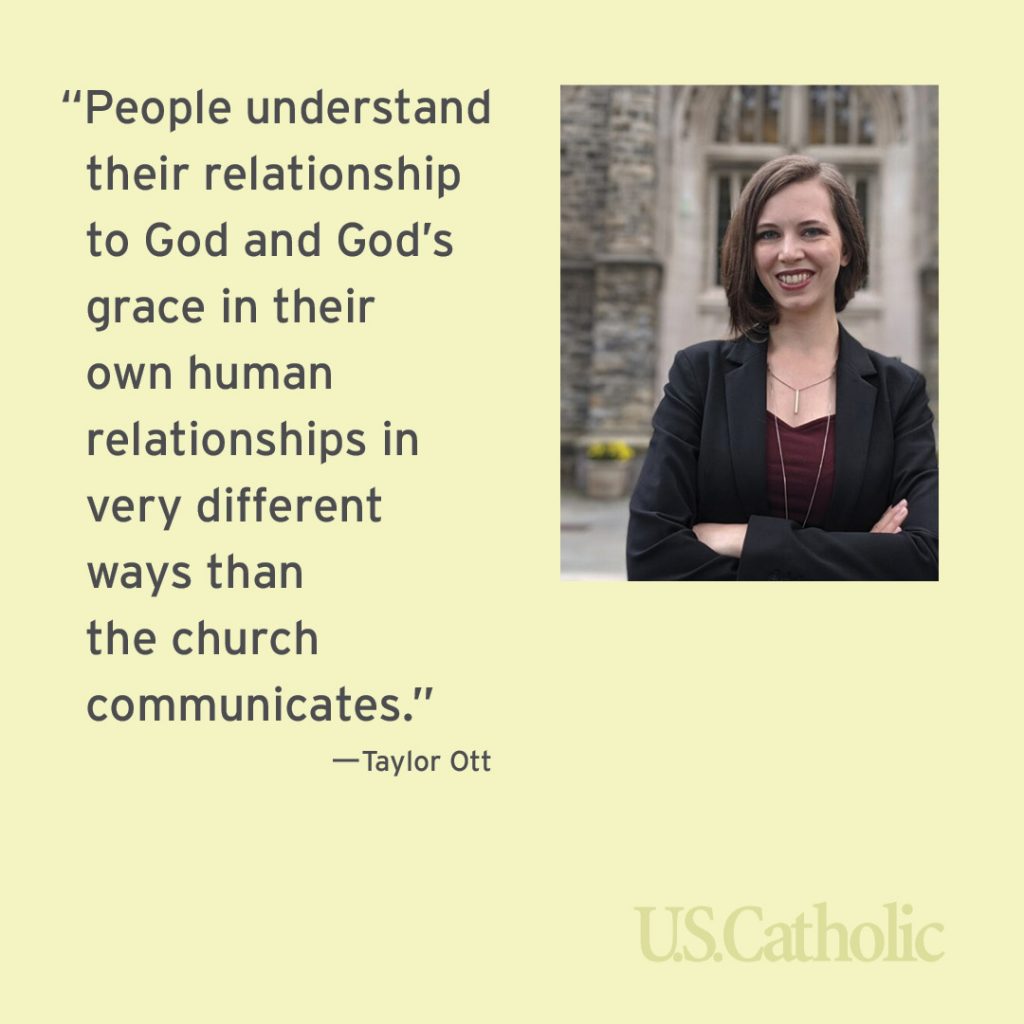 And it's this downplaying that makes something like St. Pope John Paul II's theology of the body a less than persuasive framework for Kahm.
"All the same conclusions are there, but we've changed so much of how we've claimed we're reasoning to get there," she says. "Yeah, sex is supposed to be beautiful and positive, but I'm not sure we've done the work" to jettison the fear and the anxiety of the old sex-negative frames, she says.
Humanae Vitae itself came on the heels of an exercise in synodality and listening to lay Catholics. The Pontifical Commission on Birth Control, which comprised both clergy and married couples, studied and dialogued from 1963 to 1966. Ultimately, Pope Paul VI rejected its majority findings when he upheld the church's prohibition of artificial birth control methods. But that doesn't mean the church today eschews the value of laypeople's input.
"There are just things that parents or caregivers bring to the table that single people and celibate people can't know or understand," says Shannon Schmidt, a married mother of four and pastoral associate at Holy Spirit Parish at Geist in Fishers, Indiana.
Since the election of Pope Francis, the International Theological Commission—a body that advises the Vatican on key issues—has produced documents on sensus fidei ("sense of the faithful," 2014) and synodality (2018), both topics involving how laypeople have a role in teaching and guiding the church.
Pope Paul VI himself alluded to these realities in the conclusion of Humanae Vitae, encouraging priests to be merciful with their people because the Holy Spirit was also speaking in their hearts. Pope Francis, who applied mercy to the church's approach to divorced and civilly remarried Catholics in Amoris Laetitia, has picked up the thread that Humanae Vitae should also be applied with mercy, but what does that mean?
"We have to assume and really allow for people to be the experts of their own situation, and part of that is largely what we're missing in our parishes," says Natalie Alfaro Frazier, a consultant in Nashville who works with nonprofits on advocacy issues, drawing on her experiences as a justice advocate. "If we really believe in the dignity of every human, then why are we not taking the time to understand these complex problems?"
This extends to the multiple factors that must come together for a married couple to live a teaching like natural family planning, which relies on menstrual cycles and fertility signs that are regular and trackable, as well as communication and cooperation within a marriage.
In other words, "you have to be in a context that allows you to say no on a particular day," says Susan Ross, retired theology professor at Loyola University Chicago. She notes that this clashes with entire cultures, including some Catholic ones. "That's just not done. You don't say no to your husband."
"I always ask students to think about the power dynamics in their relationship as a big part of ensuring that sex and, in the bigger scheme of things, their relationship, is safe and just," says Stephanie Ann Puen, who teaches theology and social ethics at Ateneo de Manila University in the Philippines. "Who controls sex and other aspects of the relationship? Is there mutual care, empowerment, and dialogue?"
Lost in translation
When Anna Floerke Scheid was in graduate school, a female friend was delighted at the idea of practicing natural family planning in her marriage, something her friend's fiancé was more hesitant to embrace.
While this classmate, one of eight kids from a devout Catholic family, rhapsodized over Humanae Vitae, it soon became apparent to Scheid that this young woman hadn't actually read the document. When pressed about the challenges of abstaining from sex during observed periods of fertility to avoid pregnancy, her friend glibly noted that there were plenty of "other options" in the bedroom that could achieve the same end. That's when Scheid broke it to her that the church lumped those activities in with artificial birth control among its prohibitions.
"Oh please, that's just way too far into my bedroom," Scheid says was her friend's dismissive response, which was rather striking coming from someone so observant. Scheid, who now teaches theology at Duquesne University in Pittsburgh, sees this disconnect between what the church upholds and its people's experiences continue to play out.
"There is a lot of nuance and discourse on complicity and cooperation with evil in other topics in social thought—such as in warfare and just war theory or economics—but it suddenly becomes a very binary and black-and-white type of thinking when it comes to sexual matters," says Puen.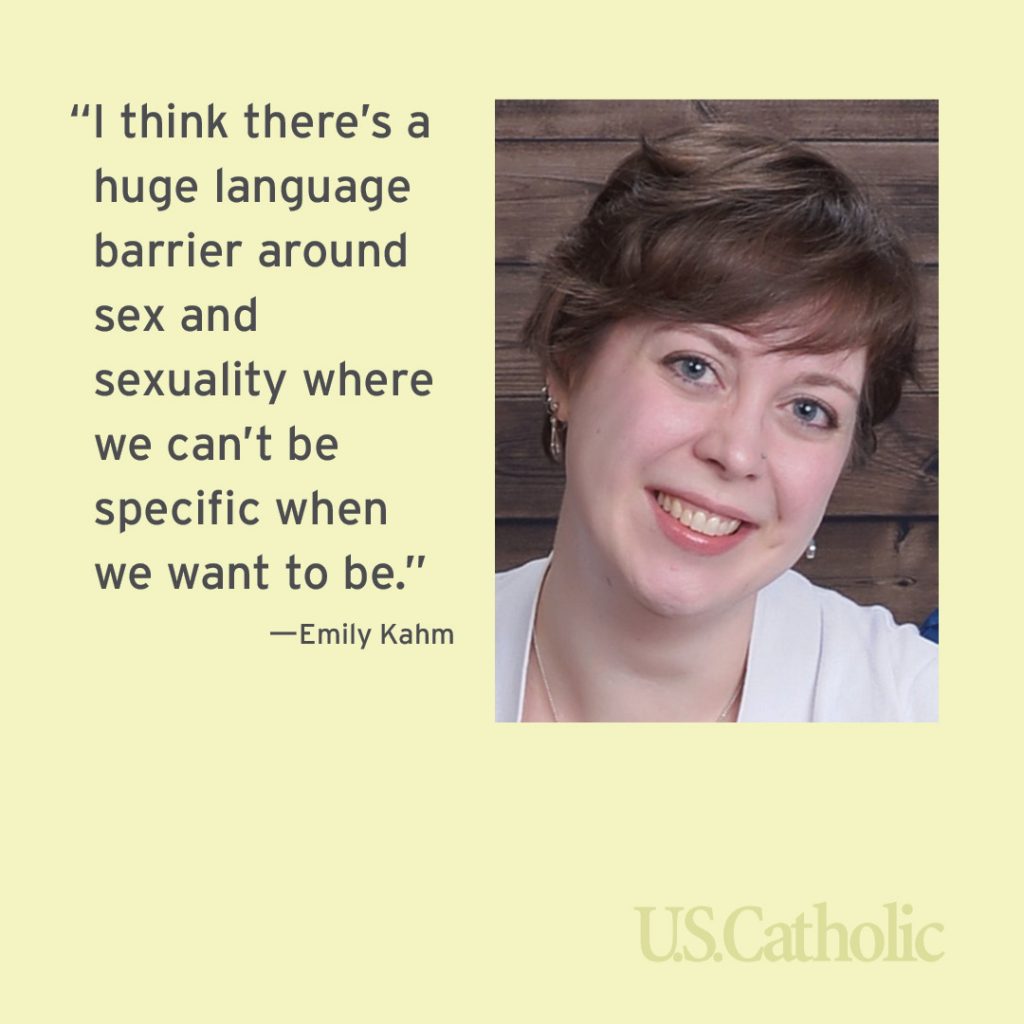 In pastoral contexts, this poses a problem when someone shares an aspect of their personal life that doesn't fit the church's frames.
"Those are the conversations I have in my office all the time," says Schmidt of her parish ministry in Indiana. She emphasizes the importance of hearing and learning from the people she encounters in order to serve them.
"Their unique story has led to their situation in a way that is not true of anyone else, just like all of our relationships with God," she says. "I can only witness to my story in the hopes that they can recognize their own story in mine."
Schmidt sees a widespread impulse to ignore the dissonance of people whose stories don't conform, a faux welcome that only further alienates people.
"We treat them almost as if they are children," she says, describing the prevailing mentality as, "If we just say the right words or do the right thing, they will finally get on board."
"I think there's a huge language barrier around sex and sexuality where we can't be specific when we want to be," says Kahm.
Issues of language also arise from how the pronouncements of the church impact vulnerable groups, including children and the LGBTQ community.
Scheid mentions how much she and her siblings struggled with this after her parents' divorce. "We thought we were bastard kids because our parents got an annulment, and their marriage wasn't something that really happened," she says. "The church's teaching left me feeling abandoned by the church in one of the most difficult moments of our lives. That constant refrain of irregular family is hurtful."
A messy reality
Another pitfall for the church is the tendency to frame sex unrealistically even when speaking about it positively. One towering tribute to sex positivity in the church pre-Humanae Vitae is in the Second Vatican Council's 1965 pastoral constitution on the church and the modern world (Gaudium et Spes [Pastoral Constitution on the Church in the Modern World]), which speaks of sex in marriage as contributing to "dignity, stability, peace and prosperity of the family itself and of human society as a whole."
"That's lovely, but is that real?" Scheid asks of this idealized, almost poetic declaration. She says, "It is a sex-positive notion that every sex act between spouses is going to have this reverent, holy quality to it," but, "sometimes the reality is I will do this because you want it. Or wow, we're trying to connect with each other in five seconds before the baby cries again."
An overly sanitized view of sex also cuts against the grain of a faith that is embodied, says Kahm. "Bodies can be super gross," she says, citing one potential outcome of having sex: giving birth. Kahm adds that a euphemism like conjugal love obscures the lifelong development involved in sexuality.
"To say conjugal love implies that sexuality happens always in marriage. . . . Sexuality permeates literally everything we do," she says, going all the way back to how infants derived their sense of safety in the world from touch. "I don't think we get as far away from that as we think we do."
It's also work and important to remember it's supposed to be enjoyed, notes Jacobs, who says, "It's the same amount of spiritual commitment as celibacy, to have sex not just happen in a relationship but to be good, to be spiritually good, to be physically good."
Listening and loving
As the church not only navigates the Amoris Laetitia Family Year but also leans into the diocesan, continental, and universal stages of the synodal journey, Ross maintains that loving people in their messy, embodied realities should be the "kind of thing that Catholicism is really good at." But she adds that the hierarchy "doesn't get its hands dirty. It doesn't change the diapers or wonder where you're going to find child care."
To this, Puen suggests that adopting methods and tools from Catholic social thought on economics and other social issues in areas of sexuality and gender "can help expand the discussion of sex and love beyond do's and don'ts and black-and-white thinking."
Taylor Ott, a doctoral candidate at Fordham, affirms that church leaders should trust their people and lean into the listening tools offered by concepts like sensus fidei and synodality.
"People understand their relationship to God and God's grace in their own human relationships in very different ways than the church communicates," she says.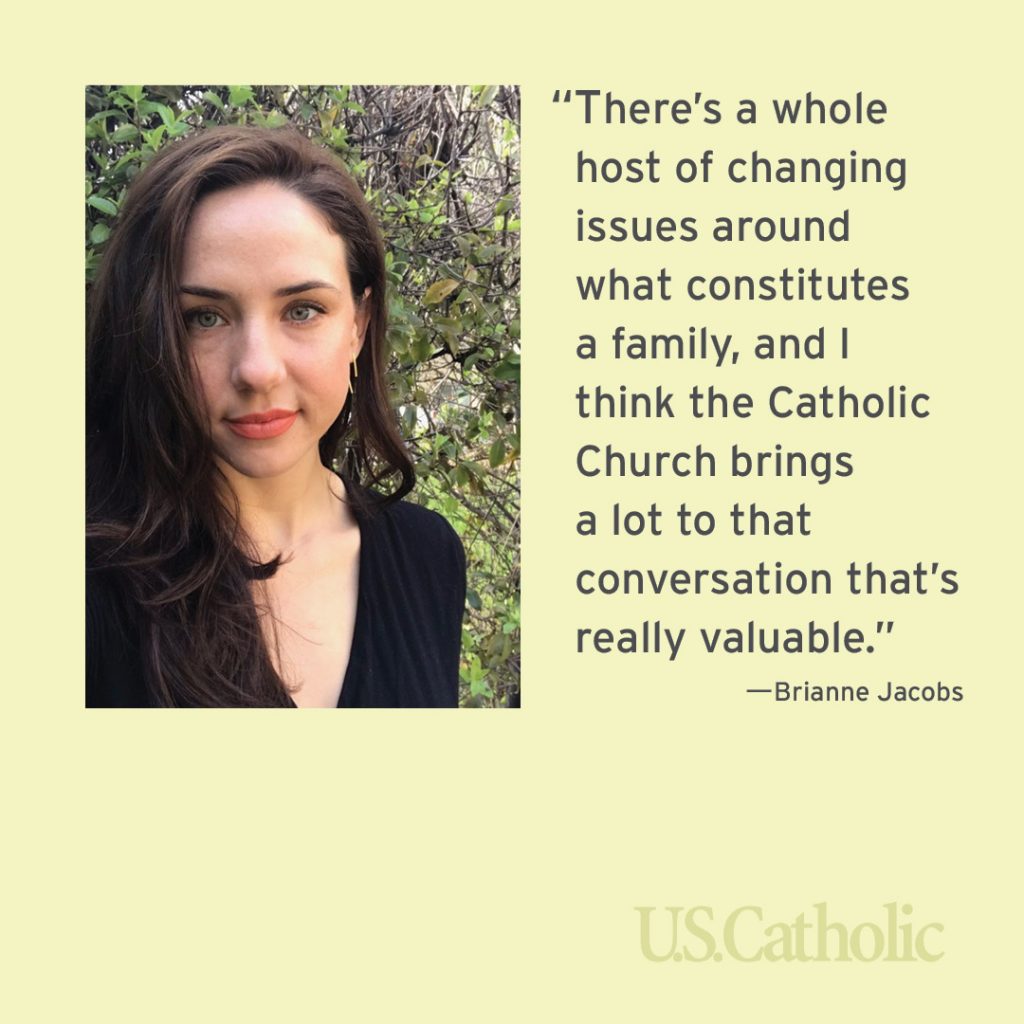 Kahm cautions that listening is intensely difficult work. "I worry that if people aren't really profoundly trained in what that means, it's going to result in more frustration than in any kind of healing and empowerment," she says. "It's a really hard thing to commit yourself to experiencing the pain of others. We've got to be ready for some fallout. The growth doesn't happen without some measure of pain."
And if the institutional church can weather the purifying pain of truth telling and repentance, then it can face some big questions about family life and the joy of love found at its center.
"When we talk about family, what are we going to emphasize?" Jacobs asks. "Do we want to emphasize . . . a family unit is a place where we unconditionally care for one another and especially the most vulnerable? Or is it a place where we're going to enforce really strict gender norms?"
She adds, "I feel like the second thing is kind of undercutting the first" and that she prefers the vision "where we have the most room to care for the most people."
"There's space in the Catholic Church, and I think we need to be reminded of that," says Alfaro Frazier, whose own experience growing up in a Nicaraguan American family taught her that a Catholic sense of who is family transcends biological literalism.
"There's so much beauty in the fact that the Catholic Church pushes that narrative of a family. It really is this extension of the people around you," she says.
"When the church is talking about the family, it's not talking about mom, dad, and three kids. We have to think more globally," says Schmidt. "As a biracial person, one thing I find from Black culture to be very helpful is the idea of kinship networks. I grew up having aunties and uncles and people who were in no way related to me who were part of our family unit and an essential part of our family." She adds that, even as she lives far away from some of her relatives, "My kids have people in their lives who teach love and forgiveness."
Per Jacobs, the church has the doctrinal and pastoral resources going into the synodal journey to creatively rethink sex in a way that places the dignity of the human person at its center. And that has the power to better reflect to one another God's love.
"We are to view each person as a gift as they are. . . . Each body is valuable as it is," Jacobs says. "It should be an affirmation of the fact that we are loved, that we are worth loving. And that is always life-giving."
---
This article also appears in the August 2021 issue of U.S. Catholic (Vol. 86, No. 7, pages 26-31). Click here to subscribe to the magazine.
Image: Unsplash/Toa Heftiba