Growing up Catholic in Chicago, urban planner Jamie Kralovec has made the study of cities his life's vocation. For him, it's a vocation that combines the practical discipline of urban planning with a deep Ignatian spirituality.
Kralovec attended a Jesuit high school and learned about the Jesuit order's origins as an urban ministry. "This stuck with me," he says. "The connection between the earthly city and the spirituality of realizing God's call for us, of realizing justice and building the kingdom of God on Earth—I've always seen that naturally in the city."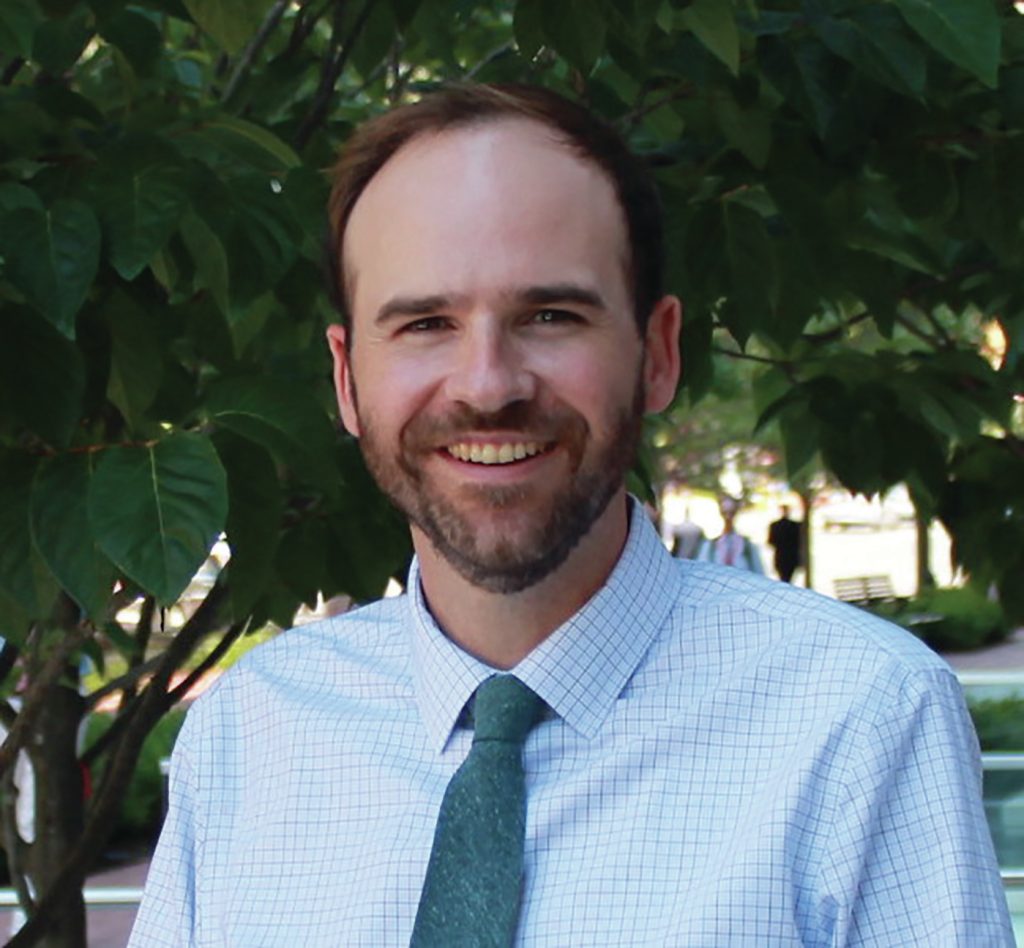 After high school, Kralovec earned a bachelor's degree in political science at the University of Notre Dame and a master's degree in urban planning at New York University. He served in roles with Catholics in Alliance for the Common Good and the U.S. Department of Justice before joining the White House Council on Strong Cities, Strong Communities under the Obama administration in 2013.
Currently, Kralovec lectures in the urban and regional planning program at Georgetown University in Washington, D.C., where he also serves as associate director of mission integration of the school's Jesuit values. U.S. Catholic talked with Kralovec about the long connection between the church and cities and how the practical discipline of urban planning can function as a bridge to realizing a deepened spirituality and a greater call to action.
What is urban planning?
A simple way to describe urban planning as both an idea and a practice is the way in which communities come together to intentionally envision the future of a place. Urban planning takes place within many contexts and scales of place, whether at the most local level such as a neighborhood, something smaller such as a large-scale site, or as big as a comprehensive plan for a whole city or region. Urban planners work at various scales, but common across all of urban planning is some kind of intentional, comprehensive, and community-engaged process of envisioning the future of places.
Is there a historical connection between urban planning and Christianity?
There's a rich spiritual history of cities in the Christian tradition. There's the city of theology we think of with St. Augustine's The City of God—that metaphorical city of the world and the city of heaven. There's a long line of thinking around the earthly city that goes back to ancient philosophy.
But there's also a real practical place for the city in Christian tradition. The Jesuits were a decidedly urban order when they started. It's no coincidence that Jesuit schools across the world are, by and large, in urban places. When St. Ignatius of Loyola founded the Society of Jesus, he went to Rome and based it there. Some of the first apostolic works of the order were urban ministries such as caring for the poor. The city became the platform for a spirituality that is about finding God in all things. And where is God? God is in all things, but people are in cities—so that's where God is.
I'm not biased against rural places, but the Catholic Church is very urban. When you think about where so many of the church's ministries are located and the work the church does on issues related to supportive housing, homelessness, immigration, and employment, so much of that is in urban areas. I think that Christian tradition lives in the city, and we can meet God in the city. We find God in the majesty of buildings and public spaces, but we also find God in persons and communities that are struggling.
Do you regard urban planning as a vocation?
For me, urban planning is inherently a spiritual practice. I came to Ignatian spirituality through my love of cities. I grew up in a predominantly Orthodox Jewish neighborhood on the North Side of Chicago. Difference has always been a part of my experience. Growing up Catholic, I had to make sense of living in a Jewish neighborhood and learned a lot about my own faith tradition in that way.
I went to a Jesuit high school in Chicago, St. Ignatius College Prep, where my experience of difference magnified. My eyes were opened to the reality of racial divisions in Chicago but also to the beauty of diversity across the city. While going to school every day in these beautiful, gilded buildings, I learned so much about social engagement, advocacy, social policy, and the needs of Chicago. At the same time, my high school was right across the street from Section 8 high-rises.
There was a dissonance between this gilded experience with its potential of education and the reality that across the street were families living in dilapidated buildings. I had to make sense of that in light of my education in Catholic social teaching.
Urban planning is an inherently Catholic practice when we think of holistic, universal integration.
Currently I teach urban planning in the graduate program at Georgetown University. But the movement in my life is also toward living out Catholic social teaching and the call to justice from that tradition. My vocation as an urban planner is to share with my students and others how I think urban planning is more than just a technical discipline. When many people think of urban planning, they probably think of somebody sitting in a musty government office stamping documents. Part of the discipline is just that: traditional planning roles serving in municipal government, zoning enforcement, and design review.
But my own perspective, which comes in large part from my education in Catholic social teaching and my training in Jesuit spirituality, is that urban planning as a discipline offers an incredible opportunity to shape our cities and human communities toward sustainability and justice. It's a discipline to which I feel called and one that touches on so many aspects of life, a discipline of integration. Urban planning is an inherently Catholic practice when we think of holistic, universal integration or, as Pope Francis would call it, the integral ecology of daily life.
How does Pope Francis address integral ecology in terms of urban spaces?
As an urban planner, I feel seen by Pope Francis. He uses the language of urban planning in Laudato Si' (On Care for Our Common Home). The language he uses to describe the city is better than that of most urbanists I've read. I assign Laudato Si' and its paragraphs on cities to my students because it's a brilliant, insightful reading on urban places. It comes from his practical experience of the city. He rode the buses of Buenos Aires and lived the experience of living in a city.
The beauty of Laudato Si' is that it hits all the marks when it comes to the principles that are baked into contemporary urban planning. The American Institute of Certified Planners, the professional organization that governs planning practice in the United States, has a code of ethics, and there are a lot of similarities between the principles of ethical urban planning and Laudato Si'.
In Laudato Si' Pope Francis is obviously talking about environmental sustainability. You can't run a planning program these days if you're not talking about how to integrate sustainable practices into urban planning. Planners think about this in the environmental sense but also in the social sense. How do we make communities sustainable?
Transportation is an example. Pope Francis makes a very insightful point that public transit is a way to reduce car dependence, but no one's going to use public transit if the system isn't very good. Practically, how do planners encourage more sustainable forms of public transit? Pope Francis also talks about public space. How are we thinking about public space? Are the green spaces just in the affluent neighborhoods that no one can get to? Or are we integrating green space and public open space all over the city?
The language [Pope Francis] uses to describe the city is better than that of most urbanists I've read.
There's also something rich in Fratelli Tutti (On Fraternity and Social Friendship) about what is at the root of our human interdependence and connection. There's this brilliant section about the local and the universal. Pope Francis talks about the innate tension between globalization and localization. He warns against a bland, abstract universalism and emphasizes the practical forms that connect us to one another at the local level. There's this theme throughout his papacy on the dangers of enclosures, the dangers of walls.
In urban planning there are lessons on whether we are thinking about the whole city when, for example, we're making comprehensive plans for creating affordable housing. Or are we just thinking about some parts of the city? There's an invitation in Fratelli Tutti to get really practical about what it means to build interconnection. Planning offers a resource to do that.
Should there be criteria for vetting buyers when a diocese is selling or repurposing assets?
I don't think there is an absolute off-the-shelf recommendation, nor do I think there should be one for the same policy in all places. Urban planning is always context-specific in relating to the particular needs and opportunities in a place. Certain places have different challenges than others.
But I do think there are some best practices on how big institutions tend to approach the process of consolidation or selling off assets. A good process typically involves many stakeholders, both institutional stakeholders and the people impacted by such a choice. How can a process be designed so that the church is welcoming lots of people and communities into that process and doing it in a way where voices are heard with a special emphasis on the most vulnerable and marginalized? What are they most challenged by? What are the issues of injustice that are most in need of addressing? How are we meeting diverse human needs in this particular place?
Gentrification is another hot issue in urban planning. Is gentrification inherently bad? Is there such a thing as good gentrification?
Gentrification is a complicated issue. Most of the students I teach who are committed to social justice especially want to work in the big city context where planning happens at all levels, and this is overwhelmingly the issue that motivates them. The topic is one that divides researchers: What is gentrification? How do we define it?
I think the gentrification question is really one of a fear of displacement, which is a slightly different thing. Displacement is the process by which existing residents, typically people of color in inner-city neighborhoods, can no longer afford to live where they've resided for a long time because of the upward pressure on housing prices. They are forced to leave their neighborhoods because of economic vulnerability. In some other cases the displacement comes from physical displacement, such as a new development that causes existing residents to have to leave a neighborhood.
Some research shows that gentrification tends to bring new amenities to a community: new health care facilities, commercial opportunities, public spaces, and parks. One question that researchers struggle with is: How do we understand that gentrification improves local amenities while at the same time being worried that it pushes existing residents away from where they've lived?
One question that researchers struggle with is: How do we understand that gentrification improves local amenities while at the same time being worried that it pushes existing residents away from where they've lived?
Pope Francis talks about this quite insightfully in Laudato Si'. He talks about how, despite the dilapidated conditions in some overcrowded urban spaces, there's still a great sense of place and identity and community. He's certainly not endorsing slum housing as the way to produce identity and community, but the bigger question is around gentrification. Are we creating a city where there are opportunities for encounter between people of difference? Are we creating spaces where people can come together to share in the life of the city? Or are we reproducing forms of exclusion?
Sometimes the structural injustice is not obvious. It often happens through land use control in the form of zoning. For example, Washington, D.C. is a strong market city. So much of its land was zoned for single-family housing. There's an incredible need for affordable housing, but you can't meet that need unless you build more multi­family developments. How do you do that? You do it through zoning reform that makes it easier to build more affordable housing.
In Minneapolis there's a move toward getting rid of single-family housing as a land use category. In some cities land is at such a premium that planners have to do whatever we can to build as much housing as possible to address the systemic need for affordable housing.
Good processes that involve opportunities for local participants to share their visions and concerns, or multi­sector processes that involve both government and nonprofit organizations, philanthropies, and religious organizations, tend to have a better impact in addressing the concerns of gentrification.
How can Catholics who aren't professional urban planners engage with these justice issues that affect people living in urban spaces?
This is sometimes an unglamorous recommendation but an important one: Go to meetings. Go to a zoning meeting and pay attention. Some of the decisions that happen at the county or town level about how land can be used are critically important to larger commitments of racial justice, social justice, and the inclusion of immigrant families in our communities. What decisions are being made about land use in your community?
Pay attention to the process of development in your local place and proposals for development. Who's involved? Is there a nonprofit developer? Has there been an existing conditions analysis using data to assess the needs? Who's been consulted in this process? Who's being ignored?
Too often we reduce the city and spirituality to just the sacred places.
My encouragement is to participate in the nitty gritty of policy at a land use meeting or a zoning meeting or sit in before a committee taking testimony on a comprehensive plan document that's going to govern maybe 20 years of the city's development. Ask the important questions about how we realize a community that is diverse and committed to justice by including people rather than excluding them. How can you bring to the conversation a distinctly Catholic understanding of what integral ecology means? Of what it means to live in diverse communities where we share in the gifts of creation and where we're not excluded from one another because of barriers in law and policy?
Everyone should pay attention to urban planning, in part because urban planning is inherently about inviting people to participate in the process of forming the future of their environment, the future of their places. For Catholics, there is an important lesson about urban planning related to Catholic social teaching. We talk about rights and responsibilities in Catholic social teaching. Urban planning invites everyone to the table of decision-making to envision a future for a place, with a special focus on those least likely to participate or most likely to be excluded from the process. It invites a call to active participation.
How can people's relationships with one another and their urban surroundings be deepened by Ignatian spirituality?
Ignatian spirituality is a very practical spirituality. It's a very urban one as well. In one of the meditations in his spiritual exercises, St. Ignatius of Loyola is constantly inviting a retreatant to a composition of place. As an urban planner, that sounds very much like an existing conditions analysis to me.
The dynamic of the spiritual exercises of St. Ignatius is about how our practical experience of life encourages a deeper union with God. In the lived practical experience of the places where we live, our interactions in them, and our feelings toward them, we better understand how God is meeting us in the world.
There's a rich opportunity to make a connection between spiritual exercises such as walking the city—allowing oneself to create the city by walking through it and taking in the beauties of the city, our neighbors, and our favorite places to go—as a way to encounter God and for God to communicate to us through the practical lived experience of the city. Use your imagination, use all your God-given senses to create the scene in which you meet God. In creating this place, pay attention to the details of our urban surroundings: the kinds of things that give us joy, that challenge us or inspire us to justice.
Too often we reduce the city and spirituality to just the sacred places. Obviously, churches are sacred places, but all of these encounters in the city are potentially graced with God's presence and, to Pope Francis' point in Laudato Si', the possibility of human fraternity. Neighborliness and human connection are possible when we make it easier to live and be together in a unity of place.
---
This article also appears in the May 2021 issue of U.S. Catholic (Vol. 86, No. 5, pages 16-20). Click here to subscribe to the magazine.
Image: iStock/marchello74